The review of the HTC ThunderBolt that follows is a collection of every single instance of a use of the device since March and an account of why this device remained your humble narrator's primary device for the past three months. The reason this review is coming right this moment is that it's finally come time to switch to a different Android device. Can you guess which handset took the champion communicator out of the hands of yours truly's hands and replaced it with itself? Meanwhile let's speak on why the ThunderBolt should or should not still be the top choice in the market for you, the average consumer wanting a smartphone device right now.
First, let me give you some background on the events that led up to the ThunderBolt literally landing in my hands. It was a cold winter's morning, early March by my recollection, and CTIA 2011 was SWIFTLY approaching. We had our names on the list to get the HTC ThunderBolt in for review with much time to spare before we were even allowed to speak of the handset, that also being well before the device was available on the market. Things were going good – and disaster struck. It was time for me to get on a plane to head for Orlando and the UPS package was late for arrival.
The terror!
The UPS man was flying out to lala land and I had bags to pack! What was a fellow to do? Luckily providence did land that handset in my hands just in time to bring it with to the Orange County Convention Center for some sweet CTIA action all week long. And it's a good thing, too, because the device was about to save my life more than once in the severely low-action wifi pit that was CTIA 2011, this leading to my love and subsequent constant pocketing of the HTC device for months to come.
First Impressions
When I first took the time to inbox the HTC ThunderBolt, it was instantly apparent that this was a device that HTC and Verizon were going to be marketing as an elite device. The stark black box, embossed logos, red accents and all, this was certainly a phone that demanded attention. Upon removing the device from the packaging, I was struck by the fact that this form factor was essentially the same set of big moves HTC had JUST laid upon the Inspire 4G for AT&T.
Was this to be a repeat? No way. Why? because not only did this device have one fewer giant plastic cover on the back to worry about, it had a kickstand, and inside was the then unique ability to connect to Verizon's 4G LTE network here in the United States. This feature is absolutely paramount when considering purchasing the HTC ThunderBolt as it certainly is one of its most enticing bits, if not THE most important functionality of the handset – see tests vs Sprint's WiMax network, also called "4G," to learn why.
The device is a classic HTC handset, it being a culmination of all of the victories and mistakes made on handsets in their lineups of the past. It's got a gigantic 4.3-inch screen, one of the largest you're going to get on the market before you start classifying your handset as a tablet. It's got an 8-megapixel camera on the back and a perfectly competent tiny camera on the front for video chat. It's got a kickstand. While the kickstand may seem trivial in comparison with the connection speed and ability to take nice photos, you'll find throughout this review the true number of uses of one of the most intelligent additions to a handset in the history of mobile handset cellphones. Smartphones, if you will, with smart bits of hardware.
Hardware
You've got a device here that measures in at 4.75 x 2.44 x 0.56 (121 x 62 x 14 mm) and weighs a relatively light amount – not so light as to make the device seem flimsy – that being 6.23 oz (177 g). The screen is big and certainly as bright as the average user will need, definitely bright, clear, and crisp enough for the business I go about on a daily basis. I should mention at this point what I do for a living: I write and executive produce the massively popular Google mobile OS-based Android Community, working both from the home and in the mobile office, always needing to be connected to my coworkers 24 hours a day and 7 days a week just incase something important pops up, something so important to the world of Android that we're willing to get up in the middle of the night to write about it JUST so you can be sure to get your news here on Android Community FIRST before the WHOLE rest of the WORLD.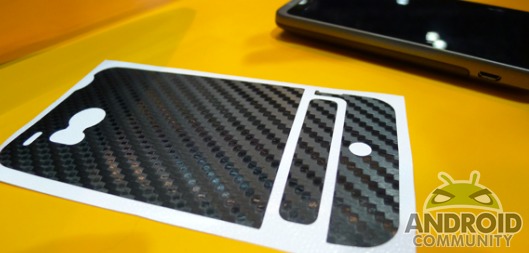 Check our our application of some BodyGuardz Carbon Fiberish armor to the HTC ThunderBolt at CTIA 2011. We later found that this was no "armor" at all, only a decorative covering, and we ripped it the heck off!
[vms 2bb0619eaeb2050ba45d]
To do the work I need to do on a daily basis, I need to be, first and foremost, connected. Because the HTC ThunderBolt was, at the time, the only device to be running on Verizon's fastest in the nation 4G LTE network, I just had to have it – I just had to have it for YOU, the reader, so that I could get the messages in and send the alerts out faster than anyone else. That, and in order to get those Angry Birds spoilers up I needed to be able to download the newest version as FAST AS I COULD so I could spend an hour grabbing all the screens for your consumption. Also, since we're talking about speed, let's talk about that Fast Boot option you've got, pumped up at the last CES and tested by us – was it worth it? Perhaps not!
Inside this device you'll find a single-core processor of some decent power. It's certainly no dual-core powerhouse, but without the need to play fantastically detailed and intricate games on the regular, the single core is more than enough. You'll find the same thing to be true if you're not the sort of person who overclocks their device to win the wars against all the other dual-core devices. Don't know what I'm talking bout? If you don't, a single core, HTC ThunderBolt's single core to be specific, will be more than adequate for you in your daily routine.
The device is molded in HTC's soft plastic. It's both comfortable to hold and instills confidence that if the device is dropped, it'll only suffer minimal damage. Not that I ended up dropping the ThunderBolt 100x in the months I've been using it, but I will say that it's held up to a near-perfect state during its tenure in my pocket. The display appears to have stayed in mint condition as well, of course, but a combination of the two is impressive no matter whose cards you're dealing.
The HTC ThunderBolt has a kickstand. This industrial design element is, again, one of the most vital moments in the design's ideation process to come to fruition, it itself becoming absolutely indispensable* once a person like me (and you) uses it every single day for easy viewing and use on the work desk. The ThunderBolt's kickstand is a powerhouse in itself, showing no sign of wear to the metal in the three months we've had it in our possession. The second layer of near-undetectable plastic covering the metal I can't so readily vouch for.
The back of the device has the apex of the old styles of battery covers. With just a fingernail under the top of the back and a quick tug in just the right fashion, you'll be ready go roll out, changing your battery, SIM card, and microSD card at will. Of course you'll need to take the battery out in order to slip the cards in or out, but still, it's a nice simple system. That said, take a trip down memory lane with me if you will to the land of extended batteries, and the terror and glory therein:
Extended Battery Saga
When Vince and I were at CTIA 2011, we were both using the then-brand-new HTC ThunderBolt and Vince had picked up the super fashionable extended battery for both of our phones as well. With this battery you're supposed to get over a day's use, but good luck. The longest the HTC ThunderBolt ever lasted for me, even with the extended battery on, was nearly 24 hours. This is with slightly higher than normal use, of course, so it's not entirely indicative of normal usage. Then there's the fact that the extended battery makes the ThunderBolt look like it's got a hunchback or that it's a tank with no cannon. Is the ugliness and massively increased bulkiness enough to convince the critics stick around? It did for me, and look at me now! Also remember we had some massive controversy on this subject – 152 comments later and still no solid agreement!
Actually after a couple of weeks after the convention in Orlando, I couldn't stand the extended battery anymore and had to switch back to the standard back. It's like a whole new phone now that I've gotten used to the hunchback. Without a doubt, this device is set to go head-to-head with essentially noone without the battery extension. What I mean by that is that you've got a tradeoff – longer life with an ugly hunchback, or risk that you'd be sad if your battery runs out in the middle of the day while you were holding the ThunderBolt's stock back up to your head because it's so very comfortable.
Software
This device is running what was, at the time of its release, the newest version of HTC Sense, a user interface that sits on top of Android giving the user HTC's own unique vision of what Android is capable of. Since then, HTC has released Sense 3.0, an extremely polished version of the UI with a whole new lock screen and set of widgets. On the ThunderBolt I found Sense to be decent, but found it both more entertaining and more efficient to use ADW Launcher EX, a homescreen replacement app that works to allow you customizable options much in the same way HTC has access, they giving you Sense where ADW allows you to go essentially all-out in creating your own unique vision.
[vms 2e27e13572cbf59eb343]
PacMan Review on ThunderBolt a little over a week ago
Why not root then, you may ask, why not hack the phone and take out all the apps that I don't need, clean up the system of items I wont be using and lay down some sweet CyanogenMod 7? I'll tell you why, see, because in order to continue to offer the readers of Android Community a clear look at what they'd be working with should they make the trip on over to the Android ownership side. That said, the ThunderBolt came out right alongside the release of the dual-core revolution – the Motorola XOOM, the Optimus 2X (aka the T-Mobile G2x), heck, what was the point of pushing this device to the limits of its processor potential when it would never top the benchmark lists? Of course we found out very recently that you don't have to have a dual-core these days to top the charts, this proven by the masterpiece of a phone known as the Samsung Nexus S. – thanks Simms22! Then again if you'd like to see how powerful the ThunderBolt can get, know this: a kernel by the name of unboLTEd .2 already had the device at 1.8Ghz already.
Regardless, the phone we've got here did remain stock, and thusly apps were tested and played on this out of the box ThunderBolt for months on end. One of the first oddities we worked with was the original SPB Shell 3D, a review of which you can see here, having seen this home-screen replacement all the way back at Mobile World Congress 2011. For video chat we've used Tango, that orange app with a big white T that you can see demoed and reviewed by us, again, at CTIA 2011 in Orlando. For internet browsing, there's only one choice: Firefox 4, an update which was released at the end of March and we tested it with SunSpider fully. You could also use Opera Mini if you wanted too, I suppose.
SmartBench 2011
AnTuTu
Linpack
Quadrant Advanced
NOTE that it was back at the end of March 2011 that we first saw the HTC Pyramid, aka the device that turned into the HTC Sensation 4G more recently – XDA Developers had images first – little did we know that this phone would become the biggest contender for my hand vs the ThunderBolt when it was shipped out at the beginning of June. By the first of April it was known that the ThunderBolt was outselling the iPhone 4 at Verizon. When the dual-core LTE device comes out, will this change? We shall see.
This device runs Android 2.2 Froyo, and the latest word is that it will get updated to Gingerbread before the end of this summer and/or before the end of June. Should we still have the device around when this happens, we'll let you know how its insides are faring.
The Camera
The camera impressed your humble narrator from the start. I've heard whispers and yellings that HTC hasn't always had everyone's hand in marriage when it comes to taking photographs from Android phones, but certainly that's a wedding that's happened by now. Not only does this device take magnificent photos for the 8-megapixel rating it's got, it works perfectly uploading photos to such fan-favorites as WordPress and Facebook. Behold a few examples:
After three months of use though, it's time to trade the ThunderBolt out. The reason why is that I've found a brand new hero phone to be using, one that, believe it or not, I like better than the LTE superstar I've been using for months on end. This new device is known, yes you guessed it, as the HTC Sensation 4G. This is the newest HTC device and one carrying an impressive dual-core processor along the lines of Qualcomm MSM 8260 1.2GHz. It's a chomper. Not quite as powerful as the Galaxy S II, and much more apt to be competing with the LG G2x, but the hardware and the software are a match for my day-to-day.
Wrap-Up
In my opinion, the HTC ThunderBolt is a masterpiece that should go down as a landmark phone for HTC, having both the software a fellow like me needs to work and play through the day and the hardware I find to be precisely what I want out of a smartphone: large enough to provide me with a screen I could watch a movie on, and shaped in a way that's comfortable for extended handling. Plus it's got the kickstand, again, a better kickstand have I not seen before or since first glancing at it the moment I received it in the mail.
That said, one must consider the battery situation to be large factor in whether or not one purchases this device. You've got Verizon's 4G LTE network, to be sure, but because of it, seems to be the consensus, your battery will suffer greatly. Considering the extended battery is certainly an option, but this does bring the device up to comically large proportions. Does this compromise the design of the phone to a level that's too great? Many will say yes, I say no. I've got any phone I'm carrying around charging in the car, at the desk, and in the wall basically whenever I'm sitting down no matter what – same for you?
This phone is still very clearly the top runner for the most well-made device currently able to run Verizon's 4G LTE network speeds. The LG Revolution and DROID Charge are nice top-tier phones to be sure, but they're no ThunderBolts. Soon this arena will be overrun with devices able to speed along at LTE boundary-breaking accelerations, and this age of simplicity will be over. Until that day, ThunderBolt will remain victorious.