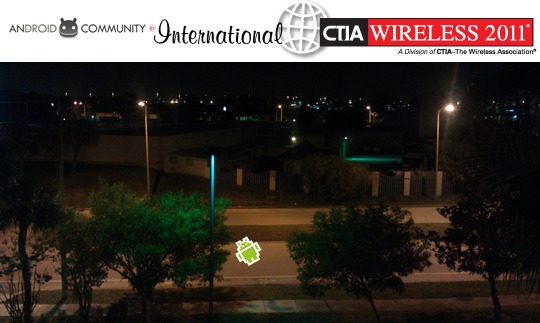 When I write this post, I am literally on an airplane flying from Minneapolis International Airport down to Orlando Florida where I and several compatriots of mine representing both Android Community and SlashGear will be having a fabulous time walking around CTIA 2011 in addition to listening in on some keynote speeches by the heads of this mobile industry in the USA. The following guide will show you what we expect to see this year at the Orange County Convention Center from groups like HTC, LG, Samsung, Sony Ericsson, and heck, maybe even a little Nokia since the rumors of them keeping Android in mind while they roll out with Windows Phone 7 in the meantime. But what about Motorola?
The following is an educated guess guide. Some of the items listed below will definitely be showing up inside this week's events, some of them won't even be pretending to exist. Each section below is marked by a manufacturer brand name and is backed up with a tiny list of leaks and otherwise telling links from the past week. Have at them, and please feel free to add your own guesses in the comments below.
HTC
Having JUST received the HTC ThunderBolt in the mail this past week, we've got HTC FRESH in our minds. We're looking forward to multiple devices that we've not quite heard that much about yet, at least in the USA side of the world. Notably, we're hoping to hear a bit more about a US version of the HTC Flyer that we got a close-up pre-look at in Barcelona at Mobile World Congress 2011. This device didn't appear to be quite ready for release, not even coming out of the case at the HTC booth in the convention and having only been held by a few folks after the press conference who were allowed to see the not-quite-perfect system they had running on it – this tablet will more than likely be rebranded as the HTC EVO View here in the USA.
Along with this, we're expecting that Sprint, at their 2.5 hour event scheduled for Tuesday, will reveal the HTC EVO View and the HTC EVO 3D on their network. As for Verizon, we're expecting perhaps the HTC Droid Incredible 2 to make its face known, while AT&T very well may be showing off the Facebook duo off. This of course consists of the HTC ChaCha (or as it's known in Spain, the ChaChaCha,) and the HTC Salsa, both of which we saw back at Mobile World Congress 2011 as well.
More clues:
HTC Pyramid gets leaked again [Real Picture]
EVO 3D and EVO View 4G Specs leaked
HTC Incredible S blushes on Danish site
LG
It appears that T-Mobile will be showing off the LG Optimus 2X, a phone that they revealed at CES 2010. This phone may well be re-revealed as the LG G2X, again, still on T-Mobile. This phone should be a whopper with a 4-inch WVGA screen, an 8-megapixel camera on the back, 1.3-megapixel camera on the front, and HDMI mirroring so you can play Guerilla Bob on your bigscreen HD TV.
Samsung
Tablets. There's going to be something so freaking big announced in tablets that you're basically going to have a heart attack. Tuesday at 8AM Eastern Time we'll be sitting front and center at an event called Samsung Unpacked – this being one of the very first events of the week, it's sure to be a blast-off not to be missed. And the tablet or tablets that they're going to show – holy crap.
Perhaps more telling tidbits:
OTA updates for Samsung Epic 4G, Transform and Galaxy Tab coming
T-Mobile Sidekick 4G Shown Off by Product Manager Joe Fernandez
LG G2X and G-Slate Coming to T-Mobile April 20th
Sony Ericsson
Lots of X marks coming our way soon both officially and unofficially, which ones will we get to peek at inside the event? We're reaching for the stars hoping to catch another glimpse of the original Android 2.3 Gingerbread flagship phone the Xperia PLAY. Or maybe a little Xperia Neo, or a Pro, or an Arc. Heck, let's just hope to see any and all Sony Ericsson devices with Xperia in the title and perhaps the broad side of the barn will be hit.
Clues and such:
Sony-Ericsson's Xperia Arc and Neo seen in action
Motorola
We've got the ATRIX 4G in one hand, the Motorola XOOM in the other hand – what else is there in this mighty mighty world of mobile? How about a release date on the Droid Bionic? Nuff said.
Additional clues:
Droid 3 Photos leaked, shows redesigned keyboard
Droid Bionic Release now Mid-April [Says Verizon]
Secret Sneakers
While CTIA is definitely not the largest show of the year, it's certainly the biggest US-centric show of 2011 thus far. This is just as much an opportunity for manufacturers and carriers to announce gigantic news as any other event, and with spring right around the corner and a spring in everyone's step, we'll be ready and raring to go starting early tomorrow morning, believe it or not. The actual official CTIA event starts on Tuesday, but we'll be flipping over rocks starting tomorrow as we're already in town – so why not? Join us all week!
Watch out for the [CTIA 2011] keyword!