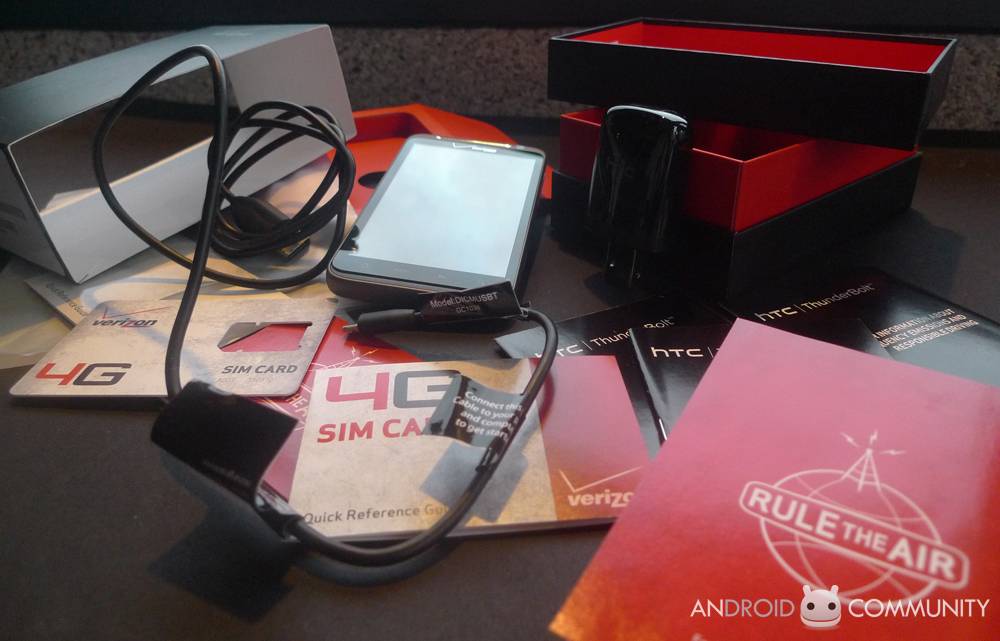 Behold the big bolt! This is the HTC ThunderBolt, Verizon's first 4G LTE handset – and boy what a whopper. It's epic nature is flaunted in an instantly apparent way as the box itself is wholly black with 3D pushed-out lettering and logos all around. HTC, Verizon, 4G LTE, and HTC ThunderBolt are blasted in such delicate ways as to accentuate the godliness and singularity of the device itself. Then you open the box and BOOM there's a wash of red. Verizon could not have chosen a better set of colors in black, white, and red, and they're certainly not afraid to use it when they've got such a flagship phone as this. Harsh elegance!
First Impressions
As we've got a review copy of the phone here, there will be a few details slightly different from the one you'll be getting should you head down to your local retailer right this moment. One of these items is the SIM card, which you'll certainly have to install yourself if you purchase the device online, another being a slightly "handled" look of the screen due to the easily smudged temporary plastic covering. All you've gotta do is peel and place and you'll be well on your way to HTC cleanliness and Verizon connectedness in no time.
Inside the box is a set of items you'll come to expect from both Verizon and HTC: a few interactions manuals, a wall plug to convert USB to USA 2-prong power, a microUSB to USB cord, and a little packet that contains your SIM card. One item you may want to consider purchasing the moment you think about buying yourself a ThunderBolt is the official extended battery back. See all about the pack in [our hands-on post].
[vms c75ca70d50c19aef08bf]
Hardware
What you're dealing with here is a big fat phone that's made for speed and entertainment. Of course with the modern Android device, you can feel free to do a bunch of business on there too, being all productive and whatnot, but with a screen this size and a camera on the back running with 8-megapixels and a dual LED flash, you've got what's aimed at being a device that loves to entertain. When you hold this phone, you want it to show you big games, video, and apps that utilize the entirety of the screen. When you've got something smaller than this, at this point in Android handset history, you've got to prepare yourself to make some sacrifices, most of them involving having enough room on the screen to work with the controls in the apps you enjoy.
Having literally just a month or two ago been given the HTC Inspire 4G to review, (that phone on AT&T, a fact that we'll be coming back to later in this post,) one cannot help but notice the similarities. HTC is a bigtime hardware company when it comest to mobile and they've got devices of all shapes and sizes, yet they aren't the kind of company that makes one phone and leaves the design stuck in time and space. Not even a little bit. HTC appears instead to be attempting, or seeming to attempt, to perfect this gigantic screen model. Anything bigger than the HTC ThunderBolt and it's a tablet, anything smaller and it's no longer a modern HTC phone (with a few odd exceptions, of course.) Simple and plain. Because of this, HTC appears to want to make this hardware design perfect by releasing iterations to different carriers, attempting each time to best their previous attempt.
Of course HTC pre-tests their phones on real people, but only once a phone is received by the real market can a group understand what really really hits people as a good or bad idea. On the HTC Inspire the camera on the back of the phone is in the center-top. This is a bad idea. i think it's terribly ugly and it's ever-so-slightly confusing to use because when I'm using a real camera, the lens isn't in the center either. The HTC ThunderBolt has the back right. I'd agree to say that the HTC ThunderBolt not only has the camera situation on the back of the phone figured out, it's the closest HTC has come to a perfect phone with this size screen.
Plugs, Cords, and Chips
It's an awesome time in mobile computing in that most devices use the same USB cord to connect to the computer as well as to the wall to charge. That said, the cord they've included in the box here is a standard medium size, at least as long as we'd ever want to use if not too long, proving to be just a tiny bit of a B to stow away and bring with for plugging on the go. The wall plug is also nearly perfect. I look forward to the day when all plugs are minimal enough to fold down and put in my pocket without looking like a walnut, and I think we're getting closer, slowly but surely.
There's not much to this phone as far as plugs, the single microUSB plug being near the bottom on the left of the handset, the headphone jack poofing out a bit from the top. This headphone jack is a mark of distinction that makes the ThunderBolt look nice, where sometimes headphone jacks are simply a hole in the top or bottom of the device and look nearly like a mistake – this is true of the Motorola XOOM tablet – yick! There's a power button at the top protruding just the perfect amount that it should, making it easy to locate and press but not so easy you'd do it on accident, right beside this an indentation for pulling the battery cover off the back.
Under the cover you'll find the original HTC battery which we'll be switching out for the extended battery post-haste, and under that, access to both the microSD card slot and SIM card tray. When you have a look at the phone at this point, you'll have to be careful because even though the microSD slot is marked, the actual card that they've already placed in the device for you is nearly invisible. This I'm sure they didn't take an overly large amount of time designing since 32GB is one massively large amount of space and unless you're a wacko, you're not going to need to replace it. As for the SIM tray, that again isn't the easiest to access unless you've got long nails, and once it's out, you should be careful not to wail on the tray lest it break and you be screwed!
You'll actually have to try quite hard to break anything on the phone though, to tell the truth, as it's very well constructed and it's quite obvious they've taken those who wish you modify their phones physically into account. Then there's the kickstand. At first glance it may seem fragile, but you're not going to break it in an everyday situation. If you've got it out watching a video and your saint bernard puppy should stomp on it, there might be a bit of an issue. It IS bendable by you, but you'll have to be WANTING to mess it up to actually bend it. Underneath the kickstand is a speaker grill that, as with all speaker grills, you'll want to keep away from parmesan cheese – luckily they've quite intelligently covered this grill up with the kickstand for spaghetti situations.
Speed and Startup
I personally will be putting this device through a slew of speed tests, and I'll be showing you how speedy it is in starting up should you decide to use the Fast Boot mode in posts on Android Community in the near future. You'll be interested to know immediately that even though the Inspire 4G was not marketed as thus, it TOO has a fast boot mode, and you're gonna love the race results between these two maniacs. Under 10 seconds to be sure, but who's the real winner? Neither, since when you're booting in the lightning fast Fast Boot mode you've made the sactrifice of not knowing which apps will have been allowed to boot correctly on the way. Personally I'll be skipping the option since switching the phone OFF isn't a process I go through all that often.
Wrap-Up
From the wholly-black box to the loveliness in the industrial design of the whole unit, this is definitely a hero phone for Verizon and HTC to be proud of. Once we turn the phone on, this remains true, but the fact that the phone's hardware is beautiful and feels nice even when its switched off, that's something the industrial designers can feel good putting in their portfolios and the phone sale jockeys at Verizon can feel confident in talking up.
This is the kind of phone the skin, wrap, and case companies will be eyeing up for model making, as it provides several surfaces for possible decoration, and a large population of owners will be owning long enough to take the time to protect. Gelaskins and StealthArmor with custom images for the back, Wrapsol and Tru for the front for perfect protection, all for certain.
We'll be rocking this phone during CTIA 2011 next week, and everything fabulous that comes out for Android over the next few months you can bet we'll be testing on this device. Of course, we'll be testing that stuff out on the ATRIX 4G and the Motorola XOOM and the Inspire 4G and the etc etc etc as well, but this is a forerunner without a doubt.
Take a look at the unboxing video above, the detail photos below, and get ready for the full review in the coming days here on Android Community.