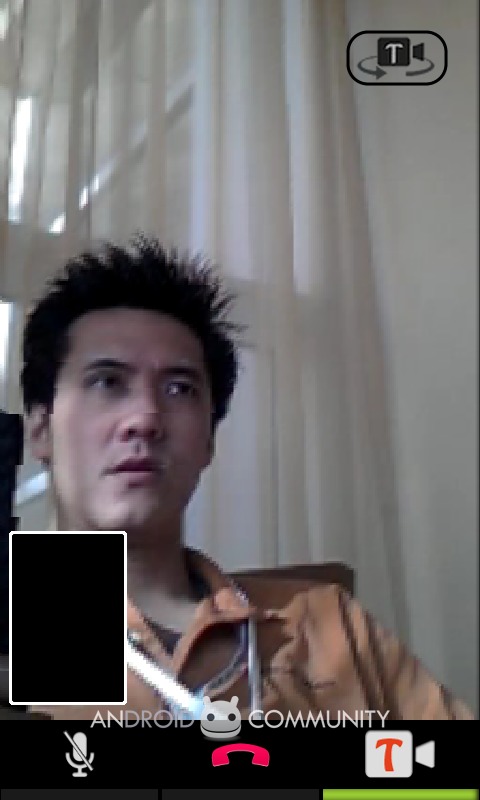 The moment we came into knowledge of Tango being the preferred video chat client of those testing and using the HTC ThunderBolt in the field, we had to take a closer look for ourselves. This is an app that's free, but even free apps need to be scrutinized to a certain degree because of the amount of time a person has to dedicate to them – understanding that, this app stands up to to tough scrutiny. It's at once simple and extremely well played, and most importantly: it works.
First Impressions
The icon for this application is a big fat white T inside a bright orange rounded-corners square. It's attractive and professional looking, inviting the user to join in on an already established brand that also just happens to have an application. This is Tango's most important step. I wont get into the making of thumbnails here, as that's enough subject to fill out a whole different post, but let's just say they're doing it right. The app is free and has a brand presence outside of the app. This is all good news, and the app is free, therefor the download is basically guaranteed.
Once you've got the app, you'll notice that it's auto-populated with contacts of yours that also have the Tango app up and running. This is such good news that upon seeing it, my eyeballs exploded. My partner in crime Vincent from SlashGear was with at the time, so we both fired up the app and took a look at how nice it looked. The account you're seeing in this post is done from an HTC ThunderBolt and to an HTC ThunderBolt. Both appeared to have run the app without a hitch.
NOTE: The screenshots you see in this post are able to pick up the incoming video, but unable to pick up the outgoing for some reason. The black box in the lower left-hand corner will show (as you can see from the photo above) the video that your chat partner will be seeing of you.
In Practice
You do not have to have Tango up and running to be able to receive voice and/or video calls. You DO have to have push notifications active however, this accessible to you by going into your device's settings – notifications – turn global notifications ON – scroll down and tap Tango and turn sounds and alerts ON. Once you've got this set up, you're good to go. You'll now be able to make voice and/or video calls to everyone you know who also has Tango without using up your carrier plan's voice or video minutes (if your carrier has such a charge, of course.) This means that your communication via voice and video is now instead only charged to your data plan, which supposing you've got infinite of, will result in you possibly having a much cheaper bill each month.
Of course this is all limited by the fact that the people you're going to communicate with on Tango will also have to have Tango downloaded to their device. If you can make this happen, Tango is probably a pretty good service for you. NOTE that when you open Tango for the first time, if you're downloading anywhere near the posting of this review, the majority of the people you'll see on your list are going to more than likely be on iPhone, as the app has been promoted for them more successfully than it has at this point for Android.
Once you've got your Tango open, you'll notice your list (again, auto-populated,) of contacts that have Tango. Once you tap any one of these contacts, a call is initiated. You'll have to be careful, once you're on this screen, not to tap the wrong person, as the call is initiated immediately. If we had the opportunity to change one thing about this app, it would be that once you click a contact, you'd then have another click to call and/or video chat.
Beyond that, it's a basic question of how well everything will be connecting. We've spoken to a couple of iPhone users who say they tried it out but ended up opting for the more native FaceTime, which makes us wish everyone could just hold hands and agree upon a single app for video chat, or at least cross-connect them all.
Wrap-Up
Go download it, it's free. Download it just to see how many friends of yours are already using it, then test it out to see if they pick up right away – chances are they will, and you'll suddenly be face to face with someone unsuspecting of a video chat with their best friend Android. [Android Marketplace Direct Link]