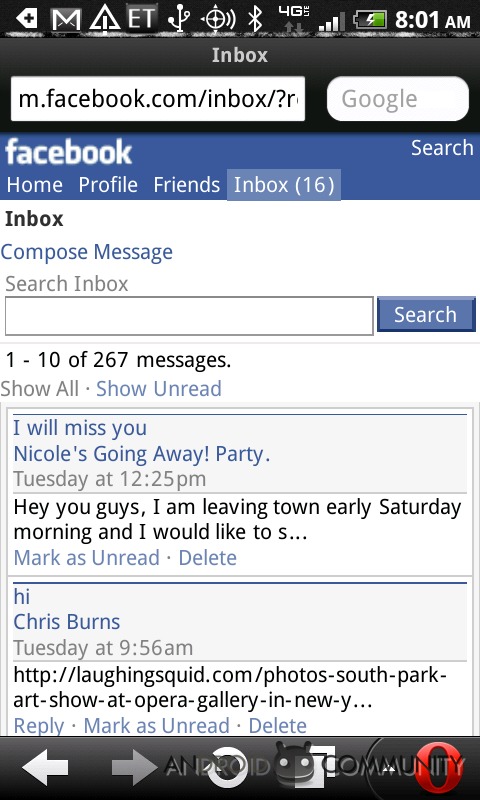 Today Verizon has announced that a set of feature phone including LG enV2™, LG enV®3,  LG enV® TOUCH, Samsung Alias™ 2, Casio® G'zOne Ravine™ and Casio® G'zOne Rock™ will have Opera Mini available for web browsing starting immediately. This is an odd move for Verizon as feature phones aren't exactly at the hight of popularity right this very moment, but perhaps a push to slightly nicer apps like Opera Mini on these inexpensive handsets will encourage upgrades to the vastly engaging world of Android.
Opera Mini will coming preloaded later this year as the primary browser on select devices, and can be downloaded by customers now via their Media Center / Get It Now or from Verizon Wireless' online media store. Then of course those customers who have phones powerful enough to feature the Android Marketplace can download Opera Mini from there immediately.
The only concern we've got with this app is the complaints it's been getting as of late in the market's review section. Seems to be a lot of reports on a big black screen coming up often. Also we're unable to run Sun Spider benchmark system as Opera Mini sits stuck at "math-spectral-norm." Drives me nuts! For Feature Phones though, assuming no black screens or errors in any way, it's going to be a vast improvement over what they've currently got in place. Excellent move, Verizon.
The images you see in this gallery were shot with an HTC ThunderBolt – definitely not a Feature Phone (and PS, it seems to be working without error from here) –
OPERA MINI APP BRINGS ENHANCED WEB BROWSING EXPERIENCE TO VERIZON WIRELESS FEATURE PHONES

Application Enables Desktop-like Web Browsing, Including Access to Expanded Set of Internet Sites on Feature Phones

BASKING RIDGE, N.J., and SAN MATEO, Calif. – Verizon Wireless announced today that Opera Mini, the ground-breaking mobile browser by Opera Software, is available on select Feature phones, including LG enV2™, LG enV®3, LG enV® TOUCH, Samsung Alias™ 2, Casio® G'zOne Ravine™ and Casio® G'zOne Rock™, with additional devices to be added soon. Opera Mini offers an enhanced user experience for Web browsing – bringing PC-like Web browsing to select Verizon Wireless feature phones. Using the Opera Mini app, and its unique compression technology, Web pages are delivered to the phones more quickly.

"Getting Opera Mini on the Verizon Wireless network is a big milestone, as we are able to reach Verizon Wireless' vast customer base," said Lars Boilesen, chief executive officer, Opera Software. "We are happy that Verizon Wireless customers will now have access to a superior browser and, in the future, we will be launching more devices with Opera Mini preinstalled."

Verizon Wireless offers Content Filters that let parents manage a safe browsing experience for their children. For more information on Content Filters, visit www.verizonwireless.com/usagecontrols.

Opera Mini, currently available on six devices, will come preloaded later this year as the primary browser on select devices. Customers with feature phones can find the app in the Media Center/Get It Now® or can download it from Verizon Wireless online media store. Customers with Android™ devices can also download the app from Android Market™. There is no subscription fee to access the Opera Mini browser, but data and usage charges may apply during download and use of the application.

For more information about Verizon Wireless products and services, visit a Verizon Wireless Communications Store, call 1-800-2 JOIN IN or go to www.verizonwireless.com.

About Verizon Wireless
Verizon Wireless operates the nation's fastest and most advanced 4G network and largest and most reliable 3G network, and serves more than 94 million customers. Headquartered in Basking Ridge, N.J., with 82,000 employees nationwide, Verizon Wireless is a joint venture of Verizon Communications (NYSE, NASDAQ: VZ) and Vodafone (LSE, NASDAQ: VOD). For more information, visit www.verizonwireless.com. To preview and request broadcast-quality video footage and high-resolution stills of Verizon Wireless operations, log on to the Verizon Wireless Multimedia Library at www.verizonwireless.com/multimedia.

About Opera Software
Opera Software ASA has redefined web browsing for PCs, mobile phones and other networked devices. Opera's cross-platform web-browser technology is renowned for its performance, standards compliance and small size, while giving users a faster, safer and more dynamic online experience. Opera Software is headquartered in Oslo, Norway, with offices around the world. The company is listed on the Oslo Stock Exchange under the ticker symbol OPERA. Learn more about Opera at http://www.opera.com/.