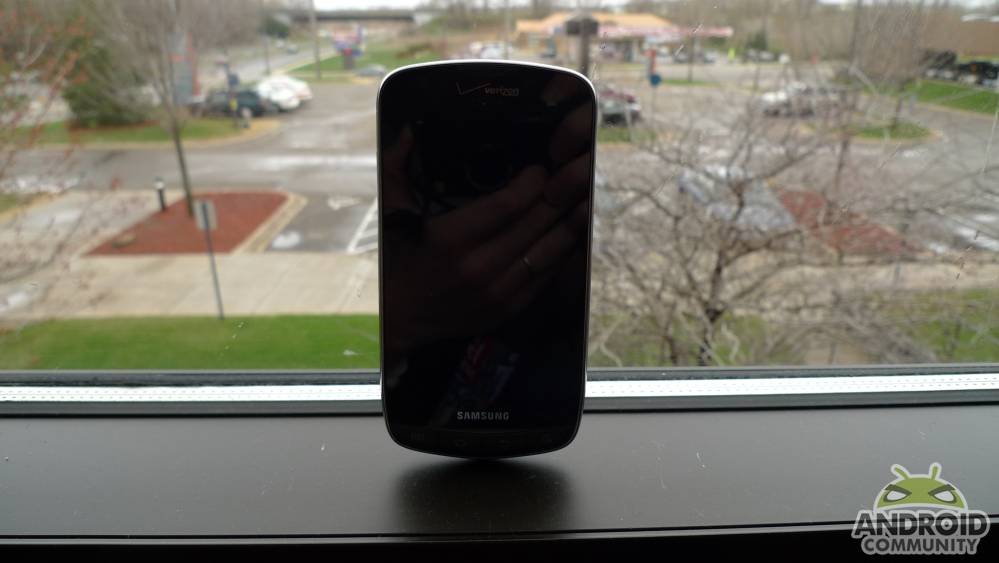 Welcome to a phone that's set to go in direct competition with the HTC ThunderBolt. There's no getting around the fact that this phone is set to throw some punches as the second phone on the market to be running on Verizon's 4G LTE network for ultimate superfly data speeds, so we've just got to take a look! This phone has a 1.0Ghz single-core Hummingbird processor, a 4.3-inch Super AMOLED Plus display, and Samsung's TouchWiz 3.0 user interface lying over a Google certified Android 2.2 Froyo mobile OS. Is it enough to take a swipe at the market at $299.99 with a new two-year contract with Verizon, data+talk monthly bills starting at around $70 a month? We shall see!
Before we begin, have a look at our Hands-On and Unboxing post for sassy handheld video that could win an award for videography!
Hardware
This is a big phone that has no qualms about being so. It's not the thinnest phone in the world, but it's not as fat as the ThunderBolt with its extended battery on. Its dimensions are thus: 5.11 x 2.66 x 0.46-inches (130 x 68 x 12-mm), and it weighs in at a tiny 5.04-oz (143-g). So it's light! It's very light and made basically entirely of plastic on the outside. There's a chrome-reflective rim around the top part of the device that, if it's not metal, it's certainly doing a good job of pretending that it is. Samsung, if you're listening to me – go for more metal! Add a wide metal rim here, a strip of metal down the back there, a kickstand up the side (though that'd be weird,) and you'll get highest marks from yours truly. It adds all sorts of visual value, and metal means quality 9 times out of 10 in everyone's mind that I know.
Believe it!
Beyond that, there's a power button up the right side right beside the plastic-covered HDMI port. On the left there's microUSB port with no cover, (good move,) a very nicely fashioned volume dongle, and a hole into which you'll be able to string a dongle – again, we'll get more into dongle lifestyle in the main news feed soon. On top you'll find your headphone jack and one of two mic holes (the other one on the bottom of the phone.) Also on the top you're going to see a lovely tiny DIGITAL BY QUALCOMM sticker that lets you know you're rolling out with the big Q.
Display held up in direct sunlight
The display is Super AMOLED Plus. It's magnificent. It's basically the best. Have a look at this photo of the HTC ThunderBolt, the DROID Charge, and the LG G2x one next to the other. The ThunderBolt has a TFT LCD, the Charge has the Super AMOLED Plus, and the G2x has an IPS LCD. Judge the results for yourself – power!
Software
This device comes with a total of 28 applications installed right out of the box. Like I noted in the hands-on post yesterday, you'll be using a portion of them most certainly and a majority of them basically never. This handset will run basically everything you're going to want it to run in a fine and dandy fashion unless you're looking to run dual-core-specific games such as Pinball HD and Riptide GP – both of which will not run outside an NVIDIA Tegra 2, for example. If you're not into those sorts of games, on the other hand, you'll still be golden with a 1GHz.
You'll also going to get a few apps that you might find rather invigorating – AllShare which will allow you to connect via bluetooth to play media from your phone on a separate player, play media on your phone still hosted on a server, or control media on a server playing on a separate device. Neat and simple. The game "Let's Golf 2" is here, and has been sitting on basically every device we've reviewed over the past month, believe it or not. Good job to whoever's making that happen – the developers must be super pumped up! Rock Band, Slacker Radio, TuneWiki, Kindle, and Rhapsody are also included, and work just as well here as they would on any other top-tier phone.
Then there's TouchWiz 3.0, Samsung's tried-and-true user interface sitting on the top of Android that'll make your experience unique to Samsung phones. It's whipping along left and right and nice as one might expect – we're hoping for an upgrade to 4.0 right after the Galaxy S II comes out, since that's the boat this ship is sailing in on – have a closer look at some neat features on that version courtesy of our good pal Philip Berne right over here. — This video was filmed at CTIA 2011 in Orlando Florida, if you'd like to know.

Camera
On the front of the Charge you're going to find a 1.3-megapixel camera for video chat and an 8-megapixel camera on the back for video and photos as well. As with most mobile devices with a camera on the front and the back, for the most part you'll be using the back camera for collecting media, the front camera for video chat.
Phone and Performance
Phone audio in and out as well as keeping connected has been perfect, so perfect that I'm debating whether or not I should even keep reporting on this section for smartphones. Every one of the bigger networks here in the USA has such good voice coverage that it's basically a thumbs-up by default.
Then there's performance. Have a look at the following benchmarks and see where this phone adds up against the rest of the Android family. You'll find that it's not at the top of the stack, but like most top-tier phones being released these days, it's apt to compete against other phones that are also right out of the box.
This isn't a phone that's going to beat the crap out of the competition if it's planning on competing against dual-core chipsets, but it's certainly alright for your average user. The HTC ThunderBolt, for comparison purposes, regularly scores right around 1000 in Quadrant right out of the box as well, so if you're looking to make these two LTE phones compete, you're going to be comparing user interface overlays for sure – HTC Sense 2.0 or TouchWiz 3.0 – which one will you take? — note: I've not gotten too far into comparisons here between the ThunderBolt and the Charge on purpose as it's a subject more than worthy of its own post – stay tuned to the main news feed for that next week.
Battery
The battery on the Charge is alright. We'll be continuing to test this little monster out over the next few days and weeks in order to give you a much better idea on how battery will be working with LTE (as Verizon's LTE network was down a bit yesterday, the 4G factor might not be blasting the battery as much as it has possibly been on the HTC ThunderBolt.) For now, looks like we're getting something like 14 hours – so maybe a full day for you heavy users? This is what we've gotten out of testing, from top to 8%. Since Verizon LTE-based phone's battery life has been a big issue of late, I'll be putting up at least one more dedicated battery post on the Charge next week – stay tuned!
Wrap-Up
Get ready for a bigtime phone that's punching its way out of the manufacturing plant as the second phone ever to be running on Verizon's 4G LTE data network. It's got a bit fat screen and a top-tier 1GHz Hummingbird processor and Samsung's TouchWiz 3.0 user interface over the top and an accelerometer, a compass, GPS and, what do you know? Everything else a top-tier Android phone has. Samsung's 1Ghz Hummingbird processor makes sure you're processing graphics as fast as they're going to go on a single-core processor and with the gigantic 4.3-inch Super AMOLED Plus display, you're set.
What are you deciding now if you've never used an Android phone before? Not much to consider! It's a big beautiful phone running what's nearly the newest version of Android, solid and perfect for those of you who wouldn't know enough about the mobile OS to know the difference between this and Android 2.3 Gingerbread (the absolute newest.) And you've got what's basically the biggest and the best screen for a handset on the market today.
If you're considering this and some other Android phones, you'll be deciding more than likely between this, the HTC ThunderBolt, (the only other phone running on Verizon's LTE at the moment,) or one of the dual-core phones on the market right now – G2x or the ATRIX 4G, one running on T-Mobile, the other on AT&T, both with their own set of benefits on top of the fat processor power.
It's a blast of brightness, made to show itself off as a data-speedy media magnificent entertainment machine toting the excellence of Android, Samsung, and Verizon Wireless. Check out the close-up photos above and below and stay tuned to Android Community's main news feed to experience all the coverage of this device we've got – all you could possibly desire!
NOTE also that DROID Charge was supposed to be available today, but per word from our Verizon contact Brenda Raney, the device's availability has been delayed: "Customers who go to stores today have the option of leaving their contact information and they will be notified when the device goes on sale." Hopefully soon!