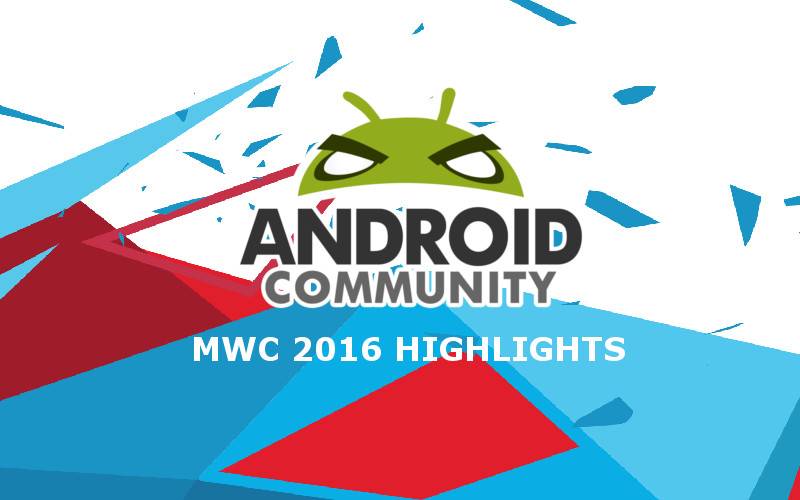 Another year, another Mobile World Congress. And of course, another flood of new devices and new visions. Wading through all the news and hardware that landed in Barcelona this week can be a daunting task. So here we are to help distill a few of them into some of the best, or at least head-turning announcements that have inundated our news streams and maybe even social circles. Many, like Samsung's and LG's newest flagships have been anticipated for weeks, months even. But some, like Sony's new Xperia direction, has definitely caught us unawares. Presenting Android Community's highlights of the 2016 Mobile World Congress.
Smartphones
MWC is, of course, about the mobile industry, and nothing shouts "mobile" more than smartphones. And boy, did we get them in droves this year. Unsurprisingly, some made a bigger noise than others, but even those that had tinier voices have a nice story to tell.
Samsung Galaxy S7, S7 edge and LG G5
The MWC 2016 week was started with a strong opening salvo, with Samsung and LG revealing their respective masterpieces quite early on. Much of what we've heard about them through rumors and leaks were dead on, but seeing them in the flesh is definitely a different and more pleasing experience.
Some might see the Samsung Galaxy S7 as more of an incremental upgrade than a revolutionary new device, and that's not exactly a bad thing. The Galaxy S6 before it was already quite formidable, but missing, or rather removed, features marred its prestige. With the Galaxy S7, Samsung mostly addressed those pain points but also added a few new things to drool about. microSD card support returns via a hybrid SIM tray and waterproofing is back as well. The battery might still be non-removable, but at 3,000 mAh there's less reason to worry. The reduction of megapixels down to 12 might be perplexing, but the larger pixel sizes, dual pixel CMOS AF, and a larger lens aperture together promise even better photographs, especially under low light. The rest of the specs would be pretty much what you expect and almost similar to last year's Galaxy S flagship, with a 5.1-inch QHD screen, 4 GB of LPDDR4 RAM, and the latest processors, either Qualcomm or Exynos.
LG seemingly took the opposite approach and opted for a more radical change to the LG G5. While still possessing some things in common with its predecessor, the G5 breaks LG tradition that has been evolving for three years now. Gone are the much touted rear side controls, now replaced by a single power button with a fingerprint sensor underneath. Above that is a dual camera setup that automatically switches between two different angle lenses depending on zoom level. But the real star of the show is the LG G5's somewhat modular nature. The bottom edge detaches from the body, together with the battery, to allow for modules to extend the functionality and abilities of the smartphone. Currently available is module with physical camera controls, a Bang & Olufsen DAC module, which can be used standalone too, and, soon, controls for drones. LG also established the "Friends of G5" program to encourage accessory makers to join in the modular fun. Now to see whether they will come. We'll also have to see whether the always-on feature on its LCD screen won't be that much of a battery drain.
Sony Xperia rebirth
While we were busy looking forward to LG's and Samsung's flagships, little did we know that Sony had something special planned for MWC 2016. Which is an interesting twist of events considering how notorious the Japanese OEM has been for not being able to keep any of its previous flagships under wraps for long. But more than just a new hero smartphone, Sony announced a new vision. It has somewhat redefined the Xperia brand to embrace more than just mobile devices but a whole spectrum of consumer electronics as well. With the goal of delivering "personalized and intelligent devices", Sony's new Xperia thrust focuses on adding a touch of machine learning, computer vision, and artificial intelligence to its new breed of products, starting with an Xperia Ear smart Bluetooth earpiece, promised to be more than just your regular Bluetooth earpiece. Coming soon, and perhaps more exciting, will be an Xperia Eye "lifelogging" camera, an interactive Xperia Projector, and an Xperia Agent stationary robotic personal assistant.
Of course, Sony also had a few new smartphones under the revitalized Xperia brand, this time bearing the letter "X". The "base" model is the Xperia X, carrying a "high mid-range" Qualcomm Snapdragon 650 and 3 GB of RAM under a 5.0-inch Full HD screen. The Xperia X Performance represents the top of the line, with a Qualcomm Snapdragon 820 running the show instead, still with 3 GB of RAM and still with a 5.0-inch Full HD screen. The "smartness" in these two new Xperia models come in what Sony has called its Predictive Hybrid AF, able to automatically identify the camera's subject and predict its movement, a perfect fit for the 23 megapixel 1/2.3-inch sensor on the back. On the front, you have a large 13 megapixel camera. There is also a smarter battery and charging management technology that promises to extend battery life even further.
A little lower on the ladder is the Xperia XA, most likely to be marketed as the budget choice for the new Xperia X generation. Here, a MediaTek MT6755 has control of the resources, paired with 2 GB of RAM. The screen, while still 5 inches, now only has an HD resolution. The camera has also been downgraded a bit, 13 megapixels on the back and 8 in front. Despite a bit less powerful, the Xperia XA shares the same design language as the other two, which practically translates to all the right curves in the right places to make holding the device both comfortable and steady. The Xperia XA takes this one step further by having a screen that spans the whole width of the device, pushing bezels out of the way.
Is this new Xperia rebranding the break that Sony needs to get out of the slump? We'll have to see in the next few months. In the mean time, take a peek at our trio flagship battle royal to see how three of the MWC's headliners stack up against each other.
Others
Chinese OEM Xiaomi isn't far behind. It also took the opportunity of MWC 2016 to announce its latest flagship, the Mi 5. It has stuck to its winning formula of delivering flagship specs at affordable prices, and sometimes in a design that is noticeably similar. Sadly, the Xiaomi Mi 5 bears one disappointing wart, as the manufacturer doesn't seem to be ready to move into the QHD world just yet.
Lenovo did make an announcement of a new smartphone, but it's no surprise that it isn't a new Moto model. The company isn't prepared to put out the first "Lenovo Moto" device, so we'll have to settle first for a VIBE K5 Plus. An unabashedly mid-range smartphone, the VIBE K5 siblings put a focus on multimedia as much as they can, while keeping the price tag also unabashedly low. One rather curious smartphone that Lenovo did announce was the Project Tango smartphone it made in partnership with Google. Unlike the more research-oriented Tango devices, this one was designed for consumers. It will definitely be interesting to see what such consumers will do with the device once it gets into their hands.
Of the major OEMs, only HTC didn't have a high profile smartphone to show off at MWC 2016. Sure, it did announced the One X9, but that particular smartphone has been launched in China months ago. It did have three new Desire handsets to unveil. At MWC, HTC's focus was really on something else, as we'll see. Fortunately, that something else might actually be the most exciting product it has so far.
Tablets
While still present, Android tablets were low-key at this year's MWC. Most of the ones that we did see, even the more interesting ones like Huawei's MateBook, run Windows 10. Fortunately, OEMs like Lenovo do have some wares to show. The manufacturer's new TAB3 line promises budget-friendly fun and productivity for families as well as office workers.
Interestingly, perhaps the most notable Android "tablet" at MWC this year wasn't even a tablet technically speaking. Alcatel prefers to call it a "BigPad", or more explicitly "a consumer electronics product for the whole family". Resembling the Samsung Galaxy View, which was announced last year at the same time as this Alcatel Xess (apparently pronounced "access"), the tablet/monitor hybrid was designed for more than just watching videos or reading recipes. It runs a particular flavor of Android called "Phoenix OS", which respins Android into a more desktop-like form, pretty much like Jide's Remix OS. The rather eccentric design of the BigPad, along with a built-in stylus, could make the Xess an interesting device for both entertainment and productivity.
Smartwatches & Wearables
Even more absent than tablets were smartwatches and wearables. While there are indeed some in the showroom floor, there hasn't been much noise coming from those quarters. There is, however, still some good news to be shared. LG has confirmed that the premium-looking Watch Urbane 2nd edition, whose rollout was halted due to a faulty display, would be making its way back to the market by the second half of this year. That glad tiding, however, comes with the revelation that LG won't be making another Nexus smartphone, at least not this year.
Virtual Reality
Aside from smartphones, one of the biggest products at MWC this year was virtual reality. In fact, that is mostly where HTC poured its efforts on this week. Announcing the upcoming availability of the HTC Vive, the Taiwanese manufacturer is setting the stage for the much awaited explosion of VR in the market. But while the likes of the HTC Vive and the Oculus Rift are more meant for powerful PCs, smartphone users need not feel too left behind. Samsung has unveiled the Gear 360, which is hopefully a more affordable camera that will be used to capture VR content. Not far behind, is LG, who also has its own LG 360 CAM for creating VR content as well as the LG 360 VR, a Cardboard-compatible headset.
Suffice it to say, VR will have a big role in the mobile market in the coming months as well.
Wrap-up
Taking place at the opening of each year, MWC, as well as CES, set the stage for the trends and technologies that will become the focus of the market for the next 10 months or so. Virtual reality will undoubtedly bleed into the smartphone and tablet space, or in fact already has thanks to Google Cardboard and Samsung Gear VR. But within smartphones themselves, a revolution is taking place. OPPO's huge announcement about its SmartSensor is indicative of the thrust to make smartphone cameras more than just a hobbyist's toy. Even HTC promises that its next smartphone will have a very "compelling" camera.
This year, however, might not be so kind to tablets, if the past two big consumer electronics events are any indication. The device line itself is undergoing a shift towards more productive uses. Sadly, as the Pixel C painfully showed, the Android platform has some work ahead of it. Efforts like Jide's Remix OS and Phoenix OS demonstrate what can be done, but, in the end, they are more like workarounds rather than full-pledged solutions in Android's core.
So hold on to your hats! Android's big 2016 adventure has just started!