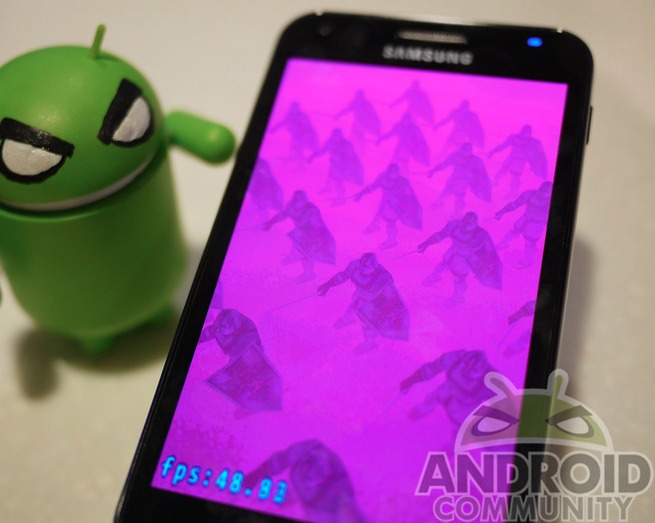 Welcome to the United States, Galaxy S II, I see you've got the longest name in the history of smartphones here in your initial iteration! Don't worry, though, it's nothing to be afraid of – you're still the thinnest 4G device on any and every carrier you'll be on here in the states, and with this first launch on the WiMAX carrying carrier, you're round and lovely as well. The Epic 4G Touch has what many might call the most unique look to it of all the Galaxy S II devices out thus far, having a 4.5-inch display, the roundest edges in a Galaxy S II thus far, and almost spherical back corners with a textured battery cover. Four buttons at the bottom and it's lost its international single-center-button charm, will it add up to the legends we've heard of this device as it's been out for the past few months in Europe in Asia?
Before we go any further, I've got to let you know that we've already had a hands-on experience with this device more than once. You'll be seeing these hands-on experiences throughout the review, starting first here with our first NYC look at the device right after it was launched by Samsung:
[vms 4cc0f623f7a83b1ac75b]
Samsung Galaxy S II Epic 4G Touch Hands-On by Chris Burns
You can see the entire post in which we first laid eyes on this device back at the end of August then come on back to see the final product.
Hardware
The first time we laid eyes on a Galaxy S II, it was Chris Davies' turn to behold the device as it was released in Europe with no particular carrier attached. He did a full review of the international edition and it remains one of the most popular reviews of said smartphone on the internet. We've been hungry for this device for months now, MONTHS I tell you, and now that we've got it, it's a must that we compare it to the original. Thusly we present a gallery for your approval. You'll see both the original device (as Vincent Nguyen has it over on our sister site SlashGear) and our Galaxy S II Epic 4G Touch.
The main and first most obvious difference between the two devices you'll see here is the display size. While both devices have Samsung's Super AMOLED Plus display bringing the hella brightness, we've got a 4.52-inch screen instead of just 4.3-inches. That said, it's still using a WVGA 800 x 480 pixel display which means there's, yes, just as many pixels as before but on a bigger panel. Earlier this month we also got to see what's to be known as the Samsung Galaxy Note, a device with pixel density to spare on a much larger display – we're a bit jealous, as all gadget addicts are prone to be, of this bigger, brighter, sharper display, but when it comes down to it, a Galaxy S II no matter what version beats out the competitions' displays almost hands-down.
This version of the device, again, features only a few different buttons, those being the four dedicated Android menu buttons below the display in portrait mode, a volume up/down up along the left-hand side of the device below a dongle-hole, a headphone jack on top, a power/lock button on the right, and a microUSB port on the bottom. On the back there's a single LED flash 8-megapixel camera capable of recording in up to 1080p HD video, while on the front there's a cool 2-megapixel camera made specifically for video calls (though it's able to take video and photos as well) ready for instant use.
There's another device out there that's similar to this one, that being the Infuse 4G from AT&T. This device has slightly sharper edges, again, similar to the original GSII, and the same specs all around essentially save for the processor. While the SoC on the Infuse 4G is only a single core at 1.2GHz, the Galaxy S II (and the Epic 4G Touch version) offer twice as much at 1.2GHz dual core, and that's the Samsung Exynos dual-core processor which means you'll be busting up pretty much the whole of your competition's similar processor power. If you've used the Infuse in the past, you'll note that the Epic 4G Touch does feel the slightest bit more substantial, and of course there's the matter of the software inside. While the Infuse has TouchWiz, it's not the newest version to come out with this newest set of Galaxy S II devices. We'll talk more about this in the Software section below.
As for connections you've got Bluetooth 3.0, EVDO Rev.A support, WiMAX, Wi-fi a/b/g/n, standard headphone connection jack, and your microUSB port. This port at the bottom of your device is no standard port, mind you, it supports MHL, which means that if you've got your standard Samsung MHL converter cord, you can output to HDMI with some above-average fantastically HD 1080p video.
[vms e9de8fbb1c42787c3ec2]
Samsung Galaxy S II Unboxing by Chris Burns
Software and Performance
Samsung has provided the new run of Galaxy S II devices with a relatively new look at their TouchWiz interface, providing TouchWiz 4.0 here with a new flavor made specifically for this USA release. You'll get all your favorite Google apps plus a few carrier-added bloatware apps and Samsung's own lovely selection of sharing and cloud-based apps, as well as the Samsung App Hub which could very well be providing us with free awesome apps in the near future.
In the video below you'll see Samsung's Vice President of Consumer & Enterprise Services Gavin Kim presenting the new features available on the Galaxy S II USA launch, this presentation filmed by yours truly in NYC when they showed off all three new versions of the handset. Notice how he's using his MHL link to show this all off via HDMI. Neato!
[VMS 8ca8133fa24680a88d2f]
Samsung Galaxy S II USA Launch Upgrades Rundown by Samsung's Gavin Kim
You'll be working with the Media Hub more than likely as well as the Social Hub here in this newest offering from Samsung, as both have been updated to the fullest to bring you the group's newest vision for both media (music and video) sales and social media network viewing. Download a bit of video and play it over HDMI, check out your social feeds all in one place for perfect convenience. We're still hoping for Google+ integration for the Social Hub, by the way, guys, bring it!
That said, Kies Air is offered here again, it being one of the greatest Samsung-made apps on the market. With this app you'll be able to log into your Epic 4G touch completely remotely from any web browser and work with your contacts book, bookmarks in your web browser, photos, music, video, messages, everything your heart may desire. This is convenient for the power user as well as the brand new user, this being a potential big bump for new users to start using Android as, while the iPhone has iTunes to help them access their media from their PC, Google has no such alternative. Samsung, thinking ahead!
[vms db89ab32c9969754d475]
Samsung Galaxy S II Epic 4G Touch Hands-On Special Edition with Philip Berne
Needless to say, the entire device is snappy as a whip, games and video and music working without a hitch. One of the most impressive bits we've noticed actually, again, comes through the MHL to HDMI connection, this playing files that are H.264, H.263, or MP4, are really rather brilliant to behold. Though the Galaxy S II doesn't claim to be any more of an impressive video output machine than, say, the Infuse 4G, it certainly seems as though it is. Perhaps it's my imagination.
Voice Talk is another app which comes right out of the box, this version powered by Lingo meaning it's both high quality and because Samsung designed the interface, very easy to use. You can use this in tangent with your official Samsung Galaxy S II car dock for a rather simple experience getting around your city, town, or country. Hi Galaxy, you'll say, get me where I want to go! You can see that car dock in the video below as well:
[vms f871b6d7215b868a875f]
Samsung Galaxy S II USA Accessories Rundown
Another less talked about app that deserves a bit of attention is the Video maker app. With this simple to use cut and edit tool you'll be chopping off the pieces of the videos you've filmed with ease and turning them sepia, invert, of emboss them with just a tap or two. Intuitive and powerful, and won't bog down your engine as a dual-core Exynos is more than ready to handle such work.
Next we've got a bit if information on benchmarking, and remember to check out our sister-site SlashGear's results as well if you want a slightly different set of tests.
Benchmarking
For benchmarks, I'm simply going to list the numbers that we've achieved in our tests, then if you want to see the images of the tests and the comparison to both the original Galaxy S II and the NYC pre-release version of the device, you can see that in our post entitled Samsung Galaxy S II Epic 4G Touch Benchmarks vs GSII Original vs SGSIIE4GT, an epic post indeed. What we've got going here is thus:
Vellamo Score: 853
CF Bench: 11608, 3439, 6706
Linpack Pro: multit hread – MFLOPS 64.034, Time 2.63 seconds, Norm Res 3.24, Precision 2.22044…
Linpack Pro: single thread – MFLOPS 47.045, Time 1.78 seconds, Norm Res 5.68, Precision 2.22044…
Quadrant Standard: 3015
Quadrant Advanced: 3564 – CPU 7569, Memory 3256, I/O 4833, 2D 932, 3D 1230
Quadrant Advanced – note that you can take screenshots on your Epic 4G Touch by holding down the home button and pressing the power button. Simple!
The power is there, the performance is there, this is, at least by the numbers, the greatest smartphone on the market today that we've thus tested – out of the box, that is.
Camera
The camera, as you may have heard from Philip Berne above, shoots in 1080p at high profile which is a very low-compression high-quality "close to what you'd expect to find on like a Blu-ray video". Take a look at the video below and see if your humble narrator took a nice enough video to do said video quality justice.
720p summer in NYC in a cab, middle of a sunny day
1020p summer in MPLS in a house, middle of a rainy day
Then for photos you'll find that the device offers just as nice or nicer photos as any comparable top-tier smartphone with an 8-megapixel camera. Colors are accurate, several modes can be used, and the camera interface, believe it or not, is customizable, your options able to be set to the side of your camera screen viewer. Take the time to look at the camera interface in the newest Motorola devices like the Droid 3 and the DROID BIONIC, not to mention the myTouch 4G Slide, you'll see that camera interfaces and the ability to take nice photos (and to a lesser degree, video) with your smartphone is turning up as quite the essential prerequisite for every handset.
Some photo examples in various conditions:
Battery and Phone
As with essentially every single smartphone device we've tested over the past year or so, voice on-phone hasn't been a problem whatsoever. Speakerphone performance here similarly has been loud and clear, a good thing now especially since we've got the Voice Talk app running that'll act as the other end of our conversation from now on. Again, Voice Talk isn't the first place we've ever seen voice commands, but it's certainly being promoted here with good reason: it's well made, has a simple interface, and it works.
As far as battery life, you're going to have a full day's use out of this device without a problem. Reviewers of the original Galaxy S II said they were surprised at how much time they got out of their handsets because they'd seen less than impressive life out of similarly powerful smartphones in the past. Here we're beginning to expect a full day's work out of a smartphone at least – and though we don't always get it, it's nice to see a phone with Galaxy in the name especially providing us with the full 24 hours without cutting out. That said, once you've got 4G activated or if you're using the device as a mobile hotspot, expect your battery to last a whole lot less than a day – more like a few hours – but you've got a car charger, right?
Wrap-Up
This device is essentially the same as the original Samsung Galaxy S II spread out over a slightly larger screen (again, with the same amount of pixels) or nearly the same as the Infuse 4G which has the same amount of pixels and the same Super AMOLED Plus technology with a 4.5-inch display instead of a 4.52-inch display on the Epic 4G Touch – and of course, once more, the Infuse only has a single-core processor where the Galaxy S II models both have dual-core. Having the international edition of the device affords you GSM, aka the ability to slap in several different kinds of SIM cards wherever you may roam, internationally. There's also the slight differences in the construction of the device, that being here the big lovely joystick button in the center on the international original while this first-released USA version of the device has just the four dedicated Android menu buttons that light up like a beacon in the night.
Depends on what you like, yes? If price is an issue for you, you'll want to go for one of the USA editions, and since this is, at first, the only one available on the market, you'd better go for it. Unless you can wait a few weeks, that is, when the AT&T version is released and perhaps a few days more when the T-Mobile version is out. Not though that the T-Mobile version wont be carrying the same processor – decide you must!
When you're heading out there to make your decision, again, remember that if you've already gotten to this point, it's the Galaxy S II and the Galaxy S II and the Galaxy S II you're deciding between. The original Galaxy S was and is one of the best selling Android devices of all time, even internationally, and the Galaxy S II isn't doing so bad itself internationally as well.
This is Samsung's greatest effort in a handset thus far. This WiMAX-capable version is the only US-bound version of the Galaxy S II you're going to get with the original Exynos processor and a large 4.5-inch display. The T-Mobile version has a different processor (from Qualcomm) and the AT&T version has a 4.3-inch display like the original (because they're also carrying the Infuse with the 4.5-inch display and the smaller processor.) Got all that straight? The long and short of it is, Samsung's aiming to get a big display in your hands, one way or another. Super AMOLED Plus still reigns supreme for Samsung – for the moment, anyway.
[vms 012e2a7984afa4480a6d]
Samsung Galaxy S II NYC Reveal
If I could have a choice of which Galaxy S II to pick, which would I choose? All of em. The international edition is the best for me because I travel internationally every once in a while, but would I be a normal citizen, the carrier I was already on would be the connection to the device I want – Galaxy S II for everybody!
[device id=1458]