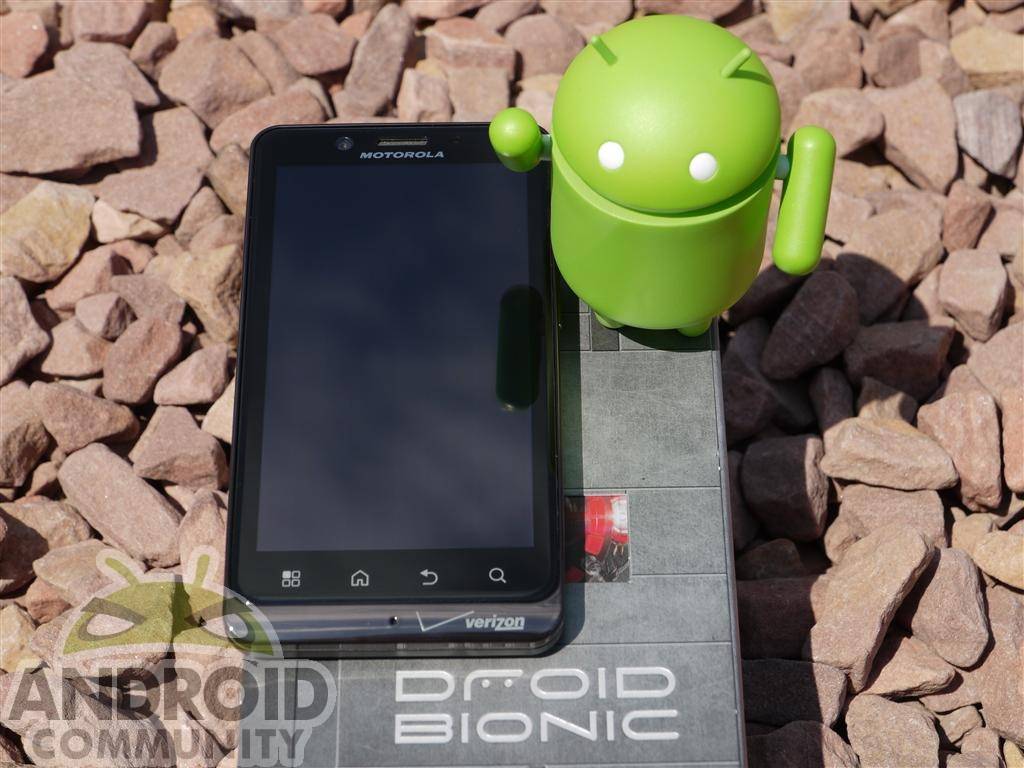 Motorola has finally released the much anticipated Droid Bionic. Now that it's finally here we aim to take a deeper look into the hardware, software, and all the accessories to see if this 4G powered superphone can really "rule all machines" as Verizon has been claiming. The commercial is clever and neat but it's all about the phone when it comes down to it. Read on below for plenty of details during our review, as well as tons of photos and some in-depth video hands-on.
We first saw the Bionic back at CES 2011 but sadly it was quickly delayed more than a few times. Now we have it here and in the flesh, or plastic I should say. We've given it a solid look over and ran some benchmarks on this beast to see if the wait was worth it. We'll start with the video and then get into the goods later.
Droid Bionic hands-on with accessories
[vms c81a9e69fee1cea4a087]
Hardware
Obviously the hardware is excellent as most Motorola phones are. At first you'll quickly notice how similar to the Droid X and Droid X2 the Bionic really is and you can tell where the inspiration for the design came from. With a similar layout DROID users should all feel right at home.
Just like the others we have the micro-USB and micro-HDMI ports on the left side. These are used for charging and sync, HDMI-out for video playback up to 1080p and even mirror mode for games and apps.

Around to the right side just like its smaller siblings we have a clean, simple, and elegant design with nothing but the aluminum volume up/down rocker. It's conveniently placed right as the curve around back starts up to give it a natural placement that is easy to access while holding the phone.

Nothing on the bottom but the microphone pinhole shown in the image above. Then up top we have the usual 3.5mm headphone jack and power/wake button. The placement of the power button is nice but with the battery cover curve right there you naturally leave your finger right on the curve and it sits a bit short from the button and makes it feel like you're reaching extra far when in reality your not, overall this was not an issue for me either but worth noting.

On the rear we have the rest of the goods such as an 8 MP camera lens capable of 1080p video capture with dual LED flash, a noise cancellation pinhole, and the speaker grill. That and a few brand tags of course like Verizon, 4G LTE, and with Google. Like all previous Motorola phones the back has a nice soft touch matte black design that feels good, and is scratch resistant.

We all know plenty about this powerhouse and its specs under the hood but how about a little recap? We have the new TI OMAP 4430 1.0 Ghz dual-core processor powering all the goods along with 1GB of RAM, 16GB of internal storage and a 16GB micro-SD included for 32GB of total storage. 8 MP camera with VGA for video chat, a brilliant, bright, and crisp 4.3″ qHD 540 x 960 resolution display. While it's still a pentile display and struggles with the color green everything looks amazing. As for size its around 13.3mm (just a tick over half an inch) and it only tapers down around 11.3mm at the thinnest point. The Droid X models both are under 11mm and the new Galaxy S II's all are under 10mm thick, but they don't have 4G LTE inside.
While the display isn't a Samsung AMOLED we still found the colors and resolution to be quite excellent. The contrast in colors doesn't match the AMOLED but everything else does just fine. Instead of an NVIDIA Tegra 2 like the Photon 4G, or a Qualcomm like the Sensation 4G we have the a Texas Instrument OMAP 4 series CPU in the Bionic that performs very well. We will go over benchmarks shortly.
Software and Performance
On the software side of things is Android 2.3.4 Gingerbread that is moderately skinned with Motorola's "Blur" UI or whatever they want to call it. So far from my initial testing this is by far Motorola's most refined UI. With light changes that don't interrupt the user or hinder performance so far I like the new skin. With customizable and realizable widgets, contact widgets with fancy animations and more they've definitely stepped up the user interface game over at Motorola.
With Android 2.3.4 we have Google Talk video chat included that works great with the VGA front facing camera. As far as pre-installed applications we have the usual Verizon bloatware like the 4 or so different V CAST apps for music, video and more. Amazon Kindle and Blockbuster are also pre-installed and quickly I removed those. We do have some useful bloatware such as NFL Mobile (something I wish all carriers had) Citrix GoTo Meeting, Motoprint wireless printing, Slacker Radio and even QuickOffice. Pictures of the pre-installed apps can all be seen in the finally gallery below.
Performance
I know everyone loves benchmarks, and so do we so I've gone ahead and ran the usual array of those. Before I get into screenshots I did want to mention performance has been very lighting fast. From browsing the web on 4G LTE to daily tasks the dual-core processor does an amazing job.
Quadrant Pro scored well over 2700 on my Bionic which was decent compared to the G2x and Droid X2 that both scored around 2200 with the NVIDIA Tegra 2 CPU. While Quadrant isn't extremely accurate everyone still loves to use it and we all get different results. I wasn't able to break 2300 on any stock Tegra 2 phones but our readers all have. The Sensation scores around 2400 on Quadrant so the TI OMAP 4 does a great job and is second only to the Galaxy S II from initial stock testing.

We have very similar results across the board with the DROID Bionic, beating most phones currently available in all the benchmarks we ran except for the Galaxy S II. For now the SGSII is still king and when those upgraded 1.4 Ghz models land it will be even better. The only benchmark it performs poorly is Vellamo and for some reason barely kept up with the single-core old-school phones. Next we have in order: CF Bench, Smartbench 2011, and Vellamo.
Camera and Battery Life
The camera is an 8 MP camera with dual LED flash. I've tested it quite a bit both indoors and out and while it takes a great photo they do seem a bit over exposed in my opinion. The auto focus is pretty slow and can sometimes take over 2 seconds but once focused it takes a great photo. Trying to snap a quick photo of kids or pets might be hard with the slow auto focus. Here is a few test images below.
Bionic 1080p video recording

Battery Life
The Motorola Droid Bionic comes with a huge 1735 mAh battery on board. I guess Motorola didn't want to hear talk about extremely poor battery life like the Thunderbolt suffered when it first was released. So far I'm averaging pretty solid battery life. Nothing spectacular or to write home about, but nothing extremely poor either. I've used it all day for games, benchmarks, and video capture and still around 40% after about 7 hours. Should make it through an entire day with ease. I've noticed some slightly unusual charging patterns but I'll look into that further later.
Accessories
Motorola and Verizon were nice enough to provide us with a slew of accessories for every occasion. I mean the HD Multimedia dock, the car dock, home standard dock, the $299 Lapdock, and even the webtop adapter when you only want to bring the phone and not a dock. We have everything and more we could ever want. All of that was shown in the video above as I unboxed all of those but I'll briefly mention them for everyone here too.
First up the HD Multimedia Dock. It will run $99 dollars and can be used as the hub for your phone. With 3 USB-out ports as well as HDMI and audio out you can stream images, movies, videos, games and more right to your HDTV or anything that accepts Micro HDMI. This also triggers the webtop app for full-screen web browsing with Firefox and more basically making the Droid Bionic a mobile computer.
It also comes with an included power source and a remote for controlling everything. With standard android buttons as well as media playback and navigation you'll never need to move from the couch. Thanks Motorola!
The Standard Dock will be $39 and features the same great build quality and exact design of the HD Dock but is missing the outputs on the back as well as having no HDMI. This dock is mainly for those wanting it for their desk, office, or bedside and has an awesome alarm mode once placed in the dock. Without HDMI it doesn't activate the webtop application so that is where you'll need either the $19.99 webtop adapter or buy the HD Dock.
The Navigation Car Dock will also be priced at $39.99 and is exactly the same as the Atrix, and the Photon 4G model with some slight curves to the plastic to fit the frame of the DROID Bionic. It features dash and windshield mounts and comes with extra pads too. An included car charger and extra long 3.5mm stereo cable for audio out is also provided making it a decent deal. The Car dock has a strong latch that securely locks the phone in place and will prevent any accidents or falls. Docking enables the navigation menu and is a nice car user interface for easy and safe navigation.
Last but not least we have the Motorola Lapdock mini-laptop accessory. This will run you a hefty penny at $299 and personally I feel this is still way too much. I understand it's all about convenience but when your average dual-core netbook or cheap laptop costs around $349 for the full experience I just feel $299 is a bit much for the Lapdock. It does however have great build quality, stereo speakers, a huge 37 mh battery that will charge your Bionic and a nice chicklet style keyboard for easy typing. This will get its own full rundown and review at a later date but for now check out my extensive unboxing video and the photos below.

Motorola DROID Bionic Lapdock hands-on
[vms 6fa333f8b44b610d9569]
4G LTE Results
The Droid Bionic is the first Verizon 4G LTE phone to also come equipped with a dual-core processor to take full advantage of those blazing fast speeds. While this doesn't equal full on amazing browser speed improvements the overall load times for games, browsing, YouTube videos and updating applications is blazingly stunning fast. T-Mobile doesn't come close, WiMAX barely comes close to my 3G results, and AT&T well — they are still a month or three off from having an LTE network even worth talking about.
I'm getting home internet type speeds of around 12 Mbps download and 2-3 Mbps Upload on the Bionic. Something many of my friends don't even get at home. Check out these results below.
I have noticed around my home here in Vegas I seem to lose 4G LTE quite often and it switches over to 3G coverage as you can see I'm on 3G in some of my screenshots. Throughout town I have 4G almost everywhere so it could just be my neighborhood as inside local stores I had full 4G still. All of the above speedtest results were using 4G LTE and they are pretty stellar. Topping 13 Mbps with a cell phone is awesome and I can't wait to see more in the future as LTE develops and continues to grow.
Wrap-Up
OK, I know that was long and included tons of photos but you know you wanted to see it all. At the end of the day your probably wondering if you should get the Bionic or wait for something else. For now I feel I can safely say this is one of if not the best phone on the market. In terms of raw performance the Galaxy S II beats it, and all of Motorola's phones are locked down so that is another issue. The overall package of great performance, stellar build quality, dual-core power, and lightning fast 4G LTE all in one package this is hard to pass up. Yes the Samsung Nexus Prime or whatever may be coming soon, but we don't know if that will get the 4G LTE love.
The DROID Bionic is everything I expected it to be and more, sadly we just had to wait forever and it this was released in June instead, it would have been HUGE! The Bionic is what I expected the Droid X2 to be but wasn't. The Bionic is the best all around choice to date and will make ANY user extremely happy for now. Coming out this late we now have the Samsung Galaxy S II and the new Galaxy Note on the horizon so that makes the choice a little harder for some. In the end it comes down to user needs, preference, and if they are willing to wait even longer now that the DROID Bionic is finally here. I'd say buy with confidence and enjoy it while it lasts.
[device id=1476]