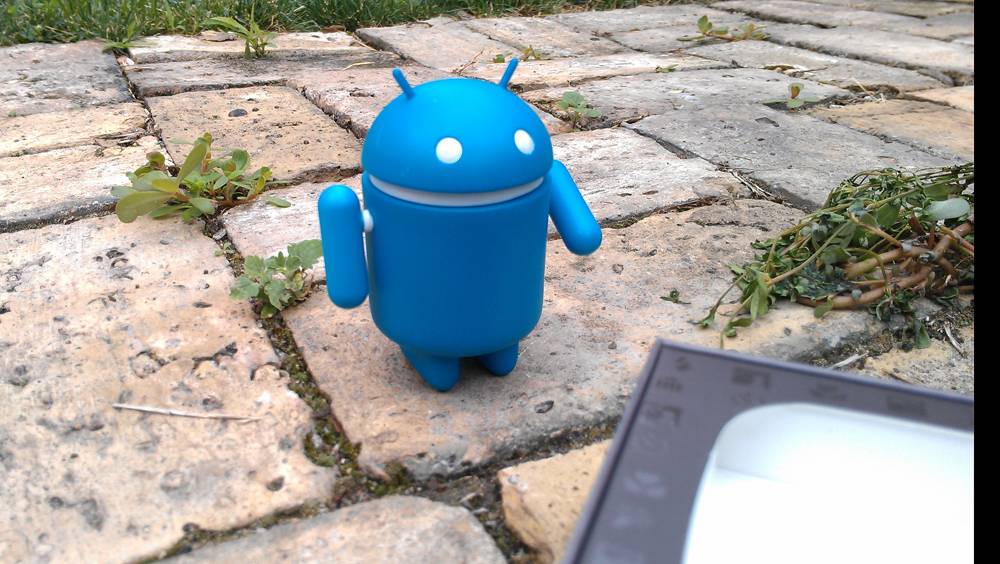 What we've got here is, let me tell you straight out, HTC's greatest effort to date. This device takes the myTouch 3G Slide aside for a heart-to-heart, telling it that it's time to leave because the boss has arrived. A slide-out QWERTY keyboard under a 3.7 Super LCD display all around a 1.2GHz dual-core Snapdragon processor and the greatest photo and video setup yet produced on a smartphone. Interested yet? Let's have a full look at this masterpiece of a device.
Before we go any further, let's have a hands-on and unboxing session with this little slide monster. This device comes in a box that's extremely similar to the rest of the super-power handsets coming out on T-Mobile over the past few months, stark white and blasting colors all about it. Inside lies the prize:
[vms 70046f63dfd8b0153ece]
Hardware
What we've got here is a device you're going to instantly feel that you've made the right choice in purchasing. It's made mostly of plastic on the outside, but you'd never know it, as HTC continues to bring their perfectly awesome blend of soft yet incredibly tough plastic on the bulk of the back accented by a camera lens aside a capsule of metal. You'll instantly see how this device relates to the HTC EVO 3D in its form, but you'll be thinking twice about which carrier you've chosen to dedicate your life to when you see how much more potential this lime-green accented device is than that ol' red.
Grab a full review of the HTC EVO 3D [right here]
You'll also find that there's another excellent camera button on this device (the EVO 3D has one too), with patterned metal for your finger to love up on while you're taking zero shutter lag photos with the back-facing camera. You've got that 8-megapixel camera back there that's also capable of capturing 1080p video, you've got AF, a dual-LED flash, and ClearShot HDR. Essentially this is a device that looks like a message machine, but is actually made for taking photos galore.
The build quality is fantastic. I've not been this excited about the quality of a device in its build since the Nexus S, and truth be told my favorite build is still in the HTC ThunderBolt, but what this device reminds me most of (besides its closely related myTouch counterparts) is the original T-Mobile G2. This bodes well for this device, as the G2 is one of my all-round favorite Androids ever, the biggest similarity being the awesome keyboard. While keyboards come and go, and certainly they can be done in not so great a manner, this is one that stands up. Brushed metal back, well-spaced keys all around, and lights that appear above ALT and CAPS when they're activated – see them right there in the upper right-hand corner? Nicely placed!
See our ages-old review of the T-Mobile G2 [right here]
There's also that ever so awesome Genius button that appears on the keyboard in the lower right and in the lower right of the home-row of Android menu buttons when you're holding the device in portrait mode. It brings you, as it always has on myTouch devices, to a rather fancy screen that essentially offers you voice commands for calling, sending text and messages, searching the web, and finding local businesses – this last option of course connects to Google Maps instantly. Convenient, yes? Searching also uses Google, and I must say, it works hella good. Searching for the nastiest and most awesome rap song ever made, Eazy-E's "Switches" first launched a search for "EEE Switches", then upon trying again with a little more space between saying easy and ee, the search turned true.
WARNING: Switches isn't a work-safe song, I just like to use this search when testing voice commands because my Minnesota accent usually hacks it up – HTC's voice recognition here works rather well.
While I'll never be the biggest fan of the myTouch logo mark (the one you see above the screen here and on all myTouch branded devices), I must admit it looks pretty snappy on this device. The hardware on this device compliments graphics, the screen sits nice between the top speaker and the buttons below, and the joystick sitting between the menu and back buttons works like a charm. Flip around your screen like a pro with the stick and select where you're going in a way that makes Android a completely different system compared to non-joystick builds.
Software
HTC provides yet ANOTHER new look at Sense, this time still taking on Sense 3.0 status with the ring selector and everything in the lockscreen and a whole slew of amazing widgets sitting on a full carousel of homescreens. Sadly I cannot toss the carousel so fast that I can't see the screens like I can on the Sensation, but I'll forgive this in favor of saying it's controlled and nice.
See our review of the HTC Sensation 4G on T-Mobile [here]
Sense provides us with a feeling of being home since we've been using the Sensation and the HTC Flyer quite a bit lately, Sense being one of the only manufacturer-made user interfaces for Android that we can stand. But better than just being able to stand it, we, or at least I, really have no plans of getting rid of it when it comes time to root the devices its on. Sense is sweet!
As for apps – wow, there's basically no bloatware at all! What I mean is, even though T-Mobile has added a few apps I might never use, they've held back A LOT, giving the user an experience that they choose rather than what the carrier thinks they'd be happy with. Well placed and immediately useful are the non-Google-placed apps T-Mobile has chosen to apply, that being Netflix, Bejeweled 2, and KidZone. KidZone, for those of you that do not know, is a perfectly awesome "safe mode" for Android which allows a parent to give a child their device with no fear of them accessing anything they shouldn't by allowing them to see only a select few apps and a single homescreen. Angry Birds only!
And again, you'll be rolling out with some sweet voice recognition via your Genius button. The screen that pops up is rather simple, making it plain exactly what you've got to say in order to get what you want.
Performance
This device has a dual-core 1.2 Mhz Snapdragon processor in it, so you wont be seeing any slowdown anywhere for essentially anything. You'll be able to watch Netflix movies till you drop, play the most advanced video games on the market, and roll out with any sort of media you've collected with the device's fantastic camera OR items you've put on the device yourself. Wanna play that fantastically gigantic HD video right from your screen here? Let's do it! This device is ready and willing to take all the rest of the top-tier devices to lunch and not give any money for the tip, believe that.
And what review would be complete without a few generally excellent benchmarks? None, none I tell you! At least, not this one, of course. On to them!
AnTuTu
Linpack Pro
Quadrant Advanced
Smartbench 2011
Vellamo
Camera
The camera is the big money here in the device, the item that'll make or break how you handle it and will make your day if you use it right. We've taken several example shots here to show you what the device is capable of, each of these features instantly available to you in the upper right-hand corner of your camera screen. Generally these sorts of options are low-quality jokes on other similar devices – here they're pretty darn good.
Sweep Shot
ClearShot HDR (for bright settings)
Burst Shot (taken in quick succession – five total at a time)
Night (keeps shutter open longer)
Action
Macro
Portrait (blurs all that you do not want in focus)
Auto
Video
Battery and Audio
The battery is surprisingly average in its classification at 1520 mAh, but we've experience a full day of uptime with medium usage on the regular. On the other hand, if you are using your camera as much as we've been using ours, expect to have to charge the device more than just once a day. Cameras are serious business, and when they're as fun as this one is, you're gonna pay the price!
The audio in-call, on speakerphone, and through the speakers on the back of the device for playing Pandora or, of course very soon, Spotify, are all extremely nice. You won't have any complaints about the audio, that is to say, even if it's the only thing you've got for a stereo while you're painting your new house. Not that I'm in that situation, just saying.
Wrap-Up
This is a top-tier device all the way. Dual-core, working on T-Mobile's 4G network, an amazingly well put together photo setup in both hardware and software, and the build is the best we've seen. This device will immediately oust the rest of the devices I'm using at the moment, barely edging out the Sensation, but yes, edging it out. In short, if you're with T-Mobile, this is the device for you. Unless you need that lovely curved glass and slightly cooler backing on the Sensation, this is the device for you. It really, really is.
What are the downsides? If you don't need a slide-out keyboard, you'll be annoyed by it, if you're the kind of person who doesn't take care of their devices and has really dusty pockets, you'll soon see this device degrade, and if you're not into the whole photo-taking revolution on these mobile devices as of late, there's basically just another Sensation sitting here. That said, if you enjoy any or all of the amazing features I've just listed (aside from the dust getting in the cracks, noone can avoid that,) the myTouch 4G Slide is the new HTC hero phone, even if they don't push it as such. It's the winner.