If there's one thing a software developer, a processor manufacturer, and/or a smartphone designer loves (or hates violently) it's a good benchmark. What we've got below is a set of benchmarks run on the brand new Samsung Galaxy S II Epic 4G Touch right out of the box. These benchmark scores are compared then in brief to both the original Galaxy S II as reviewed by Chris Davies as well as the Galaxy S II Epic 4G Touch that we saw on the presentation block in NYC not two weeks ago! It's time for some bonus nitpicking to a degree that only your barber would be able to tell!
Before we continue, I must point you directly at the rest of the times we've taken the dual-core processor world to the cleaners. The Samsung Galaxy S II in its original state AND in this Epic 4G Touch version both have the same Exynos 1.2GHz dual-core processor. As you'll see in the following comparisons to the original, the Epic 4G Touch has some big shoes to fill: First compared to the HTC Sensation, then to the Infuse 4G (which with it's similar gigantic display yet rolling out with a single core processor, didn't stand a chance), then finally both the Qualcomm MPD and the LG G2x (aka Optimus 2X).
Our exploration of three Galaxy S II's begins over at our sister site SlashGear – first take a peek at several marks in a snap with Chris Davies original analysis of the Galaxy S II:
Raw benchmarks only tell part of the story, but the Galaxy S II scored 2939 in Quadrant Standard and 3540 in Quadrant Advanced [CPU 7556, Memory 3955, I/O 3955, 2D 981, 3D 1210], 46.939 MFLOPS in Linpack Pro, while the SunSpider test for browser performance came in at 3584.3ms (lower is better). We've a feeling that custom ROMs on this particular handset will simply fly.
Note that SunSpider is included on Vellamo, the first test we'll be looking at here between the NYC pre-release and the here final release of the device. Vellamo takes mobile web benchmarking to the most intense level its thus far been at here on Android and tests performance and stability, including networking, JavaScript, rendering, and user experience. You can see individual screens for this test in the gallery at the bottom of this post, or you can simply check out the comparison here: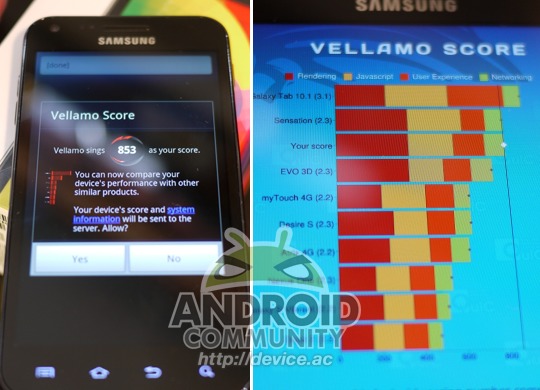 After that, there's another similar test by the name of CF-Bench, these scores also showing scores in native form, Java, and overall score.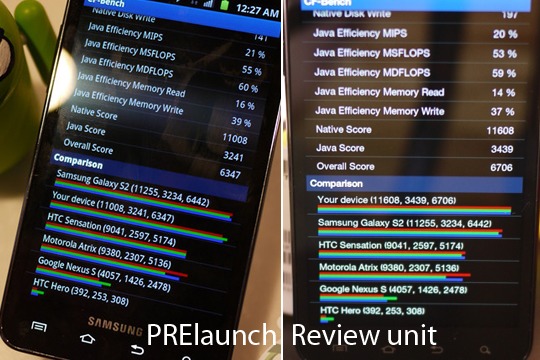 Then there's Linpack which specifically tests how fast a computer can solve a set of linear equations, results then showing up in millions of floating point operations per second (MFLOPS). Higher is better, and you'll notice that we've run the tests multiple times to show a range. We've run every benchmark multiple times of course too, but with Linpack it seems more appropriate to show all scores, not just the ones that seem most average.
Finally there's Quadrant standard and Quadrant Advanced. Note that we weren't able to access Quadrant Advanced at the NYC event, but Davies scores for the original Galaxy S II are listed in his paragraph above.
Then once again one week in:
Finally here's a gallery with all the little extra bits if you do so desire to glance upon them. Here I must also remind you to think up any questions or additional tests you might want us to run for the final review of this device. Ask away!
[device id=1458]