LG isn't done with the mobile business. The other South Korean tech giant has been changing its business strategy the past few months and we're crossing our fingers all the efforts of the company will bear fruits. Even before 2017 ended, we heard bits of information about the G7–that it would feature an iris scanner and run on Snapdragon 845. As part of LG's rebranding of the series, that next G phone would have to be delayed because of changes in development.
The LG G7 skipped the Mobile World Congress. We noted 'Judy' would have a June launch but it was revealed in May, still as a premium flagship offering. The device was introduced with a notch on the display, housing the selfie camera, earpiece, and ambient sensor. The next-gen premium flagship phone was introduced as a ThinQ phone, following the LG V30S ThinQ. It comes with the SmartThinQ tech plus more AI features.
The LG G7 ThinQ focuses more on AI technologies. The phone finally launched earlier this month. We've got our hands-on and we soon confirmed it only uses LCD. We even shared with you 7 things to remember as the LG G7 ThinQ global rollout starts. We've got our hopes up high as LG has promised better customer and after-sales services as the LG Software Upgrade Center is now open.
Apart from the LG G7 ThinQ, the tech company is also announcing the LG Q7 which is a mid-range phone that delivers similar AI features just like the G7. The Q7 is an obvious follow-up to the LG Q6. This year's Q7 is still a mid-range phone but is now updated with new cameras, AI, Hi-Fi Audio, fingerprint sensor, IP68 rating, and a 3000mAh battery.
LG is improving the Q Series with smarter and more premium features. The LG Q7 actually comes in three variants: the LG Q7, LG Q7+, and the LG Q7α.
All three phones feature premium specs that are usually found in flagships phones like the LG G7. They are similar in many ways like the AI features but they can be different in some areas. TheLG Q7 line boasts of a slew of premium features like QLens, Portrait mode, DTS:X 3D Surround Sound, Hi-Fi quality audio, rear fingerprint sensor, and water- and dust-resistance.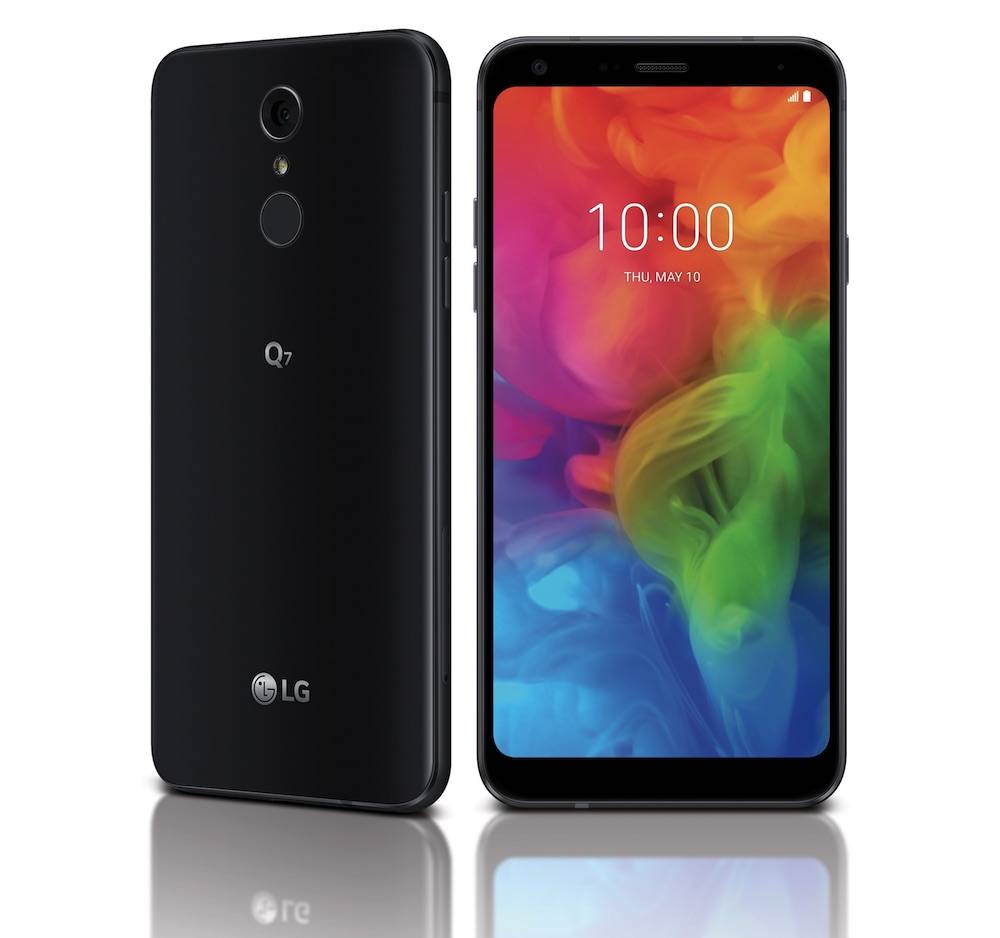 Let's take a look at the specs and features of each variant:
LG Q7. The basic Q7 now has at least 3GB RAM and 32GB ROM. There's a 5.5-inch screen with 18:9 FHD+ FullVision display, 2160 x 1080 resolution, 1.5GHz/1.8GHz Octa-Core processor, a 13MP rear camera with PDAF, 8MP or 5MP front-facing camera with 100-degree Super Wide Angle. The LG Q7 also features LTE/3G/2G connectivity, Wi-Fi, Bluetooth 4.2 BLE, NFC, USB Type-C 2.0, and Android 8.0 Oreo. The phones will be available in Aurora Black, Moroccan Blue, and Lavender Violet.
LG Q7+. This one doesn't offer a bigger screen but there's already 4GB RAM and onboard 64GB ROM. You can expand storage up to a maximum of 2TB with microSD. When it comes to imaging, the phone has got a 16MP rear camera with PDAF and the same 8MP or 5MP selfie camera with Super Wide Angle.
LG Q7α. The Q7α features only 3GB RAM with 32GB storage. A microSD card will expand memory up to 2TB. The camera is just the same as the LG Q7 the 13MP main cam and a 5MP front-facing camera.
The LG Q7 line also offers Portrait mode with bokeh effect so you can take selfies with blurred backgrounds. The Phase Detection Auto Focus (PDAF) allows high-quality photos. The three are basically the same but the cameras, RAM, and storage capacities are different. They all run Android 8.0 Oreo and features QLens, Hi-Fi Quad DAC (Q7+), DTS:X 3D Surround Sound, face recognition, fingerprint scanner, Smart rear key, Google Assistant, Flash Jump Cut, Music Flash, Timer Helper, and FM Radio.
SOURCE: LG