Year 2016 may be more known as the year when virtual reality will further advance but we've also been saying that smart home technology will also level up. Several OEMs have fully ventured into the business. Lenovo showed off its connected home idea and a pair of smart rubber shoes recently. ASUS went ahead with a Zenbo home robot. Philips has been busy rolling out new Android TVs with Google Cast powers and updating the Philips Hue Gen 2 app. Meanwhile, Xiaomi has launched the Mi Cube, a small controlled for the smart home, and a smart rice cooker apart from the numerous phones. Some other improvements and new services include the OnHub Router by Google adding support for IFTTT.
There are dozens to hundreds of smart home devices and services available but not many people give attention to them. Perhaps some are thinking the technology is too complicated for them to handle. Truth is, it's easy and actually convenient. You don't have to be really geeky and techie. If you can operate a smartphone or a tablet, you can enjoy a smart home experience because of the apps you can use.
We've listed down the Top 5 Smart Home Apps you can download on your Android tablet or smartphone to make the most of smart home technology:

Alexa is a virtual assistant that is Siri, Cortana, and Google Now's close rival. Amazon launched the Alexa together with the Amazon Echo last year. We were positive about this new voice assistant service and true enough, it has expanded to other devices like those from Wink, Nest Learning Thermostat, Triby, Amazon Fire TV, and Pebble Core.
The Alexa app is free to download. With your Alexa device, you can use the phone as a remote control and virtual assistant that will follow your commands like play a song, check the weather, new updates, write down lists, and answer questions. Alexa "resides" in the cloud so it can learn your words, actions, and activities so it becomes smarter through time.
Download Alexa | Buy Amazon Echo

VLC is what you need if you want to watch videos on your mobile phone. This new version brings video playlists, network shares, subtitles downloader, pop-up video view, multi-windows, and favorite network shares. You can always play your favorite TV shows and movies on the VLC player at home without having to open your laptop. Some Android packages and Android TV will also soon be available in the next update.
When setting up a smart home, you need to choose a media player that's right for you. There are dozens available but VLC for Android 2.0 is a familiar app that will make your life easier. No need to try other apps that can be complicated when you have one that you've been using regularly already.
Download VLC for Android

The Playstation Vue streaming app is now available on Android, This means you can enjoy the video streaming service from several sources. It works with most Roku devices like the Roku TV, Roku Streaming players,and Roku Streaming Stick found inside your smart home. The app also includes access to live cable TV channels, sports channels, movies, and more. Other ways to enjoy videos is directly from you Amazon Fire TV, PS4, PS3, and Fire TV Stick. It will be available soon on Android.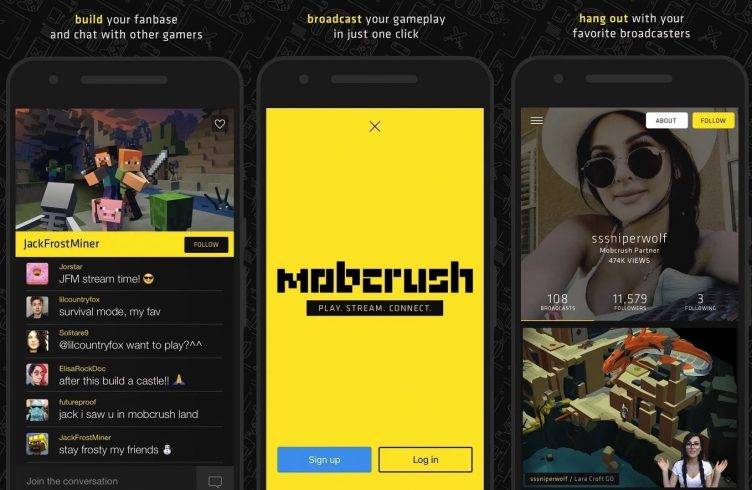 Mobcrush is a livestreaming app and gaming community in one. Feel free to watch gameplays of your favorite games and adventures from the app. Mirror your phone on your Android TV or any other smart display for a bigger view. You can share your gameplay as well with the Mobcrush community.
The app has just exited the beta testing state so it's ready for millions of gamers like you. It's a mobile app available across all platforms so that means you can enjoy it with your smart home setup.
Download Mobcrush

This app is more for virtual reality but where else can you best experience VR other than right at your own home? A VR headset like the Samsung Gear VR completes the smart home experience. You can be "anywhere" you want without having to leave the comforts of your home.
If you want a truly smart home experience, we suggest you get a pair of Gear VR now. What's good about this one from Samsung is that it is powered by Oculus Rift. You can also get the device from Oculus but if you have your Samsung Galaxy phone and Gear VR already, you'll be happy to know that the Oculus Home experience is possible on the Samsung VR. It's a new home screen for the Gear VR that works as an app drawer. It appears to be like a real home but only in the virtual realm.
Download Samsung VR