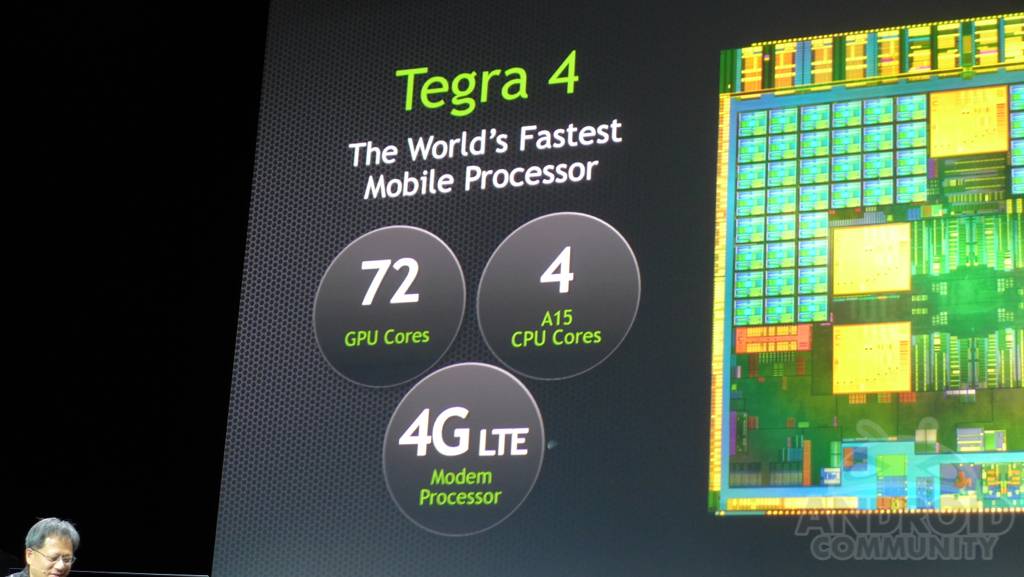 While the biggest news in general from CES this year was probably massive HDTVs with 4k resolutions and such, we still saw tons of Android goodness this year. The growing trend is each manufacturer (like Samsung) want their own stage at a separate event to announce their latest and greatest, so most the big hitters were missing this year from the mobile scene. However we still have plenty to show you so lets take a look.
As mentioned above, Samsung will be having their own event to show off their new phones like the Galaxy S IV, and we're expecting the same from LG, Motorola, and HTC. We'll also get a glance at many upcoming smartphones and tablets at Mobile World Congress late next month. For now however, check out NVIDIA's new game console, Lenovo's new Intel Atom smartphone, and tons of other stuff we saw at CES 2013.
First off we'll start with NVIDIA. Those dudes announced and impressed us with their upcoming Tegra 4 quad-core Cortex-A15 processor. We can expect that superchip to be powering tons of smartphones and tablets throughout 2013, and out of the gate NVIDIA showed us Project SHIELD. Yup, NVIDIA is bringing their own game console running Android to the market.
For everything you'll need to known about SHIELD you'll want to direct your attention to our announcement post. Then we were able to enjoy some Project SHIELD hands-on, check out the video below for your viewing pleasure.
Then the team from Lenovo dropped a big one on us at CES. That being their new 5.5-inch 1080p smartphone known as the IdeaPhone K900. What makes this unique and different is the large 5.5-inch screen, 1080p, as well as the Intel Atom processor powering Android. It rocks a 12 megapixel rear camera, a wide-angle front that sports an 88 degrees viewing angle and more. We'll be learning more about this phone soon but here's our hands on:
While we're showing you some of the impressive smartphones that were on display at CES, we can't forget the Sony Xperia Z. This little powerhouse complete with water-proof features and more is certainly a looker. Not to mention you'll be able to use NFC to tap the remote on your SONY TV to instantly enable mirror mode. This 5-inch 1080p quad-core smartphone should be quite fun.
While we have plenty more to show you we wanted to take a quick moment here to talk about the YotaPhone. This is truly what CES is all about. And that is innovation. This 4.3-inch HD phone sports a 4.3-inch E-ink display on the back that will mirror the front, share maps, save battery, show you the weather and so much more. We actually weren't sure what to expect, but left our YotaPhone meeting rather impressed. Here's our hands-on folks:
Then as expected, Huawei had quite the show. The unveiled their Ascend Mate with its massive 6.1-inch display, as well as their new 5-inch 1080p quad-core Ascend D2. And you can check out the latter of the two here. The Ascend Mate having a 6.1-inch screen and 4,050 mAh battery make it pretty impressive by itself. We had a few seconds to quickly check it out too. Don't mind the video below. It was quick.
Then Vizio had a few things to say on the Android side of things at the show. They have both a 4.7 and a 5.0-inch HD smartphone on display. Then they will also be bringing a 7 and 10-inch tablet to market at some point too. They weren't to successful the first time around so we'll see how it goes. The phones will only be available in China but here's more details here, and here.
Pantech who's been known for their budget smartphones is back with another impressive offering for AT&T. The Pantech Discover was detailed here, and we have a hands-on video below. With a 4.8-inch 720p display, dual-core power, 4G LTE, and interesting stereo speakers this phone should be quite nice on AT&T for just $49. Check it out:
To end with a few unique bits check out this 24-inch Tegra 3 powered Android 4.1 Jelly Bean "tablet." This is actually ViewSonic's new 24-inch 1080p PC Monitor that doubles as an Android powerhouse. The entire display has full multi-touch features, stock Android, Tegra 3 under the hood, and is pretty neat. the possibilities are pretty endless with this thing, size aside.
Then Archos also made an appearance. They announced a trio of new Titanium tablets, but we want to talk about their 7-inch GamePad tablet. You get a 7-inch 1024×600 display with dual-core power, quad-core graphics, and built-in gamepad controls. They hope to compete with the gaming market but I have a feeling the NVIDIA SHIELD might rain on their parade. Either way here's the hands-on video.
Then for a speed round to help you guys catch up with some other good odd bits we saw this year at CES. Verizon's Galaxy Note 10.1 with 4G LTE received some hands-on time. We also saw a few new cases from Pelican for the Samsung Galaxy S III. We'll end however, on Ubuntu running on the Galaxy Nexus. This is still very much a beta project, and we'll be seeing and hearing more from that team shortly. Enjoy the quick demonstration they gave on the floor since we weren't able to toy with it ourselves:
As we mentioned at the start of this quick wrap-up, All the big hitters in the world of Android have learned that they want their own limelight and own stage to announce their products. Samsung, LG, Motorola, HTC, and many others all have 1080p smartphone coming soon this year. Mobile World Congress at the tail end of February will probably show us many, but not all. While CES wasn't huge this year for Android you can rest assured knowing the next 2-3 months will be extremely exciting. We have a new generation of quad-core, 8-core, and 1080p displays coming to a pocket near you. Now lets just wait for 4k smartphones running on 12-core processors. Or is that a stretch?
We have plenty of odds and ends, cases, and accessories we'll be sharing over the next few days. In the meantime enjoy all of the links to content and videos shown above for an idea of what you missed at CES regarding Android. For a full show rundown head to our sister site SlashGear. What was your favorite device from CES — Android or otherwise — and what were you hoping to see but didn't? Let us know in the comments.