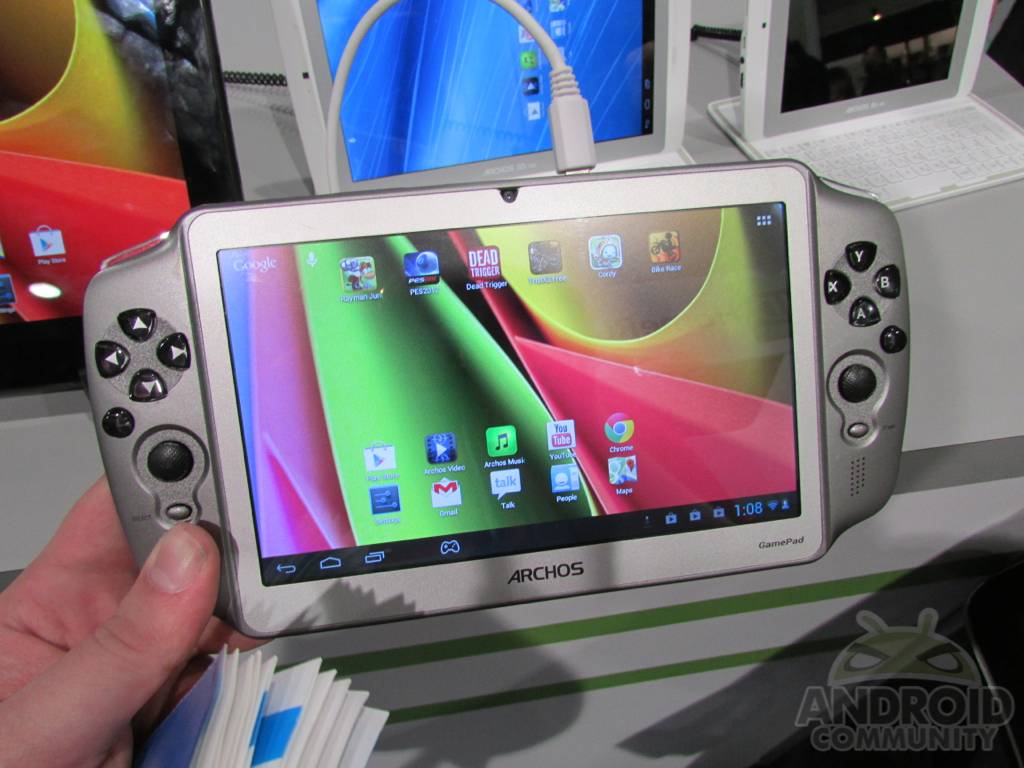 Last year the folks from Archos unveiled their own take on the Android gaming market with their new 7-inch GamePad tablet with an integrated controller. After finally launching in late December outside of the US, we were able to get some quick hands-on pictures and video today at CES 2013 to show you all. Check out this Jelly Bean tablet in action below.
For those who aren't to familiar with Archos' offering the tablet rocks a 7-inch display that is nicely built into a game controller for easy and intuitive gaming. They're calling this the first true Android game console, although we have a feeling OUYA and a few others will have something to say about this. Not to mention the just announced NVIDIA Project SHIELD will surely rival this slate on all levels.
Either way we ran down to the Archos booth to check it out, but before the video here's a rundown on the specs. The Archos GamePad rocks a 7-inch 1024 x 600 resolution capacitive touch IPS display, Android 4.1.2 Jelly Bean with Archos usual array of changes, tweaks, and media options. A 1.6 GHz dual-core processor, quad-core graphics, 1GB of RAM, and 8GB of internal storage. Now here's a quick look:
As usual, Archos always has a rather lightweight plastic build quality. We applaud them for the lightweight and simple design, but the usual plastic feeling makes the tablet "feel" rather cheap. As we originally explained, Archos has their own gaming and key-mapping technology that will map the keys to specific functions for the ultimate gaming experience. Some will automatically map, but most will require manual entry. Which is fine and simple as you saw in the video above.
The tablet is currently available now so head to Archos Store to give it a look yourself if you're interested in some gaming on the go. We're told a second generation quad-core powerhouse with an HD display is in development, but that's probably a long ways away. We'll be taking a look at plenty of other Android goodies here at CES so as usual, stay tuned.
[device id=3360]