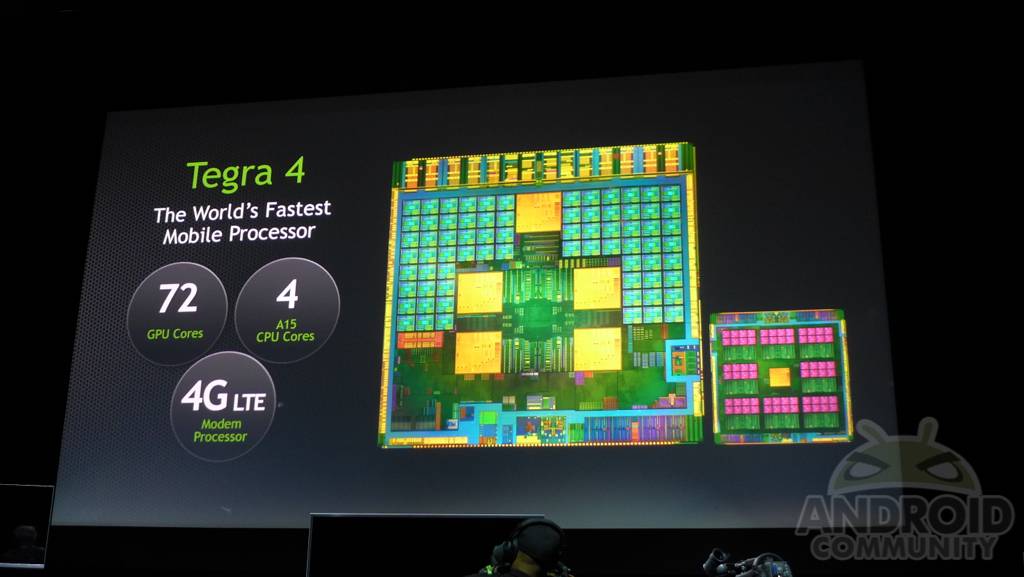 We're live at CES 2013, and NVIDIA is using the show to make quite a few major announcements. After letting us know what it's been doing in the PC gaming space, NVIDIA pulled the veil off the long-rumored Tegra 4 mobile processor. Yes, we all knew it was going to be announced, but boy does it feel great to finally have official confirmation.
As you might expect, NVIDIA is boasting some pretty awesome features with the Tegra 4. The company is calling it the "world's fastest mobile processor" and it seems to have the statistics to back that claim up. For starters, the Tegra 4 uses four A15 cores. While the Tegra 3 was a quad core processor, that one used less-powerful A9 cores, so the Tegra 4 should be significantly faster than its predecessor.
The Tegra 4's whopping 72 GPU cores should also help with that. Make no mistake, NVIDIA has packed the Tegra 4 with processor cores, so don't be surprised to see this newest release in the processor family burning up the benchmarks. Couple that with NVIDIA's 4G LTE modem processor, and you've definitely got a new mobile processor worth getting excited about.
To get an idea of just how much faith NVIDIA has in its new mobile processor, CEO Jen-Hsung Huang said on stage at the company's conference that the Tegra 4 was faster than Apple's A6X processor, which is currently featured in the fourth-gen iPad. We're also promised improved image quality and faster HDR (along with one shot and always-on HDR features) with this new iteration of the Tegra. We shall see if this processor is the best on the block soon enough, so stay tuned.