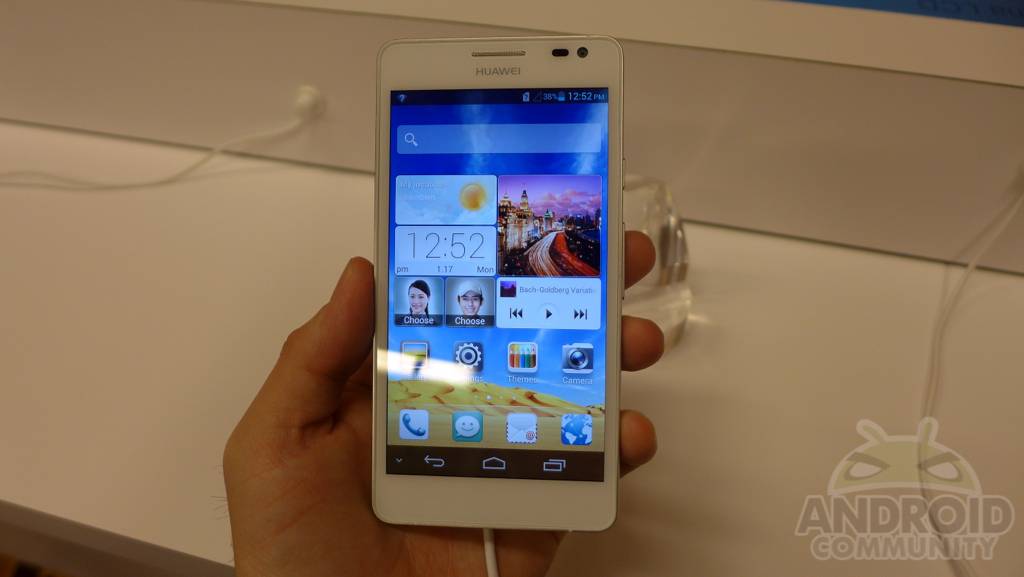 In addition to the Ascend Mate, we also grabbed a few minutes with the Huawei Ascend D2 smartphone. Though, while this one is a smartphone as compared to the Ascend Mate, with a 5-inch display it still borders on that phablet category. But names aside, the 5-inch display on the Ascend D2 has a resolution of 1920 x 1080 and a PPI of 443 — both nice in every respect.
As far as the specs go, the Ascend D2 feature set includes a quad-core 1.5GHz Hi-Silicon K3V2 processor along with 2GB of RAM, 32GB of storage, a microSD card slot, 1.3 megapixel front-facing camera and a 13 megapixel rear-facing camera with auto-focus and HDR. The battery on the Ascend D2 is not quite as massive as compared to the Mate, however at 3000 mAh it should hold its own in terms of getting through the day.
Other goodies for the Ascend D2 include GPS, Wi-Fi 802.11 a/b/g/n, Bluetooth 4.0, a weight of 170 grams and measurements of 140 x 71 x 9.4mm. This handset will also be available in two colors — Crystal Blue and Pure White. In terms of the OS, expect to find Android 4.1 Jelly Bean.
In terms of the exterior design, the Ascend D2 is dust and water-resistant as well as anti-scratch thanks to the Corning Gorilla Glass. The handset also has an aluminum body and metal frame and according to Huawei, thanks to the curved design, it should fit "comfortably in the hand." But as always, some real world experience will determine just how accurate that statement is.