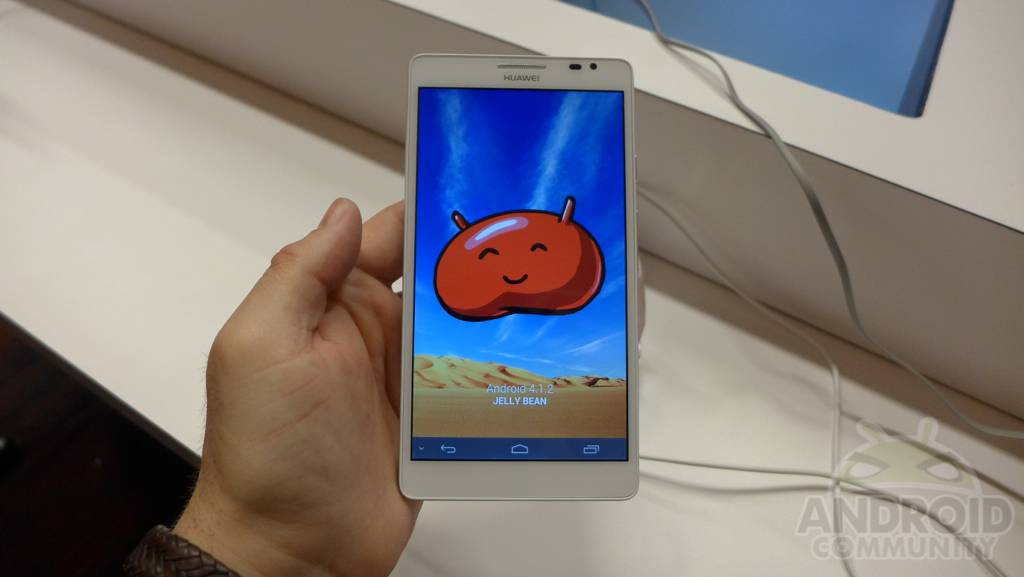 The Huawei press event is currently underway and we managed to steal a few moments with the Ascend Mate before things got underway. The handset, as had been rumored — is massive. The Ascend Mate does in fact have the 6.1-inch display, however that is not where the massive stops. We could also describe the battery as rather large as it comes in at 4050 mAh.
And for those wondering, that is large even as compared to the top dog Galaxy Note II with its 3100 mAh battery. Huawei notes that this should be able to provide up to two days of "ordinary" usage. Of course, some real-world usage will end up telling the tale of how good the battery life actually is. Other goodies for the Ascend Mate include Android 4.1.2 Jelly Bean along with a quad-core 1.5GHz Hi-Silicon K3V2 processor, Wi-Fi, Bluetooth 4.0, a 1 megapixel front-facing camera and an 8 megapixel rear-facing camera with auto-focus and HDR.
Touching back on the display, aside from being 6.1-inches in size, it is IPS with a resolution of 1280 x 720. Oh, and we would be remiss if we failed to mention the Corning Gorilla Glass. The Ascend Mate will be available in two colors — Crystal Black and Pure White. Otherwise, the size. The handset weighs in at 198 grams and measures in at 6.5 x 3.4 x 0.4 inches.
The measurements bring us to the next point — the fact that Huawei has put some thought into handling and use. Some of the features that will make for easier use include a minimized keyboard and dial-pad (as seen in the above image). The handset will also ship with an "Easy Panel" which is said to be a Universal Quick Panel that gives access to apps such as Notes, Messages and Calculator from anywhere. That all being said, check out the hands-on images included in the post as well as in the gallery below.