Android as a mobile platform has definitely come a long way. BlackBerry may have started the smartphone era and Apple made it mainstream but Android is more popular and widely used these days. No doubt that Android is King when talking about the mobile industry. In the United States, Android is still on top according to the Kantar Worldpanel ComTech with over 80% of the mobile market. Google won't be stopped in improving the platform so expect more hardware, platform, and apps that will help maximize your Android phone.
There are millions of apps on the Play Store but the best and most useful ones are those developed by Google itself. Right now, there are less than 90 apps created by Google. We've featured most of them as watchdogs of the Android community. Some of the most significants apps we've tried include Google Play Games, Google Photos, YouTube, Google Earth, Chrome Browser, Google Translate, Google Maps, and Google Keyboard among others.
The Internet giant regularly updates the apps and even the Play Store itself. Almost every week or month, we learn apps getting updated with more features or enhancements. Since the Google I/O was recently concluded, we've seen numerous developments. Several app updates were announced by the company and most of them are really important ones.
More updates and improvements are also coming to Google Play and Play Services v9.0 so expect to hear related announcements in the coming days, weeks, or months.
We've noted five Google-developed Android apps that recently received updates. Let's take a look at what's new:
The Uninstall Manager will inform the mobile user if there is no longer space on the device. A 'Not enough space' prompt will be shown once enabled and will give a suggestion to delete media files or apps that are taking too much space. Size will be shown and the amount of space a new app you want to install actually needs.

The update delivers only minor changes in the features and design. You can expect the app to work smarter and perform faster. Previews of links will be displayed and grocery lists will be auto-completed. You can also know if there are duplicates. The most recent update also follows the Materila Design visual guidelines.
Download Google Keep | Whats' New: Auto-completion and Material Design
The update allows the 'search along route' to be used in biking or wiki mode and not just the driving mode. When you take a rest, Google Maps will know that you are on a break. While in the Driving Mode, you will notice the Floating Action Button. A voice command button will be shown on the screen so you only need to tap once.
If you are going to a different place, notifications for a certain location can be set to help you find a new restaurant or store to visit.
Download Google Maps | What's New: New FABs for driving mode, better search options

Google Photos will now save photos in original quality as backups for Nexus phone and tablet users. Usually, Google reduces the image to a smaller size. The old 16MP resolution is no longer the limit, you can save photos in their original resolution now. Sorting photos in one option is another feature that will be useful in organizing albums. Expect to see Exposure and Contrast controls on the app as well.
Download Google Photos | What's New: Backup in original resolution
Snapseed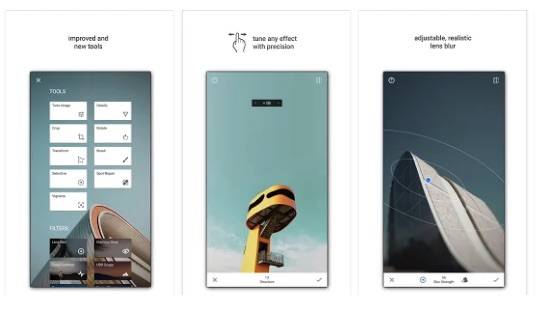 The new Snapseed brings the Horizontal flip in Straighten. You can also now use your last edits and apply them on a new picture. This way, you can easily post-process the photos and make them look nicer or add some effects. Images stored on Snapseed also now shows metadata information like location where a photo is taken.
Download Snapseed | What's New: Horizontal flip and last edits