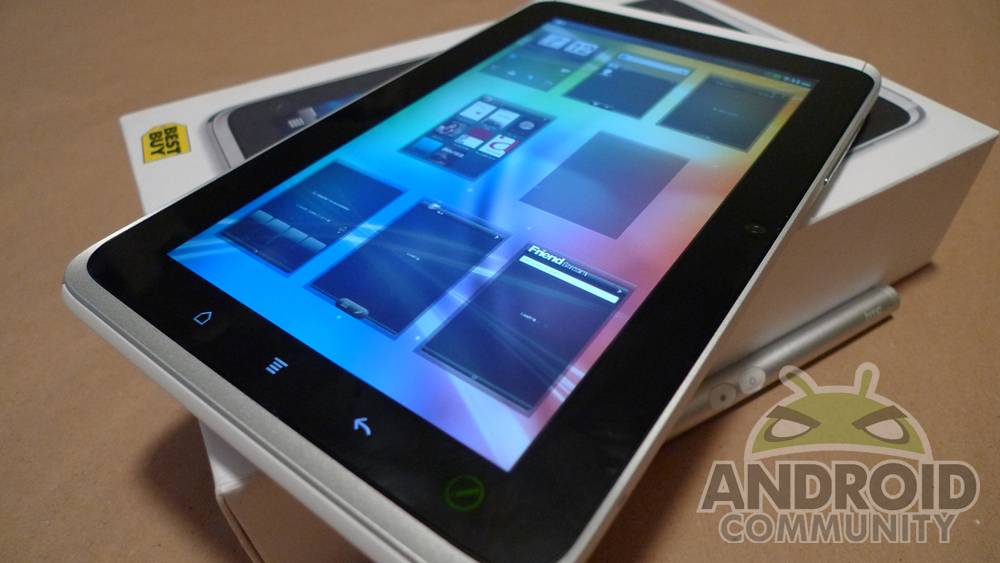 A lovely white plastic and silver metal chassis, a smooth 7-inch 1024 x 700 pixel resolution capacitive touchscreen capable of working with special Scribe pen surrounded by a generous black border, cameras on both front and back, HTC's newest version of Sense UI, a 1.5 GHz single-core processor, capable of accepting microSD card, working with Bluetooth 3.0, DLNA streaming, Wifi 802.11 b.g.n, micro-USB (of the 12-pin micro-USB 2.0 variety,) and GPS. This is the HTC Flyer tablet as carried by Best Buy in the USA, containing 16GB of internal storage, 1GB of RAM, and a partridge in a pear tree. See our full review and get your hands on the giant handset – or one tiny tablet, whichever you prefer, of course!
Wait a second, giant handset? Isn't this a tablet? Sure, it's a tablet, but what you're going to feel when you've got your hands on this device is that it's a size that's between a tablet and a smartphone. It's perfect for doing work and playing games – not made for every day use. It's not a giant tablet made with power in mind, it's not a tiny smartphone with all activities in mind. This is a device who's speciality is whatever you aim to use it for. It's not a Jack of all Trades and is therefor going to access your wants in a magically excellent way. It fits in my pocket, you can work with the compatible Scribe pen for taking notes, and it's a gorgeous device. The following review describes a device that you absolutely will not regret purchasing, but one you should consider long and hard whether you actually want or not.
[vms 81bb43b39c62553b2970]
Hands-On and Unboxing of the HTC Flyer [Best Buy]
Hardware
This device is 7.7 x 4.8 x 0.52 inches (195.4 x 122 x 13.2 mm) and weighs in at 420 grams (14.82oz). It's certainly not the lightest or thinnest device in the library of devices that are being released or have been released thus far, but it holds its own. It doesn't look or feel like it's got any weight or size because of requirement alone. HTC is skilled in their execution of industrial design, and this is an excellent little vehicle for hip customers for certain.
You can pop a headphone jack in the top, you can plug the special USB in the bottom to power or transfer data, you can watch a movie and listen in with the speakers blasting out the back, and the 1.5GHz single-core Qualcomm MSM8255 processor wont leave the average user wanting for speed and guts. If you're an HTC sort of person, that is if you enjoy your EVO, your ThunderBolt, any number of HTC devices that have been released in the past year that all look and feel relatively similar, you'll be at home here.
This is a modified version of HTC's popular model handset, made larger and modified to work just as naturally in both portrait and landscape mode. When you turn the device on, you'll notice that the HTC logo is at portrait-top of the device. When you'd like to film a video of yourself or video chat from the front of the device, you'll find that holding it in landscape mode is best as it's located at landscape top and center. You'll find that taking photos and video with this device is not awkward as it is with larger tablets – in fact it's downright enjoyable and you'll catch yourself reaching for the Flyer just to record your daily activities, just to try it out.
The black non-display border on the front is wide enough that you'll not accidentally press your thumb and fingers to the screen when you're holding it in any number of holding positions. The entire front is covered by everyone's favorite super-tough Gorilla Glass. The back panel, (the piece with the camera lens,) pops off easily (once you realize where to press) to reveal the location where you can add your very own micro-SD card. Of course we entered the 32GB card packed with media for testing in there at first, and it's really working fine as a box of chocolates to be sure.
Scribe Pen
The Best Buy version of this tablet does not come standard with the Scribe Pen. Instead you've got to purchase it separately for $79, and yes, I recommend doing so as soon as you purchase the tablet. Without the pen you'll find yourself getting annoyed that that amazing little green button sitting to the right of the rest of the standard light-up Android buttons is useless. Should you get the pen, this button pops up a whole toolset that works with the pen for drawing, circling, writing, and more on the screen for fun and for productivity.
The pen itself is slightly larger than a crayon or a golf pencil, having two buttons along the side and being powered by a single AAAA battery, a single Energizer coming with the pen. The pen tip is one that depresses when pushed against a surface, the activated surface working excellent and quite responsively when touched with the pen. This device uses N-Trig's active digitizer technology that slides perfectly along the Flyers glass face – it's as nice a pen for a digital interface yours truly has seen.
On the other hand, the difference between when you're able to use the pen and when you've got to use your finger to press a button is confusing. If you use the pen's ability to circle anything on any screen, you've got to use your finger next to save the screenshot you've just taken. I found myself constantly baffled at whether I should be using finger or pen at any given time and became frustrated more than once, eventually putting the pen aside when using the device for web browsing and email checking.
Software
HTC Sense has a few new features, the most prominent of which is the lockscreen that allows you to move icons to a wheel that'll bring you directly to the icon's app. Other than that, it's the Sense you know and love. There are 8 homescreens, each of them connected to the next in a real carousel, turning in a lovely display if you've got the device in landscape mode. Each of these screens is active with a widget provided by HTC – small Weather, People + Google Search, Watch (movies you can download via HTC's Video store – a feature you can use even if you don't want to watch full videos by selecting your video of choice and watching a full trailer – fun!), My Shelf (containing books from Kobo, run by Adobe), big Weather, Mail, and Friend Stream.
Another lovely addition in this newest version of Sense is the dock containing Notes, Reader, and Watch. You're able to change these out if you want, but more than likely you'll be wanting to keep at least Notes as it's the place you'll be able to use your pen to write to your heart's content. There's Sense's painting pallet button there too, linking you to "Personalize," HTC's list of items including display items like Scene, Skin, Wallpaper, and Lock Screen, add items to home features like widgets, apps, shortcuts, and folders, and personalized sounds for notifications and alarms.
In your apps folder you'll find 52 icons. Most of them are apps, a few are shortcuts to setting sand the like, and less than 10 are specifically added by HTC. There's the regular Google suspects such as Calendar, Google Search, and Internet Browser, then some apps specifically situated for this device. Whether or not some these apps were decided upon by HTC or Google is up for debate, others are pretty obvious : Amazon MP3, Facebook, HTC Hub, HTC Likes, Kid Mode, Notes, PDF Viewer, Polaris Office, Press Reader, SoundHound, Twitter, and Teeter.
The fact that Teeter is the only "game" app in the whole device should let you know whether or not HTC meant for this device to be a gamer-centric experience. Teeter is a game where your device appears to hold a steel ball which you've got to tip left and right, forward and back to get through mazes successfully. Should you be purchasing this device for business, I'd recommend you stick with this game only.
HTC Notes
Which app do I think people who've also got the Scribe Pen will be using the most? Notes. You can open up a note, write or draw, take a photo and add it in, record video or audio, add it in, save it for later. This is the media collector app on a conveniently sized device that should have existed for years now. This is what computers are for in the traveling business person world. It's not perfect, but it sure is nice. The only reason I would not recommend this device to my aunt, (looking for a device to help her when looking for new houses to purchase,) is that she'd have to get used to this app in order to make it worth the money. Too difficult for her I think.
On the other hand yet again, this system works in collaboration with Evernote, an app which everyone in the world knows to be a superior system that'll keep you organized everywhere from every single device you've got. The green elephant has your back, and now you've got a way to collect everything on one device even easier than you've been able in the past. HTC, this was a good, nay, awesome decision.
HTC Reader
This Reader app working with Kobo for book purchases and Adobe for its engine is well put together and works just fine. I wont go too far into the specifics because there really aren't that many. Reading apps for e-books should be simple, and this one certainly is. What it's good for here on the HTC Flyer is working with the pen. With the pen you'll be able to not only take notes, circle words, and generally write all over the book, you'll be able to keep those notes in the book as long as you like.
Furthermore, HTC Reader automatically slots in a bookmark for you when you're done reading for the day. How convenient!
Zoodles
This is not an app that's on the Flyer only, but it's certainly another fantastic choice to be loaded out of the box. HTC knows good and well that this device isn't going into the hands of many teenagers. Instead it'll go into the paws of an age group that's got a good chance at having some connection to some little monsters, very probably their own kids. Zoodles is an app that opens up and offers these kids a variety of activities, videos, and fun options in a way that makes them feel like they're really using the tablet, an activity that I know from having my own little nieces and nephews nearby my tablets to be an enjoyable experience indeed.
Zoodles appears to be quite at home here on the HTC Flyer and will definitely be a selling point in the store when the clerks are showing off the tablet to parents. Should they realize they can get the same app on other devices? Sure, but it looks so nice here!
Camera
Let's talk about the camera here, letting for the most part the actual photos and video do the talking. The cameras on the front and back of this device certainly do not appear to be attempting to help you win any photo contests, but they're OK for how they're rated. The 1.3-megapixel camera on the front is as dreary as every other camera at that resolution and should be use strictly for video chat. The 5-megapixel camera on the back takes decent photos for your notes or Facebook, but it's not the great superstar size-8 we've been seeing as a standard placement on recent handsets. Also there's no flash.
Front-Facing 1.3-megapixel Photo
Front-Facing Video
Back-Facing 5-megapixel Photo
Back-Facing 1280 x 720 [720p] Video
Performance
This device is running Android 2.3.3 at launch here with HTC Sense version 2.1 for Tablet. You'll see below some benchmarks testing various bits of the tablet, each of them showing that if you're purchasing this device to try to beat all the other race cars, you're in for a surprise.
Linpack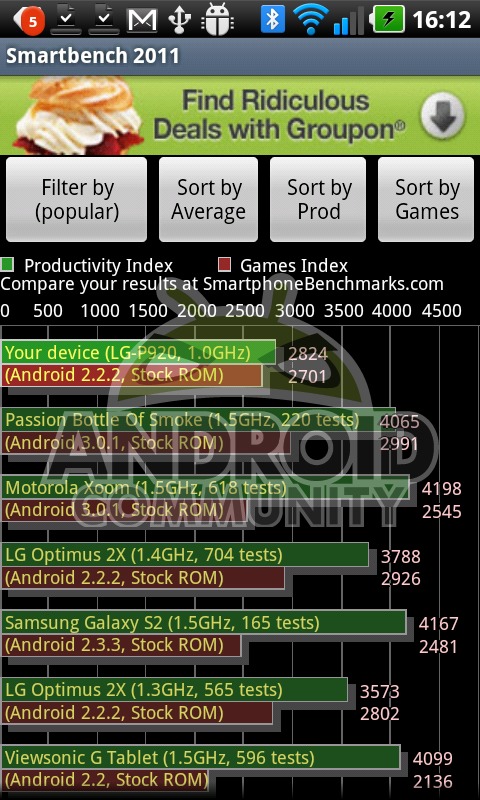 Smartbench 2011
Quadrant Advanced
AnTutu
The numbers should show you that you're right in the fine range for daily activities, on the other hand, just so long as you're not thinking of playing high-powered games and playing HD video all day long. Unless you want to watch Speed Racer, which has worked just fine for us thus far.
Battery
This battery appears very much to be one bad mother. We've been using it for several days now off and on, heavy occasionally but lightly for the most part, and it's still going strong out of the box. Inside, you'll be happy to know, there's a 4,000 mAh non-user-replaceable battery. HTC reckons that this setup ought to see up to four hours of video playback or between 820 and 1470 hours of standby.
This battery will last you AT LEAST a full day with heavy use. That's all ya'v gatta knah.
Wrap-Up
Let's talk about prices here. In the USA you'll be picking this lovely lady up at Best Buy for $499.99. You'll have to purchase the Scribe Pen separately for $79.99 – harsh! In the UK this device is going to run you £599.99 for the 32GB 3G version, while the 16GB WiFi-only model comes in at £479.99 (that's the one we've got here.) The 3G version hasn't yet revealed its head for pricing, but we're guessing an extra $100 woudn't be too far out of line for when it's released on Sprint as the HTC EVO View.
Is it worth that kind of bank? What are you deciding on? Are you deciding between this device and another Android tablet? Your only other choice for this size tablet is the Galaxy Tab original, and that one really isn't getting such great feedback in its Wifi-only form. What else is this device competing with? There's no other tablet out there worth its salt with a pen to go with it – but how about a similar size? The Galaxy Tab 8.9, if it's anywhere near as awesome as its 10.1-inch counterpart, will blast forth from this earth like an alien spaceship into orbit. It's lighter, thinner, and will be running Honeycomb at launch with a dual-core 1Ghz target="_blank">processor. Supposing it's also got as good a camera and runs as nicely as its partner, no other tablet has much of a chance.
On the other hand, here's HTC with their magnificent HTC Sense and a lovely Scribe pen. Is it enough to convince us that it's the tablet to have this season for everyone? No, not for everyone, but again, if you've got the specific desire to take notes on your tablet with the pen, this is certainly the best contender thus far. It's definitely pretty, it's certainly nice in its size and chassis, and the software is totally solid.
BONUS check out a video of the Euro version via Chris Davies of SlashGear:
[vms 07203749ae32dd0e7d64]
HTC Flyer 3G Hands-On
Also don't forget to check out competing tablets reviews in the following:
Samsung Galaxy Tab 10.1 [Google I/O Limited Edition]
ASUS Eee Pad Transformer
ACER Iconia Tab A500
T-Mobile G-Slate
Motorola XOOM