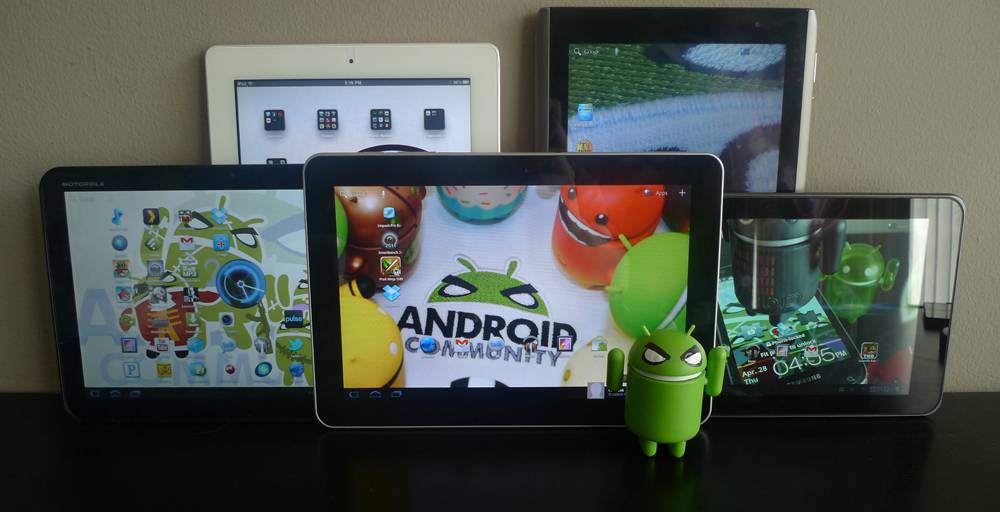 It's been what seems like forever since I last held this fantastic piece of industrial design. Back at CTIA 2011, we got to peek behind the scenes at a couple of dummy units from Samsung, one of them the Samsung Galaxy Tab 8.9, the other the Samsung Galaxy Tab 10.1, essentially the same unit you see here. The differences begin in that the dummy unit had no working machinery inside, a microSD slot where now there's nothing, and this limited edition unit has a white back with a hoard of Androids marching forward etched inside it. This device is what we expect to be nearly the same as what you'll be purchasing in June, so it's time to give this fantastical edition a complete once over!
Hardware
What you've got here is a 10.1″ TFT display on a 10.09 x 6.81 x 0.34 (256.2 x 172.9 x 8.6 mm) chassis. This device is amongst the thinnest tablets in the world, also weighing in at a tiny 20.99 oz (595 g.) Inside you'll find a 1GHz NVIDIA Tegra 2 dual-core processor and 65536 MB built-in memory. In what we must expect will be a future iteration of this device, there'll be a microSD card slot with space for 32 GB, as we did see one when we had a peek at a dummy of this device at CTIA 2011 – right now however, there's no such feature.
The battery in this device is a 7000 mAh – that's huge. That's enough to power this device all day long with heavy usage, easy. Thus far this device has not run our of batteries since we opened the box, at which point the device was at about half-full, and it's been over 24 since then. Well played, Samsung, choosing whichever battery this happens to be. There's a 3 megapixel camera on the back, a 2 megapixel camera on the front, and of course you know that this device has a limited edition white backing with Android army in tow.
There's a sweet metal rim rounded all around the outside of the glass display, a hard plastic back, and all metal buttons for power and volume. This device is the thinnest and lightest Android tablet at this point in history by FAR and is set to contend directly with the current king of tablets: iPad and iPad 2 with a size and weight that just as low or lower – better and better!
You'll find that the stereo speaker system is more than adequate for all your movie watching, Music Beta listening, and gaming needs.
And it feels good to hold. It's thin but tough, light but doesn't feel flimsy. Samsung wisely applied the metal rim to this amalgamation, as it makes for a piece of tech where you know you made the right decision in buying it. And how does it compare to the iPad 2? You'll have to head over to SlashGear to find that one out.
Software
What you'll find in here is a very small collection of apps, only a couple added in by Samsung, and a version of Android 3.1 Honeycomb that's ever-so-slightly different from what you've seen on the Motorola XOOM and LG G-Slate and Acer Iconia Tab A500. While when this device is eventually released it'll have Samsung's TouchWiz UX working on top of it, right now there's just a few fancy modifications to Android 3.0 Honeycomb.
[vms 31b55aa50c06529eaa21]
Samsung TouchWiz UX for Tablets demo from CTIA 2011
Samsung Keyboard
Samsung Camera
This device is running on a 1GHz NVIDIA Tegra 2 dual core processor, so you'll have access to all of the exclusive games they've got available via Tegra Zone. This means Pinball HD, the jet-ski game Riptide GP, and Galaxy on Fire 2. Gotta play em all!
There's an app called Samsung Apps that contains a collection of what appear to be apps but do not open when activated. This app appears to be something in progress on this device, or at least I believe so. The other option is that this is an anime-bear-based extension of Samsung's device family. You never know, I suppose.
Music Hub is a music store run by 7Digital. It appears to be very well constructed and has an excellent user interface with lots of possibilities for discovering new content. Why or how this app came to be on a device being released at a time when Google is pushing their Music Beta ecosystem for music in the cloud, I cannot say. Perhaps as their favorite competitor for iTunes, but we're still counting on Google to take the reigns entirely some day or another coming up soon. Movie rentals first, I suppose. Same goes for Amazon MP3, which is also present on the device right out of the box. Certainly not intended to fill your Amazon cloud.
If you were one of the lucky few to get an invite to Music Beta thus far, you'll be hoping for an instantly-populated library. That wont necessarily happen. Yours truly had to wait about 10 minutes or so after updating to the newest version of Music before my cloud-based collection appeared for playing. You'll note my surprise at finding the tracks there in the video below. Once they do appear though – glorious! For a full guide of this music environment head over to our walkthrough post.
At this point I'd like to show you a video with some Hands-On time with the unit, complete with words on both the hardware and the software. You'll hear yours truly run you through what we're seeing here and note why it matters to YOU, the person who'll be purchasing the street edition in June.
[vms 77cc5592dc2153229f08]
Camera
The camera has not been the strong point of any tablet we've seen on any platform thus far, and the Samsung Galaxy Tab 10.1 is no exception. With a 3.2 megapixel camera on the back and a 2 megapixel camera on the front, you wont be winning any contests for sharpness here. On the other hand, if you're just wanting the camera to take photos some houses or pics of your baby to upload to Facebook, you'll be in fine shape.
NOTE: While we've heard previously that this device would be toting a 5 megapixel camera on the back, this version of the tablet only works up to 3.2 megapixels. Will the final standard version of the tablet have the full 5 megapixels? We shall see. Now go forth and take a peek below at some examples of media you'll be collecting, all highest quality, front and back:
Front-Facing 2-megapixel Photo
Back-Facing 3.2-megapixel Photo
Front-Facing 640 x 480 Video
Back-Facing 1280 x 720 Video
Back-Facing 3.2-megapixel Photo with Flash
There's a whole new camera interface on this device, the one you saw briefly earlier in this review – have a look at the options you'll be working with, most of them having appeared in Honeycomb before, but now sitting in different areas and, if you ask me, easier to access:
Performance
I'd like to impress upon you the fact that for most people at this point, tablets and handsets of the Android variety appear to be moving at lightening speed, faster than they'd ever really need them to move. That said, this tablet really works just as well and as fast or faster than any Android tablet that's come out before. It's got a 1Ghz dual-core processor in it, at this point that being up there with the best, and it's basically a vanilla version of Android 3.0 Honeycomb. Some may argue that the keyboard and a couple other items make this into an impure version of Honeycomb, therefor not vanilla, but it's quick all the same.
Have a peek below at a few benchmarks so that you might compare this tablet to others with all sorts of numbers. Each of these benchmark tests were run directly out of the box – aka I opened the box, took the tablet out, went into the Android Market, downloaded the benchmark apps, and fired them up. See how well this Tab takes tests here and now:
Linpack
Smartbench 2011
Quadrant Advanced
Battery
This device has a 7000 mAh battery. That size is enough to power a high-end laptop. That's enough battery life to make sure this device essentially never dies. This is a very positive thing that's been happening with tablets – all that extra real-estate can make way for bigger more awesome additions like fat batteries with basically no drawback. Tablets that never need to be charged! That's what's going on here. At the very least 24 hours of heavy, heavy action.
Wrap-Up
This is the greatest Android tablet thus far. It's got everything Google's tablet-based mobile OS Android 3.0 Honeycomb has to offer, and it's sitting pretty in a package that's set to go toe-to-toe with the iPad 2. I said it when I first held the dummy model back at CTIA 2011, and I'll say it again, this tablet is so comfortable to hold, Apple had better majorly reconsider their industrial design team's direction – this is the future. Samsung's Galaxy Tab 10.1 is at once thin, light, and powerful enough to make owners of the best selling tablet in the world think twice before upgrading to another Apple product. That said, the only tablet to realistically hold a lamp up to the beauty of the casing here in the Android world is Motorola's XOOM tablet. Say what you will about its thickness and weight, the XOOM looks nice and feels substantial.
But then there's the Tab 10.1 again. It feels every bit as worth the cash you payed for it as the XOOM, and you wont feel like you're carrying an additional text book in your backpack when you're carrying it. Heck, put it in your purse, you wont even notice that it's there. I should say here again though that this device doesn't feel light and thin in the same way a flimsy device feels light and thin – it's got metal reinforcement and not a single material on it that feels like Samsung didn't put in the cash.
The one thing I'm hesitant to comment on is the user interface. This is because it's certainly not finalized. This limited edition of the tablet was put out before Samsung was ready to reveal their official TouchWiz UX 4.0 – the one you see above demoed at CTIA. There are a few welcome additions to the basic Honeycomb setup, but in the end it's the same system you're getting with every other Honeycomb tablet thus far. Not a bad thing, but because TouchWiz for tablets is coming, it just can't come here fast enough.
This limited edition was free to all 5,000 attendees of Google I/O 2011. If you want your own, you'll have to head to eBay and you'll more than likely be spending upwards of $1000 or more. Is this tablet worth that amount? No way. No tablet is. That's completely against the idea here. Tablets are supposed to be inexpensive. Should you purchase one of these tablets? Unless you can get one for the price the standard edition will be costing, I'd say no. The back panel with all the Androids is cool, but it's not $1K cool.
Does this limited Google I/O edition of the Galaxy Tab 10.1 show us that the standard edition will be a winner or a dud? I think it's clear that this device is basically going to be the biggest winner in the Android tablet game yet. Just so long as it comes with an SD card reader, TouchWiz UX 4.0 for tablets, and a bow wrapped around it to the tune of $450. Sound like a pretty enough package for you?