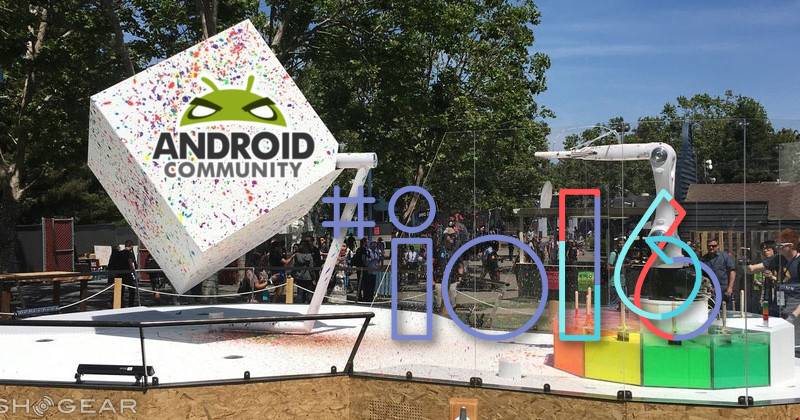 Another Google I/O has come and gone and, like any other I/O, we are left with just as many questions as there were answers. While Google has both explicitly stated as well as dropped hints about their future vision for Android, the company has also left some puzzles and mysteries for us to chew on for the coming months. But that is for the future. For now, we are concerned about the present. Or rather, the past I/O 2016 announcements that have come splashing into the scene. Here are some of the highlights.
Android N what?
Naturally, Android took center stage at this year's developer conference. And naturally, Android N was the hottest topic. Google, however, was still coy about what "N" really is. Or rather, it actually doesn't have a name for it. It says it needs users to help it decide what to name the next Android version. Yep, Google has gone into crowdsourcing. For a name.
An Android N by any other name would taste as sweet (get it?). It will bring us a lot of goodies, beyond the already expected split and multi window features. Which, by the way, will be available not just for tablets but also for smartphones. Something that was revealed at I/O 2016 for the first time was on how Google is changing the way app and even Android itself is updated. For Android updates, Google will be taking a page from Chrome's architecture. New Android N devices (which means existing devices won't enjoy this new feature) will basically have two partitions. One of those, which mostly houses the Android system, can be updated in the background while the user continues using the device. Google expects that this new system will help speed up the dismally slow roll out of updates on Android devices.
Instant Chrome
While Android was the star of the show, at least our show, Google didn't leave its other OS in the dust. It had a special treat for it too, something that we already saw coming. Android apps have indeed arrived on Chrome OS via Google Play Store. Don't rejoice just yet if you're a Chrome fan. Not all Chromebooks are getting it yet, but we're sure some more enterprising users will find a way around those limitations. While it might seem like an innocent, welcoming gesture, it has also raised some questions about Google's ulterior motives, both for Chrome OS as well as Android tablets.
Not exactly related to Chrome but still tied to the Web, Google dropped another surprise. Called Instant Apps, it allowed users searching for stuff on Google on Android to instantly launch apps linked in search results. While Google already introduced something like that with App Indexing, this new feature actually works even without installing the app in question. It basically blurs the boundaries between the Web and native Android apps. Interesting and curious developments coming from Google.
Dreaming of Daydream
As expected, Google made a more formal and more serious stab at virtual reality. Calling it "Daydream", this new Android VR effort will replace Cardboard and provide more powerful tools and API for developers to take advantage of. It will necessarily call for a more advanced headset as well, with more a more standardized design, sensors, and features. No more wildly different Cardboards, but Google will most likely still keep things very open. At least compared to the likes of HTC Vive and Oculus Rift.
Amusingly, Android already uses the name "Daydream" for a completely different feature. Basically, it's a screen saver, so now that Google is using "Daydream" for a bigger, more ambitious product, it had to rename the old "Daydream" to, well, "Screen Saver".
Google Home is where the heart is
Google has definitely taken the gloves off in the war for the modern, smart home. It has revealed Google Home, it's obvious take on Amazon Echo. Looking more like an aroma diffuser/dehumidifier than a futuristic cylinder, Home is still technically a button-less, voice-activated speaker. Although Amazon Echo has been in the market far longer and has been building up its army, Google won't be coming in unprepared nor unarmed. With the wealth of content available via Google's content partners as well as Cast technology, Google Home definitely has a prayer in this still very fresh, and small, smart home market.
Loot Bag
Google I/O 2016 was, of course, filled with a lot more than those highlights. Here's just some of them, showing the wide variety of products, ideas, and plans that Google has for Android and more.
• Google has new communication apps! While Duo is perhaps best described as Google "FaceTime killer", Allo is a bit tougher to explain. Basically a "smart" chat app, it can try to predict what you're about to reply so you won't have to type it out. But in case you're lonely for a conversation partner on Allo, Google has its own chatbot there to keep you company. But don't worry, Hangouts isn't going anywhere. Yet.
• The company is also going deeper into artificial intelligence, one of its favorite topics. The Google Assistant is like Google Now on steroids, except more coherent, more natural. The Assistant will underlie Google's other smart voice services, including Allo.
• Android Auto is being freed from the car dashboard. Somewhat. Instead of having to be deeply embedded in a car's infotainment system, Android Auto will soon be an app that you can simply install on your smartphone which you then connect to your dashboard.
• Android Wear is getting a keyboard. Let that just sink in.
Wrap-up
It will definitely be an exciting time for Android on all fronts, from smartphones to tablets to smart home to smart cars. It will also be a period of uncertainty with Google further blurring the lines between its two main operating systems. We're still a few months away before most of these new directions take off, which leaves some room for discussion and even changes.
So what's your take on Android's new shape? And most importantly, what's your vote on what "N" should be? Hit the comments below to let us know!