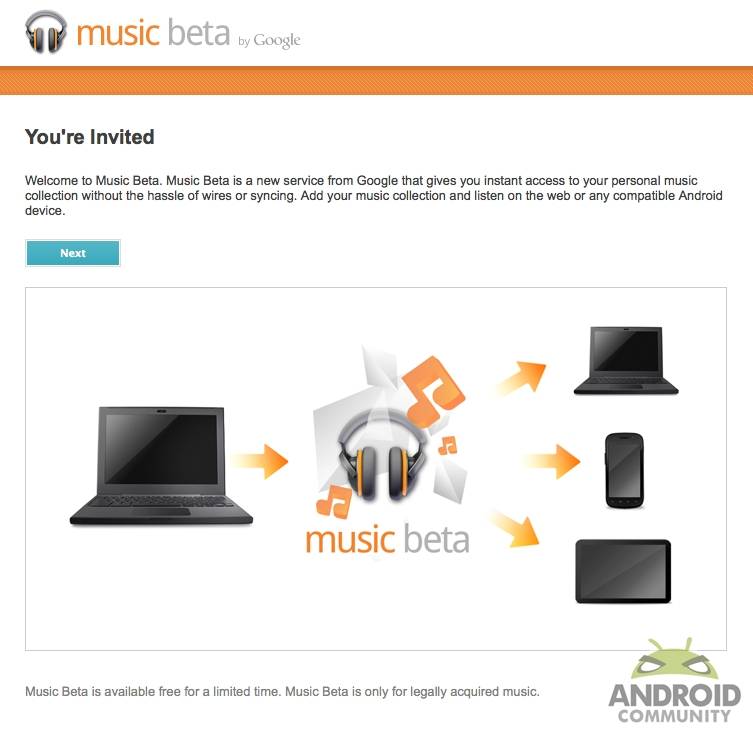 Behold "music beta by Google," a new version of their Music Player app that you know so well. Note though, and don't be fooled: this isn't just a simple music player. It's a whole new ecosystem from browser to desktop to handheld device (and tablets, of course.) It all begins in your browser – signing up is as easy as logging in with your G-Mail account and you've instantly got the ability to grab free tracks (promoted tracks of course, you get to choose the genre,) followed by an available download of the app Music Manager for your desktop. Watch out iTunes, here Android comes.
As we continue with this guide, note an iterating bit found in the installation process: "Portions of the content is copyright © of Gracenote or its providers." Gracenote is a group that creates "ingenious entertainment solutions for the global market" and they work with music and media management. Interesting!
Check them out http://www.gracenote.com/
Getting Started
Once you download Music Manager, you're given the following text to help you get a basic understanding of the app and the ecosystem:
The Music Manager is a desktop application that allows you to add your music to the cloud. Once you've added songs to Music Beta, you can listen to your music anywhere that you have internet access.

From the Music Manager, you can:

• Add music from your iTunes library, Windows Media Player library, My Music folder, or folders of your choosing to Music Beta
• Choose to add songs automatically, on a specified interval, or completely manually
• Adjust the bandwidth available for adding songs
• View the progress of songs you're adding
While you're downloading Music Manager, you can skip over to your online library of music which, if you've chosen some free music moments earlier, will be full of excellent choices. I can testify to this because my selection now includes RUN DMC High Profile, Brother ALI's "US," and Stankonia by OutKast. Well played, Google, well played.
Once you've got Music Manager downloaded and opening, you'll notice that Google is more than willing to swipe your iTunes library post-haste:
You'll find an option here at the start and later in your settings to have iTunes songs added automatically – the full takeover cometh.
Desktop / Browser -Based Music Manager
It's at this point that you find that the desktop app is not a standalone app, but a component of the in-browser system. What the Music Manager desktop app does is sit in your toolbar, (if you're in OSX, of course,) and allow you to add your desktop music collection to your browser-based music collection at will. This version of Music Manager is 1.0.12.3443 at launch and includes the following "About" in preferences:
MPEG Layer-3 audio coding technology licensed from Fraunhofer IIS and Thomson. Advanced Audio Coding (AAC) is used under a license administered by Via Licensing Corporation. Music Beta by Google contains certain third-party software which requires notice and/or additional terms and conditions. These required third-party software notices and/or additional terms and conditions are located on our third-party disclosure page.
In your browser you've got a well-constructed orange, gray, and white user interface in front of you complete with album covers galore and, as you've just added your own music a moment ago, your entire music collection popping up intermittently. You're able to browse by:
• Songs
• Artists
• Albums
• Genres
and you can instantly access "Auto Playlists" based on Thumbs Upped items, Recently added items, and all your free songs given to you by Google. Below this you'll find an "Instant Mixes" list with nothing on it. To create a new "Instant Mix," all you've got to do is open a sing from your library and click the + button near the Instant Mixes header.
Of course you'll need to have a slightly less diverse library than yours truly seems to be having here at the outset in order to create an Instant Mix.
Handset / Tablet-Based "music beta"
Probably at this point you'll be wanting to check out how the system works with your handset or tablet device, yes? If you're part of the beta, or of course we expect even if you're not part of the beta, you'll be asked to tie your newly updated Music app to whichever Google account you signed up for in-browser.
Greetings!
Once you're in, you'll see one or two (or maybe a whole bunch, based on what you've done in your browser-based Music Manager) playlists color-coded with what appears to be strips based on the covers of the albums the songs come from. You're also instantly greeted with some excellent options:
Open up a playlist and find that you've got basically instant access to your songs, but note, unless you've hit the option to have these songs on your device offline, you're using data to listen to them. Once you've got a song playing, it's playing NICELY and you'll be rolling out with a smile on your face playing a song on your Android device 5 minutes after you downloaded it from iTunes on your desktop PC, or loaded it from an old library of yours, or got it from some third place.
When you've got the current song playing up in a screen you'll find that you're presented with a few options – for Outkast's B.O.B., you'll find B.O.B. next to a +, this link leading to your ability to add the song to different playlists, the name OutKast – this being the name of the artist, leading you to all your songs by the same artist, and the title of the album, leading you to the entire albums contents (however much of it you've got available in your library.)
You've also got basically all the options you had in browser for each individual track, including the ability to make an Instant Playlist.
Back in your main view, you've got the option of seeing more than just the playlists you've created. You can see tracks by album (covers displayed,) by Artist or by Song (text displayed,) and of course by Genre or Playlist.
And what about this offline business? Turns out you'll be using a little bit of data to get your tracks to your device, but once they're there, you can play the heck out of them for as long as you temporarily want without incurring new costs with your carrier. What's that – temporarily? Yes, they'll be there as long as you don't shut your device off, as far as we can tell, and you've got the option of doing something very similar with a single playlist, as you can see earlier in this post. And that's essentially it!
You've got your playing track either always available to start and stop or fast forward through OR accessible in the corner of your screen via album cover (see above.) It seems pretty darn slick! Can't wait for everyone to have it. Meanwhile if you've got any questions for us on this whole ecosystem, ask away!
See below for the full Terms of Service for this new music beta service from Google, the whole thing, uncut:
Additional Terms of Service for Music Beta by Google

Last modified: May 10, 2011

Thank you for your interest in Music Beta by Google! By using Music Beta by Google ("Music Beta" or the "Service"), you accept and agree to be bound by the Google Terms of Service, the Google Privacy Policy, and the Music Beta by Google Privacy Policy, each of which is incorporated into this agreement by this reference, as well as these Additional Terms of Service for Music Beta by Google (collectively, the "Terms"). It is important for you to read each of these documents, as they form a legal agreement regarding your use of the Service between you and Google Inc. ("Google") whose principal place of business is 1600 Amphitheatre Parkway, Mountain View, CA 94043, United States. This document explains how your agreement with Google is made up and sets out some of the terms of that agreement. Capitalized terms not otherwise defined in these Additional Terms have the meaning given to them in the Google Terms of Service.
The Music Beta Service and Your Music

Music Beta is a Service as defined in Section 1.1 of the Google Terms of Service and is provided to you for your personal, non-commercial use solely in connection with lawfully acquired music files from your personal collection that you choose to make available to yourself through the Service, including all data comprising, describing, or associated with each music file that you choose to upload, such as audio data, metadata, and album art for each selected file (whether referring to individual uploaded files or to your entire uploaded library, "Your Music"). Music Beta consists of (a) Google-provided server space that you can use for storage of Your Music, and (b) software applications and related web sites and services that allow you to upload, manage, access, and play back Your Music through a web browser or through any supported, Service-enabled device. To the extent that you use the Music Application for Android devices in conjunction with Music Beta, those uses are governed by the Terms, including these Additional Terms.
Trial Service Availability and Limitations

Music Beta is a trial or "beta" Service from Google that requires you to register with your new or existing Google account. It is available free for a limited time to residents of the United States (including its territories and protectorates) who have received an invitation from Google and accept the invitation by signing into their Google account to register for use of the Service. As a beta Service, certain limits on storage or usage may apply; these limits may be set or changed by Google at any time, at Google's discretion, and you agree that you will not attempt to obstruct or prevent the application of those Service limits at any time, or to manipulate your usage of the Service to avoid or circumvent them. You can find more information about applicable Service limits through the Music Beta Help Center.
Third Party Fees

Music Beta is available without charge from Google; however, you may incur access or data fees from third parties (such as your internet provider or mobile carrier) in connection with your use of the Service. You are responsible for all such third-party charges for your use of Music Beta on or through third party services and devices.
Privacy and Your Personal Information

Section 7 of the Google Terms of Service governing Music Beta by Google is replaced in its entirety by the following:

7.1 For information about Google's data protection practices, please read the Music Beta by Google Privacy Policy at http://music.google.com/about/privacy.html. This policy explains how Google treats your personal information, and protects your privacy, when you use the Service.

7.2 You agree to the use of your data in accordance with Google's privacy policies.
Your Permissions and Instructions to Google

Section 11 of the Google Terms of Service governing Music Beta by Google is replaced in its entirety by the following:

11.1 You retain any rights you already hold in Your Music. You acknowledge and agree that you are solely responsible for your own conduct and Content (including Your Music) while using the Service and for any consequences thereof. You agree to use the Service only for purposes that are legal, proper, and in accordance with these Terms, and that by using the Service you are requesting that Google make all of the necessary functions and features of the Service available to you in order to facilitate your use of Your Music according to the Terms. Without limiting the generality of this overall permission and instruction, you specifically agree that you are instructing Google to perform the functions described in Sections 11.2, 11.3, and 11.4 below.

11.2 By uploading or submitting Your Music to or through the Service, you are directing Google to store a unique copy of Your Music on your behalf and to make it accessible to you through the use of your login credentials.

11.3 By accessing, managing, playing back, displaying, or using all or any part of Your Music on or through the Service, you are directing Google to initiate and perform the corresponding functions on your behalf, together with any related steps necessary to achieve them, through the Service.

11.4 You understand that Google, in performing the required technical steps to provide you with the Service as described in the Terms, may (a) transmit Your Music over various public networks and in various media; and (b) make such changes to Your Music as are necessary to conform and adapt it to the technical requirements of connecting networks, devices, services, or media. You agree that in each such instance, your use of the Service includes a direction to Google to take these actions on your behalf.

11.5 You confirm and warrant to Google that you have all the rights, power and authority to grant any permissions and give any instructions to Google that may be required to perform the actions necessary to provide you with the Service. You agree that you will not upload, submit, access, manage, play back, display or use any Content (including any portion of Your Music), or direct Google to do anything with Your Music on your behalf, unless you have all of the necessary rights to do so without infringing the rights of any third party or violating any laws or agreements that apply to you, the Content, or Your Music.
Copyright Notices

It is Google's policy to respond to notices of alleged copyright infringement that comply with applicable intellectual property law (including, in the United States, the Digital Millennium Copyright Act) and to terminate the accounts of repeat infringers. Details of Google's policy can be found at http://www.google.com/dmca.html.
Third Party Software

To the extent that Music Beta includes components governed by third party or open source licenses with provisions inconsistent with the Terms, those components are instead governed solely by the applicable third party or open source licenses. Information regarding those licenses (except for software provided by Gracenote, Inc., for which the terms are included at the end of this agreement) can be obtained at the following location: http://music.google.com/about/thirdparty.html.
Acceptance of Terms

You accept the Terms either by clicking to accept the Additional Terms presented to you when you first access the Service or by using Music Beta by Google. Your continued use of the Service constitutes your consent to the Terms (as may be modified from time to time, in whole or in part, with or without notice). It is your responsibility to review the Additional Terms regularly for updates. If you do not agree to the Terms, you may not use the Service.

You can review, print or save a copy of these Additional Terms of Service for Music Beta by Google (and navigate to other links referenced in the Additional Terms) by visiting the Additional Terms web page at: http://music.google.com/about/terms.html.
Gracenote Software

This application or device may contain software from Gracenote, Inc. of Emeryville, California ("Gracenote"). The software from Gracenote (the "Gracenote Software") enables this application to perform disc and/or file identification and obtain music-related information ("Gracenote Data") from online servers or embedded databases (collectively, "Gracenote Servers") and to perform other functions. You may use Gracenote Data only by means of the intended end-user functions of this application or device.

This application may contain content belonging to Gracenote's providers. If so, all of the restrictions set forth herein with respect to Gracenote Data shall also apply to such content and such content providers shall be entitled to all of the benefits and protections set forth herein that are available to Gracenote. You agree that you will use Gracenote Data, the Gracenote Software, and Gracenote Servers for your own personal non-commercial use only. You agree not to assign, copy, transfer or transmit the Gracenote Software or any Gracenote Data to any third party. YOU AGREE NOT TO USE OR EXPLOIT GRACENOTE DATA, THE GRACENOTE SOFTWARE, OR GRACENOTE SERVERS, EXCEPT AS EXPRESSLY PERMITTED HEREIN.

You agree that your non-exclusive license to use the Gracenote Data, the Gracenote Software, and Gracenote Servers will terminate if you violate these restrictions. If your license terminates, you agree to cease any and all use of the Gracenote Data, the Gracenote Software, and Gracenote Servers. Gracenote reserves all rights in Gracenote Data, the Gracenote Software, and the Gracenote Servers, including all ownership rights. Under no circumstances will Gracenote become liable for any payment to you for any information that you provide. You agree that Gracenote, Inc. may enforce its rights under this Agreement against you directly in its own name.

The Gracenote service may use a unique identifier to track queries for statistical purposes. The purpose of a randomly assigned numeric identifier is to allow the Gracenote service to count queries without knowing anything about who you are. For more information, see the web page for the Gracenote Privacy Policy for the Gracenote service.

The Gracenote Software and each item of Gracenote Data are licensed to you "AS IS." Gracenote makes no representations or warranties, express or implied, regarding the accuracy of any Gracenote Data from in the Gracenote Servers. Gracenote reserves the right to delete data from the Gracenote Servers or to change data categories for any cause that Gracenote deems sufficient. No warranty is made that the Gracenote Software or Gracenote Servers are error-free or that functioning of Gracenote Software or Gracenote Servers will be uninterrupted. Gracenote is not obligated to provide you with new enhanced or additional data types or categories that Gracenote may provide in the future and is free to discontinue its services at any time. GRACENOTE DISCLAIMS ALL WARRANTIES EXPRESS OR IMPLIED, INCLUDING, BUT NOT LIMITED TO, IMPLIED WARRANTIES OF MERCHANTABILITY, FITNESS FOR A PARTICULAR PURPOSE, TITLE, AND NON-INFRINGEMENT. GRACENOTE DOES NOT WARRANT THE RESULTS THAT WILL BE OBTAINED BY YOUR USE OF THE GRACENOTE SOFTWARE OR ANY GRACENOTE SERVER. IN NO CASE WILL GRACENOTE BE LIABLE FOR ANY CONSEQUENTIAL OR INCIDENTAL DAMAGES OR FOR ANY LOST PROFITS OR LOST REVENUES.

© 2011. Gracenote, Inc. All Rights Reserved
Bonus! Privacy Policy:
Privacy Policy

Last modified: May 10, 2011

The Google Privacy Policy describes how we treat personal information when you use Google's products and services, including information provided when you use Music Beta by Google ("Music Beta" or the "Service"); your usage of Music Beta on or through Android devices will also be governed by our Mobile Privacy Policy. In addition, the following describes our additional privacy practices specific to your use of Music Beta. Capitalized terms not otherwise defined have the meanings given to them in the Additional Terms of Service for Music Beta by Google.
Personal Information

Account activity. You need a Google Account to use Music Beta. Google asks for some personal information when you create a Google Account, including your email address and password, which is used to protect your account from unauthorized access. Google's servers automatically record certain information about your use of Music Beta. Similar to other web services, Google records information such as account activity (e.g., storage usage, number of log-ins, actions taken), data displayed or accessed, and other log information (e.g., browser or device type, IP address, date and time of access, cookie ID, and so forth).

Content and usage information. Music Beta stores, processes, and maintains Your Music in order to provide and personalize the Service to you and to improve Google's products and services. This may include storage and analysis of information related to your use of the Service, access to and playback of Your Music, playback counts, playlist content, and related information needed to provide you with automatically generated Instant Mix playlists. You can find more information about Instant Mix in the Music Beta Help Center.

Authorized devices. In order to authenticate your upload computers and/or authorized devices for offline access, and to implement Service limitations as described in the Additional Terms, we may record device identifiers including your computer's MAC address or device identifiers such as IMEI or MEID for mobile devices.

Uses

We use your information to deliver the Service to you, to enforce usage limitations in connection with the Service, to process and personalize your requests in connection with your use of the Service, to develop new features, and to improve the overall quality of Google's products and services.
Your choices

You may terminate your use of Music Beta at any time by ceasing to use the Service and uninstalling any software related to the Service. You may also delete Content (including all or any portion of Your Music) at any time and the Content will be deleted from our servers. There may be some delay before any deletion is reflected in our system.
More Information

Further information about Music Beta is available here. For more information about our privacy practices, visit our Privacy Center. For questions concerning the product or your account, please check out the Google Help page.