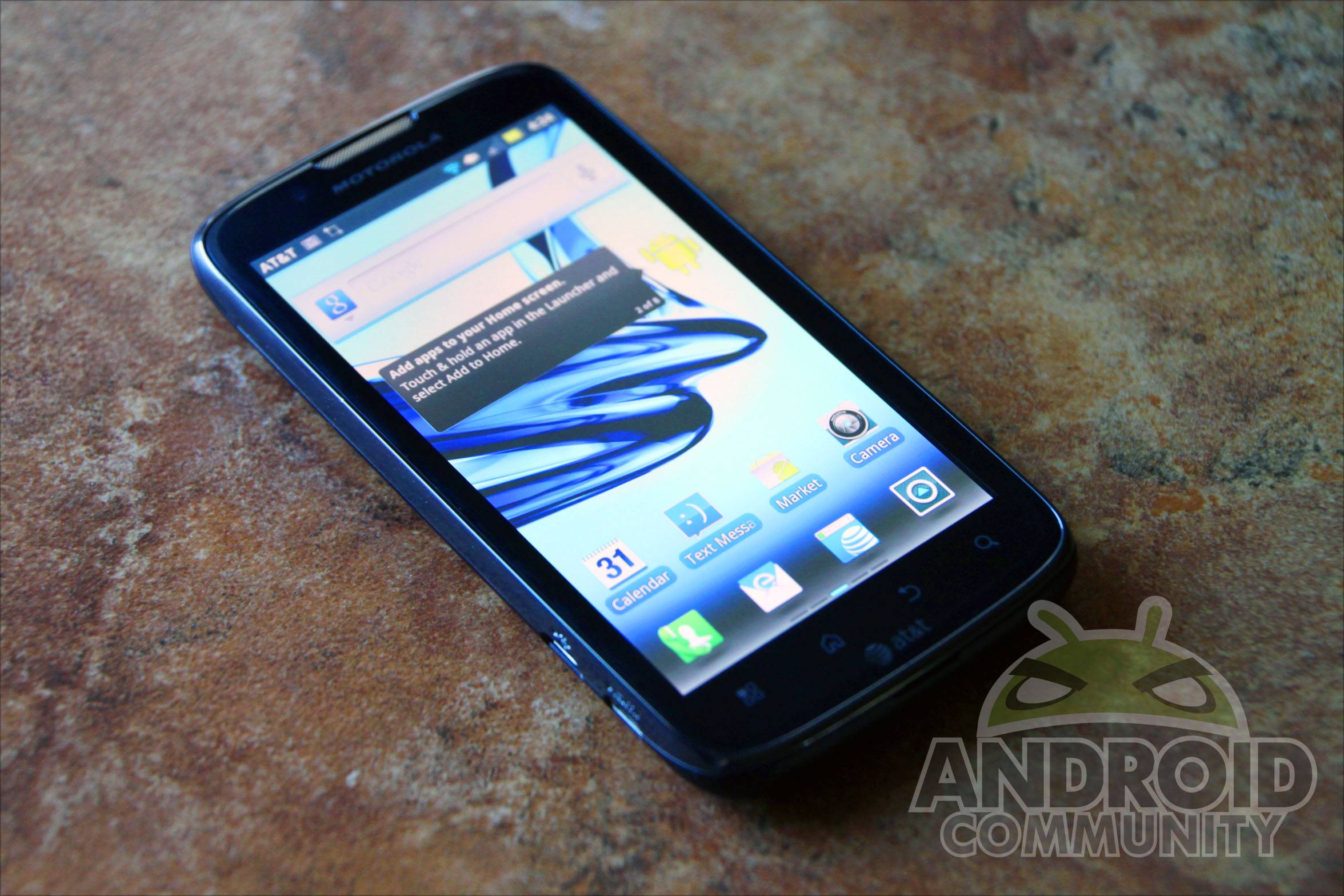 Motorola's ATRIX 2 is a modest update to one of the most exciting smartphones to hit AT&T's network this year. It seems a little soon for the ATRIX to get a sequel, especially since the original is still available – at the same $99 price point, no less. Does some slightly updated hardware and a larger screen add up to a more compelling purchase? Let's find out.
Hardware
Here's the principle difference between the original ATRIX 4G and the ATRIX 2: a slightly larger screen. That's about it. Oh sure, there are some cosmetic differences, strangely accentuated by slightly lower features like a smaller battery and less on-board memory. But the primary changes in your user experience will be found in the screen, which stretches to 4.3 inches from the previous 4. Resolution remains the same at 960 x 540 qHD, but honesty, it's nearly impossible to count pixels on either. They're both excellent panels that have a clean and crisp display, even if the black levels and viewing angles aren't going to beat a Super AMOLED panel. Four standard capacitive buttons reside below the screen.
A 1GHz dual-core processor and a full gigabyte of memory power the phone. Looking around the phone you'll see a very similar configuration: power button and headphone jack on the top, USB and HDMI jacks on the left side, volume buttons and a dedicated camera button (always appreciated) on the right, and a bare bottom. The back of the phone, now a matte plastic instead of the ATRIX 4G's faux-carbon fiber, has a dedicated speaker slot beneath the 8MP camera and LED flash. Sadly, the biometric fingerprint scanner hasn't made the transition. The phone has an average thickness of 10.2 millimeters, and while it isn't going to win any beauty pageants, it's good-looking enough to be considered by most.
One thing I do appreciate about the back cover design is that it wraps almost all thew way around the entire phone, making an accidental release almost impossible. It's a devil to get open, but once it's back on it closes with a satisfying snap, reassuring the user that it isn't going anywhere. 4GB of useable on-board storage is a disappointing drop down from the original ATRIX's 16GB, and a paltry 2GB MicroSD card doesn't help. Prospective owners should expect to invest in a larger card if they want to listen to any amount of music or take advantage of the new 1080P video capture.
Overall, the phone feels OK, if not outstanding. It's got a definite heft and the sense that it won't fall apart, but the ATRIX 2 also doesn't have the expensive, solid feeling that even mid-range HTC devices seem to achieve without trying. It feels good in the hand and won't slip out easily thanks to the textured back panel, but you could say that about a lot of AT&T's current line-up. It's a decent refresh of the ATRIX – unless you have to have the integrated fingerprint reader or much larger internal storage, you'll be satisfied.
Software
Motorola's I-can't-believe-it's-not-Blur UI customizations have a lot of historical weight going against them, and rightly so. But like HTC's Sense and Samsung's TouchWiz before it, Blur seems to have finally matured. There's no slowdown in the homescreen or interface, nothing that the Tegra 2 processor can't handle. Even if Blur's additions to Android Gingerbread aren't anywhere near as useful or pretty as others, it's no longer a deal-breaker for those used to the faster "vanilla" Android. Congratulations to Motorola for finding a balance between performance and differentiation at last.
AT&T includes a pretty hefty load of bloatware with the standard Android and Motorola apps, but – miracle of miracles! – nearly all of it can be removed. The only apps that I wanted to manually uninstall that I couldn't were AT&T's music store and Quick Office, and all things considered, that's downright progressive for an American carrier. Motorola's made some pretty extensive modifications to Gingerbread, integrating services like Flickr and last.fm, but they don't seem to slow down the user experience at all. Overall the phone is one of the fastest I've been able to play with lately, and while it doesn't exceed the Galaxy S II or some of the phones coming to market very soon, it's very impressive at $99 on-contract.
Between a faster Blur skin and a less intrusive AT&T presence, it's surprising just how zippy the ATRIX 2 feels. Quadrant scores (which, to be fair, are not the be-all, end-all of Android performance) reflect this, at an impressive 2200-2300 after several tests. Trying out some of my favorite hardware-intensive games was not an issue at all. The ATRIX 2 is a solid performer, and should be able to handle whatever you can throw at it – including Ice Cream Sandwich, eventually.
Phone and Battery
AT&T service is pretty poor where I live, but even so, I was able to hold quick local calls and a 20-minute cross-country call with reasonable fidelity. I could hear those on the other end of the line, but periodically, they couldn't hear me. A nice surprise was that AT&T's "4G" HSPA+ network extended to my home, even with only one or two bars. In my location I was able to pull down more than 1MBps on AT&T's network with consistency – don't laugh – which is better than most of the AT&T phones tested in the same location. Based on this, you should be able to get a solid signal and speed in any metropolitan area, provided that your nearest towers aren't under stress.
The battery on the ATRIX 2 is a pleasant surprise. Despite being physically smaller than the ATRIX 4G's battery at 1785 mAh, it idled on my desk for days without complaint, and went all day on a single charge with 35% left over after considerable web browsing, YouTube use and local calls. Naturally your mileage may vary, especially since end-users will install many more apps than I have, but overall it's an impressive feat for a mid-range phone. Battery life like this bodes well for upcoming Motorola "superphones" like the DROID RAZR, even with its non-removable battery – the manufacturer is clearly getting good at mobile power management.
Camera
Like most Motorola 8MP cameras, the ATRIX 2 was acceptable but not outstanding. Brightly lit areas and subjects looked good, but take it inside and you see n immediate and considerable dip in quality, which not even the LED flash could overcome. It should suffice for YouTube, Twitter and Facebook addicts, but for more permanent pictures, be sure to bring along a dedicated point-and-shoot or DSLR. Those looking for a more professional camera (if indeed that could or should be a consideration in your phone purchase) should wait for the AT&T version of the Galaxy Nexus.
Accessories: Lapdock 100 and HD Dock
Motorola was kind enough to send along some of the high-end accessories that made the ATRIX 4G so notable. We'll leave the car dock and external battery alone for the purposes of this review – they're both perfectly serviceable – and focus on Motorola's WebTop products, the new universal Lapdock 100 and the ATRIX 2 HD dock.
The Lapdock gets a new if not particularly attractive makeover in the 100 model. It's not anywhere near as svelte as the original, which could pass for an expensive thin-and-light without the phone inserted. The Lapdock 100 looks more like one of the V-Tech kid's laptops that are supposed to look just like Dad's – silver paint and bulging lines make you wonder why anyone would tote this along instead of a slightly more expensive netbook. That said, it's considerably cheaper than the original at just$199 less a $100 mail-in rebate, and with upcoming software upgrades, it'll be useable for all WebTop enabled phones.
It's decent for what it is – a 10-inch extension to your phone's screen for typing, browsing and media playback. The problem is that there's no usage case scenario that isn't trumped by bringing along a netbook or even a full-sized laptop. The price isn't so cheap that it justifies a purchase in addition to the laptop that prospective owners almost certainly already have. The experience isn't so much better than just using the phone itself, except for the full Firefox web browser, but since customization is severely limited, it holds very little appeal for me. It doesn't help that the Lapdock itself feels cheap, with a mushy keyboard, tricky touchpad, a dim screen and a lack of shortcuts that at this point are second nature to a full-time desktop user. I just can't recommend the Lapdock 100 over the laptop you've already got, and I doubt a bump up to the 14-inch Lapdock 500 at an even greater price point would change things.
Check out a special hands-on of the LapDock 100 and ATRIX 2 below:
[vms ddb119e23e9b2808cde3]
The HD dock has some more exciting prospects. It too will enable the WebTop interface, assuming that you use its HDMI port to connect to a monitor or television. USB ports allow for a standard mouse and keyboard interface, and considering the dock's small size and (relatively) small price of $100, it might be a decent addition for the frequent traveler who doesn't want or need anything but basic web functionality. Even then, the WebTop interface is pretty slow and frustrating – power users will be deterred almost instantly. If you absolutely need to shave a few pounds off of your carry-on luggage and can do without a full desktop OS, it might hit the spot.
Wrap-Up
The ATRIX 2 is a serviceable upgrade from the previous model, with a couple of caveats. If you must have the extra internal storage and fingerprint reader, go with the ATRIX 4G, which is still available for $99. Everyone else should be pleased with a solid, speedy phone with great battery life and a respectable screen at a decent price. It's not going to beat out the latest and greatest, but for a mid-range device, you could do a lot worse. On AT&T, you couldn't do much better without switching camps to the iPhone 4, with the possible exception of the HTC Inspire 4G. It's worth noting that as one of the latest AT&T Android phones, the ATRIX 4G is very likely to receive an official Ice Cream Sandwich update.
The accessories, unfortunately, still aren't up to snuff. I love a good desktop or car dock, and the standard $40 ATRIX 2 desktop dock and the utilitarian car dock are Motorola's typically acceptable offerings. But the Lapdock 100 is still far too expensive to be practical when most of its target audience already has a laptop, and the $100 HD dock only holds an allure for a very specific subset of travelers. If you're someone who liked the original ATRIX but didn't want to break your contract at the time, the ATRIX 2 is a fine replacement. If you're looking for the latest and greatest in the Android world, it would be better to go with the Samsung Galaxy S II or wait a few months to see what lands this holiday season.
[device id=1734]