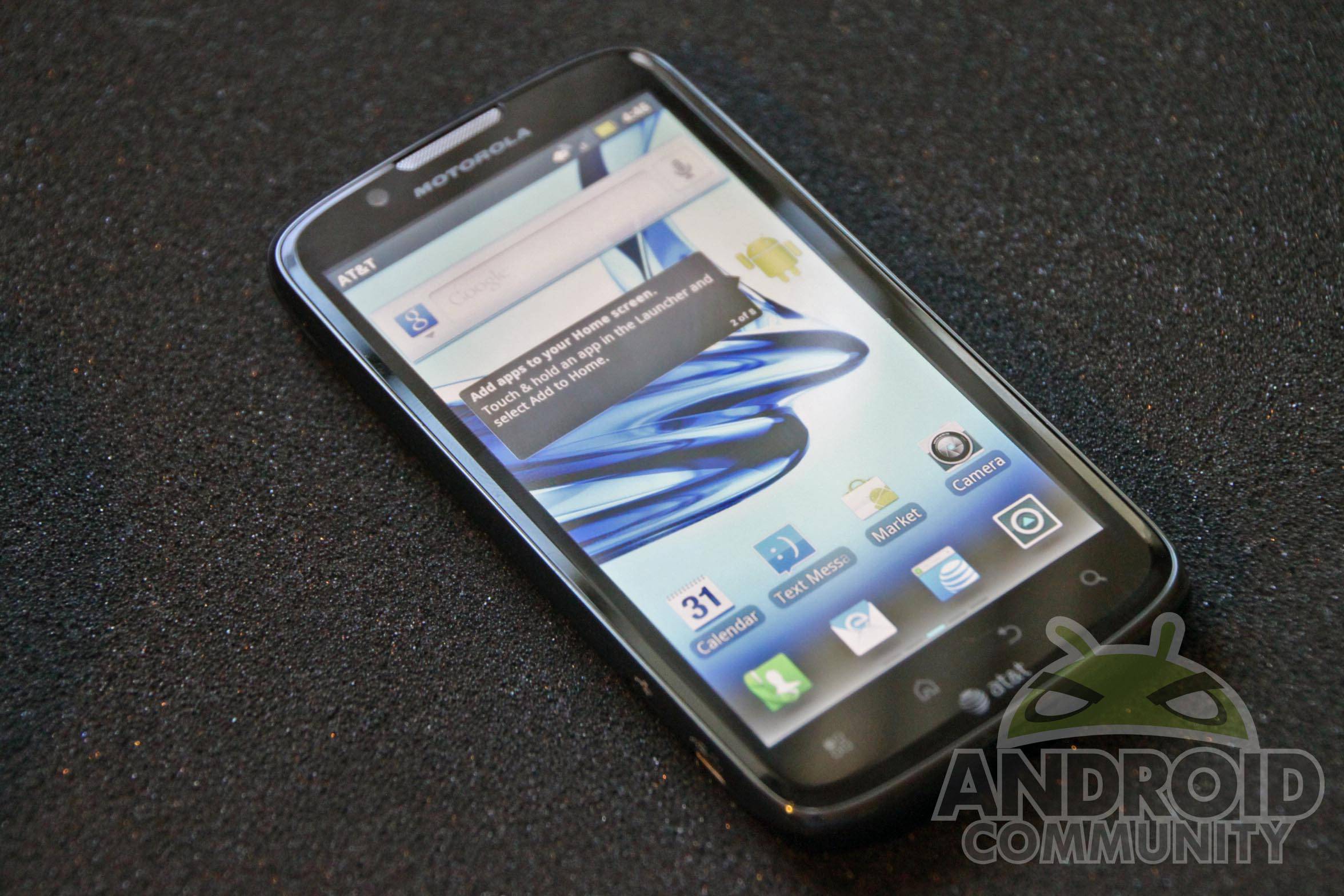 The original Motorola ATRIX was a top-end phone and a curiosity, mostly stemming form the novel addition of the laptop dock and its almost-desktop experience. The ATRIX 2 adds a few improvements, most notably a bigger 4.3-inch screen. Elsewhere the phone is mostly unchanged: same 1GHZ processor and 1GB RAM, same camera, even the same screen resolution. There are a few stylistic differences – the battery cover no longer has a faux carbon fiber look, for example – so let's explore them now.
The 4.3-inch qHD screen dominates the front of the ATRIX 2, sparing just enough space for capacitive navigation buttons, a front-facing camera and of course, an AT&T logo. The screen is bright and crisp, the 960 x 540 resolution being put to good use on the large size. The phone itself is a little thick at 10.1 millimeters, but the curved back makes it comfortable enough.
On the right side of the phone you get Motorola's standard mini-HDMI and USB ports, while the right side has volume up/down and – YES! – a camera button. Around the back you see an exposed speaker poking through the battery cover and the 8-megapixel, 1080p camera. The battery cover pops off when levered by a thumbnail from the bottom of the phone, and coves the entire back and top and bottom sides. This makes it a devil to get off, but once it's on there's absolutely no danger of it coming loose, which I feel is an acceptable trade-off.
The ATRIX 2 comes with a measly 2GB MicroSD card, a poor inclusion on a top-end phone, especially since the internal storage has been halved to 8GB from the original ATRIX's 16. Inside you'll find Motorola's standard subtle Blur customizations running over Gingerbread, and the experience is a lot smoother than some other Moto phones I've seen, even on high-end hardware. The bloatware factor is unfortunately high: an AT&T-branded QR scanner, navigation, two specialized Market links, Live TV, a branded music store, and the Yellow Pages app. Other inclusions are the ubiquitous Let's Golf 2, ZumoCast, Qik, and QuickOffice.
Motorola sent along a bevvy of accessories: the new universal Lapdock 100, desktop and car docks, an extended external battery and various cables to take advantage of them all, none of which are included in the retail packaging. All you get in the AT&T box is the phone, a charger wall ward and a USB cable. We'll be taking an in-depth look at the available accessories during the review.The ATRIX 2 is, currently and paradoxically, the same price as the ATRIX 4G at $99.
Check out the hands-on video below. Note that I made an error in narration – the original ATRIX did not have a kickstand, that was the Motorola Photon.
[vms 9c7956b1df66729296a4]
[device id=1734]