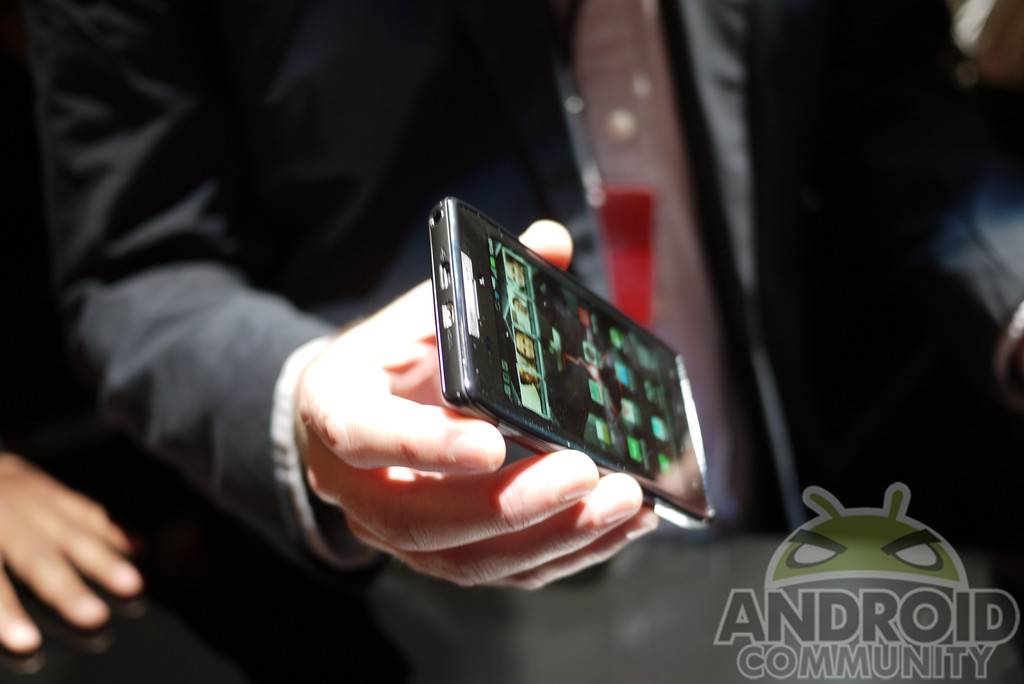 Now that it's finally official and Motorola has announced their next big flagship device for Verizon, the DROID RAZR, we were lucky enough to quickly grab some hands-on time for you all to see for yourselves. The DROID RAZR has been leaked time and time again, not to mention all the teaser videos and leaked device render we saw this week. Today Motorola aims to take back the crown and revive the iconic RAZR brand, see our hands-on below as it all comes in.
This sleek Kevlar coated superphone is blazing fast with 4G LTE, durable, and super thin at only 7.1mm. Looking very closely to what some could call the DROID X3 or even a thinner and prettier BIONIC but that is where things end. We have the first combined qHD and Super AMOLED display at 4.3″ powered by a 1.2 GHz OMAP 4 processor and 1GB of RAM this phone has everything the BIONIC does and more, while being only 7.1mm thin (not counting the hump). With 16GB internal storage and bundled with a 16GB micro-SD we have 32GB out of the box. Powered by Verizon 4G LTE you can expect some blazing fast 4G results and Motorola was quick to compare to the slow, non LTE iPhone 4S. Without getting into things too much as that was all detailed in the official announcement early, here's the video and pictures below:
Motorola DROID RAZR hands-on video
[vms ac30bd5e8734bc96a35c]
Part 2
[vms 9b2541ff53db39f407a9]
When they said it was thin, they meant it — check out these photos!
Motorola DROID RAZR hands-on part 3
[vms f9021694f6e51cc07fe3]
We are still running around and checking out this awesome and thin phone so stay tuned as we continue to update. We have asked a few Motorola reps regarding the bootloader and we keep getting the same reply and that is nobody seems to know. I have a feeling that is a no. This bad boy can be yours sometime early November and pre-orders start October 27th for just $299 from Verizon.
[device id=1739]