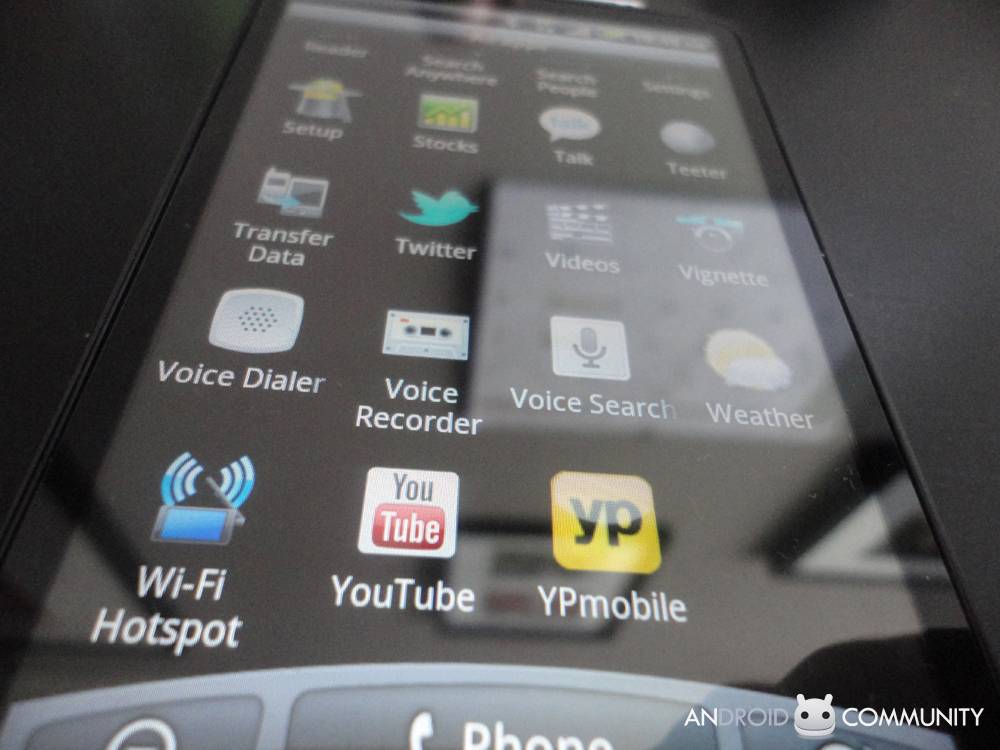 One of the most gigantic phones we've ever had the pleasure of trying to hold with one hand, this is the HTC Inspire 4G. This phone is available through AT&T and will soon be running on its full HSPA+ network, currently rolling hard on Android 2.2 Froyo on a 4.84 x 2.68 x 0.46 inch piece of candybar hardware. This is a phone with such a gigantic screen and speedy insides that the rest of the situation is minimalistic to the max – barely a physical button to be seen!
Hardware
This phone weighs in at 5.78 oz (164 g), has a soft plastic backing in several pieces (instead of having a single battery cover that comes off all at once,) and has a big fat single camera protruding from the center top (back as well.) The front of the device features a generous 4.3-inch S-LCD display with 480 x 800 pixel resolution and capacitive touch functionality. Touch at this point in the history of phones is essentially perfect. The amount of times that we tapped the phone and it didn't respond can easily be chalked up to user error or fluke.
This phone is so gigantic you'll have to consider if you're going to want to handle such a monster on a day-to-day basis or if you're going to want a smaller phone to avoid dropping it because your hands are too small. Most adult humans should have relatively little trouble with this problem however, especially since the case is soft plastic which makes it an easy carry.
Around the edges you'll find a very small amount of buttons: one for power along the top, a volume dongle on the left side, power and headphone jack on the bottom, and that's it! If you want to access the battery or one of the cards in this device, you'll have to pop off one of the two covers on the back. This for some people will cause craziness as they prefer to see the entire innards of the phone, but for most average users, the strength of the covers and the small chance that the back will pop off is a welcome change.
The display is gigantic, huge, undeniably large. Recently we've had confirmation from several manufacturers that they consider 4-inches to be the breaking point between smartphone and tablet. If that's true here, we're actually dealing with a small tablet rather than a giant smartphone. This phone's display is ultra-clear, for the average user magnificently bright and nice, and it'll prove responsive and smooth for everyone, developer to newb.
Software
Inside the phone you'll find a slew (as always) of pre-installed apps, but not many that you'll never ever use. One of the most annoying features we're always down on is the fact that side-loading apps into an AT&T phone is stopped completely. Of course as always there are workarounds, but this isn't our favorite sort of thing to be working on when we just want an older version of ShootMe to work with our non-rooted phone.
One of the newest and nicest free games in the Android Marketplace is called Gun Bros. This game is put out by GLU (check out more details here), its super high quality, and it's totally free. It's a social game too, functioning in an environment where you're not exactly playing head to head or side by side with your friends, but you are gaining points and levels and whatnot based on how well your connected friends are doing. This game is the sort where you've got to download it from the Android Marketplace then download an additional pack to get it running – if you're low on space on your phone (this wont happen on the Inspire 4G basically ever,) you might think twice about downloading it, but if you've got the space, this game is amazing. Have a look at how well the game looks on the phone here to get an idea of how well the phone functions with heavy hitting graphics and load:
[vms 4a40b78132f1e71a9e6f]
Camera
The camera does not have as nice a focus feature and set of functions as we'd like (we're still marking the G2 offered up by T-Mobile as the greatest mobile camera we've had in our hands,) the photos that do turn out turn out really well. The video is alright, not re-focusing once you've pressed the record button but allowing digital zoom in-progress, as well as lighting re-adjustment.
Photo Example:

For basic use such as sharing to Facebook, you're going to be in good shape for both video and photo. This device is working with an 8-megapixel camera on the back so you are going to get reasonably sharp and large photos if you know what you're doing with focus and all that. This phone also has Geo-tagging which we consider to be one of the coolest features a photo-taking device can possibly have, so that's a definite big plus. Video capture is done at 1280×720 (720p HD), so for high-mid-tier filming of mobile-based videos, you're set.
Multimedia
Playback in MPEG4, XviD, WMV, 3GP, 3G2, YouTube works great, Netflix does not work at all. When you DO get a video working on this device, it looks magnificent. Blacks, colors, and whites look excellent.
Phone
There is an additional mic used for noise cancellation, and you can tell as phonecalls out sound perfectly clear, calls in work just as well unless the other person is talking through a tin can, which sometimes happens with any phone.
Data
Speeds on the way in, not so quick on the way out. Have a look at the following thread to see what the deal is with upload and download speeds: HTC Inspire 4G Lacks HSUPA (3G Upload Speed Capability) Says AT&T. On the other hand, once you've got games and other apps on the device, you're in good shape with a Snapdragon MSM 8255 1000 MHz processor which will whip through essentially anything you toss at it.
Battery
The battery inside this device is an HTC branded 1230 mAh pack with what they're saying is 6 hours of talk time or 372 hours of standby. Of course you're never doing just one or the other, and since you've got a smartphone here in your hands, you're not going to be just making calls and using no data. Therefor we've got to note that you'll certainly be charging this device at least once a day if not more. Battery advancement in this rapidly advancing tech world is not moving at a pace that's keeping up. It's not HTC's fault by any means, but it certainly is a reality.
Cost
You can currently grab this phone from Amazon for an unbelievably low price of $59.99 (with a 2-year agreement, of course.) This price we think is fantastic, especially considering the hugeness and well-working nature of this phone running on what AT&T is calling their 4G connectivity. If you buy the phone direct from AT&T, you'll be paying $99.99. What's the benefit of buying the phone more directly through the carrier? We're really not quite sure, to tell the truth. Go for Amazon is what we'll be written up as saying.
Wrap-Up
This is the fat phone of the day. This phone is big, it's fast, and it connects via HSPA+ otherwise known as a version of 4G speed. If you're wary of the connectedness of AT&T's network as of late, think twice. There's stories out there of this phone and other 4G AT&T phones going not quite as quick as they aught to, but if you're asking us, the speed is just fine and dandy. The reason you'll be purchasing this phone is the display. It's giant, it's huge. I don't know how many times we've got to say that before it becomes apparent that this is the reason this phone shines, but why not once more? Ginormous. This is one step below a small tablet.
Buy this phone if it's your first non-starter Android phone. If you're looking for the best of the best, this isn't it. Is this phone just as good as the best of the best to the untrained years-of-experience eye? Sure it is. One gigantic Android phone for those that love entertainment right next to all day every day functionality you've come to expect from smartphones.