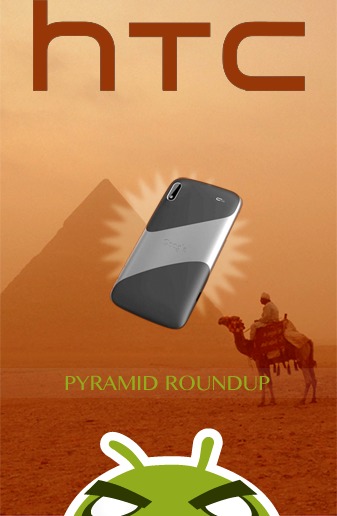 It appears the basically everyone in the Android world has their eyes set on one HTC phone or another these past few weeks, and at the forefront of our forward-looking eyes is the HTC Pyramid. Before we continue, let's take a note of the most recent word on this superphone of the future: it appears that it'll be called the HTC Sensation. This is a fabulous name if I do say so myself, and we all approve.
Unlike most phones that make people's heads turn into wormholes, this phone hasn't been around the rumor bins for an extremely long time. We first heard of the HTC Pyramid back on the 3rd of February (this year) when it was first said to have a 1.2GHz dual-core processor and QHD display – and on T-Mobile no less! Next, we wagered a guess that the Pyramid's European counterpart would come in the form of the HTC Desire 2.
That idea was quickly trounced with a leak of an inventory list which showed the two phones as separate devices. Then the really awesome leaks started to pour in come March 15th. First there was word that this phone would come loaded with Android 3.0 Honeycomb – this post containing the first possible photographs of the device we've seen, then another gigantically exciting leak straight outta Techblog – what a lovely swooping chasis!
Next we expected to see some more info on this mystery phone at CTIA 2011, but not even a whisper was heard. Then on the 22nd of March there was word once again that this device would be working with a QHD display – 960 x 540 pixels large, to be exact. Then the big one – still not perfect list of specifications, but a big fat collection of a few beautiful photographs from XDA Developers Forums.
What do you think? Any of this seem to be sticking to you? We're pumped! And if we had to guess, we'd bet on April 12, 2011 being the official announce date.