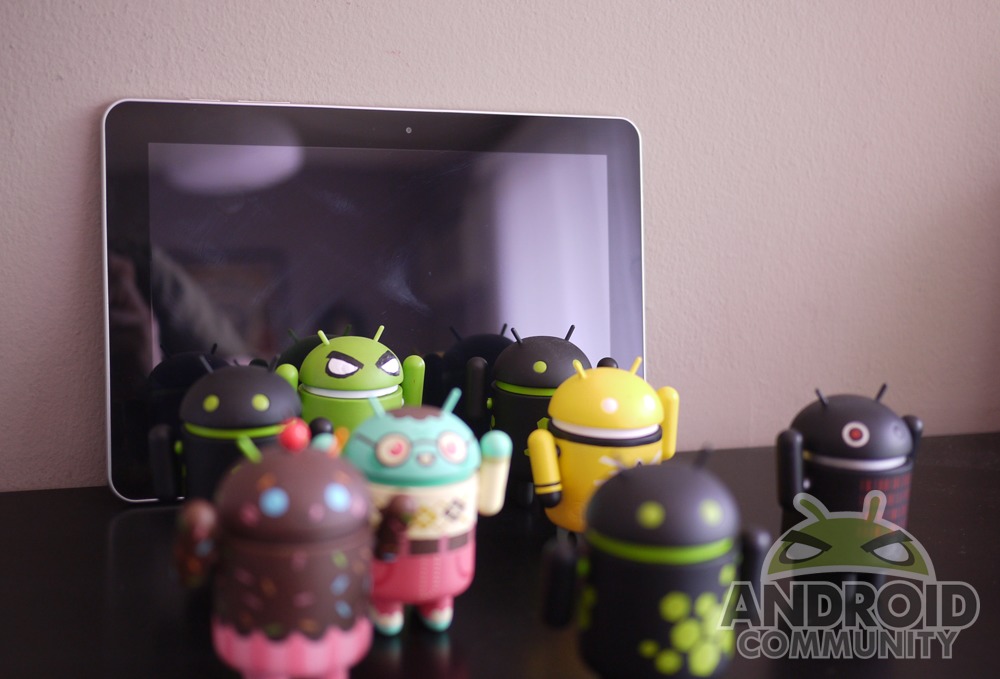 Welcome to the ongoing epic story we've got unfolding here at Android Community with the Samsung Galaxy Tab series, having reviewed just about every version of the original tab, then seeing this newest series before its software was even connected to its hardware, moving on then to the official announcements and pre-release hands-on of the 8.9 and the 10.1 and yes, the most popular review of the Google I/O Limited Edition Galaxy Tab 10.1 on the internet. Now we've got the official Wi-Fi edition of the 10.1 tab on our desk and it's time to cross check and review this iteration – yes indeed!
Upon opening the box that this device comes in, you're presented with the display covered with a sticker that further explains the hardware you should, by all means, know about already because you've had a full reading of the Android Community in-depth review. After that you've got a wall plug capable of working with any number of world plugs, a USB to Samsung specific plug wire, earbuds, and some instructions manuals. Have a peek at the unboxing and hands-on video first, then head down to the rest of the review for a full blast look at Samsung's latest and greatest effort in tableting.
[vms 92e738adff8b1bd43a52]
Hands-On and Unboxing
Hardware
The Samsung Galaxy Tab 10.1 is Samsung's latest and greatest effort in the line of Android devices it's so faithfully produced over the past few years, they being the minds behind the most successful Android device line of all time, the Galaxy S, and the most powerful and thin Android device in the world currently, the Galaxy S II. What have they come up with this time? A masterpiece of a tablet whose only drawbacks are in its software and in its inability to expand memory. Has Samsung banked on the cloud a bit too much here? They've certainly banked, but perhaps just enough.
This tablet contains 16 GB built-in memory, 1GB DDR2 RAM, and no microSD slot for expanded memory though we DID see the possibility at one point in the ideation process back in early 2011. The display is a 10.1" WXGA 1280×800 pixel resolution TFT LCD with a nicely sized black rim so you'll easily be able to hold the device without accidentally tapping the screen. You've got a 3.5 mm headphone jack a the top, a 3.0-megapixel camera on the back, a 2.0-megapixel camera on the front, Gyroscope, Accelerometer, Digital Compass, and Ambient Light sensor.
This device is extremely thin and light, sizing in at 10.09 x 6.81 x 0.34 (256.2 x 172.9 x 8.6 mm) and weighing in at 20.99 oz (595 g). It's thin enough that you'll be pleasantly surprised but not in a way that would make you think you're holding something fragile. It's got a 1GHz NVIDIA Tegra 2 dual-core processor inside and it's ready and willing to play every and any game you can toss at it with flying colors. We'll be using this tablet to review every Honeycomb-centric app in the near future so look for it to pop up many times over the next quarter of 2011 – NVIDIA Tegra Zone ahoy!
Software
What this iteration of the Galaxy Tab 10.1 consists of is Android Honeycomb 3.1 with a dash of Samsung TouchWiz. What I mean by that is that it's not running the full TouchWiz UX 4.0, instead Samsung has decided to get the hardware out there in the open and offer the custom user interface to owners of the device at a later date as an optional upgrade. Let's have a quick look at what we're not yet able to access here in a demo we grabbed back earlier this year at CTIA 2011 – this is what TouchWiz UX 4.0 will look like, basically:
[vms 31b55aa50c06529eaa21]
Samsung TouchWiz UX for Tablets demo from CTIA 2011
Beyond that, you've got Honeycomb in its Android 3.1 form as first introduced on the Motorola XOOM a few weeks ago. For a rundown of what Android 3.1 Honeycomb is all about, check out our review of said system and come back with full knowledge. This device is running what's almost vanilla Honeycomb 3.1, that being the OS in its purest, unaltered form. What we've got here instead is a few elements that are wholly Samsung and, as Samsung and I say we see it, they're actually (either slightly by a whole heck of a lot) nicer than what Google had originally presented in stock Honeycomb.
For a full guide to Android 3.0 Honeycomb, (as opposed to the 3.1 version you see here on the Galaxy Tab 10.1,) check out our original full guide as posted at the beginning of this tablet wave! Next have a look at some of the specific differences between the user interface presented Honeycomb (be it 3.0 or 3.1) and this Samsung altered version on the Tab 10.1:
Keyboard Differences
Camera Interface Differences
You'll remember these images from our Samsung Galaxy Tab 10.1 Google I/O Limited Edition review as indeed there appear to be no changes in either interface between the limited edition and this standard Wi-fi edition. One thing that HAS changed is the amount and variety of apps you'll be getting. While they're basically the same basic set as you got with the Google I/O edition, there's no Amazon Kindle, no Amazon MP3, no WeatherBug, and a modified Music Hub.
Google I/O Edition vs Wi-fi Edition Apps
Stock Apps Rundown
One of the oddest apps we've got here is Samsung Apps. This app, when opened on the Google I/O edition of this device, showed a giant list of utter oddities, bear face icons and random collections of letters for titles. Back in the review of that device I estimated that this was just a temporary oddity, and it turns out that this is the truth – now the Samsung Apps app has only a few items in it, including Angry Birds, apps that can be downloaded and a few options that might lead you to adding your own app here in the future. Still a very small situation going on here, perhaps one day it'll be stocked with all the greatest apps in the world ready to run on Samsung specific devices. On the other hand, its a bit disheartening to see every single brand attempting to have their own app store when less than 4 should, by all means, do the job fine.
Next there's Music Hub. This app is one that opens up to a music store run by 7Digital, a place where you can purchase tracks for right around $1.50 apiece and have a relatively wide variety of music to choose from. Is this Google's temporary music situation while they ramp up a reputable music store of their own? We shall see.
The stock Music app is giving us slightly different results than the one loaded on the Google I/O edition of this tablet in that it's not immediately apparent where we can activate our Music Beta account connection. That said, updating the app via the Android Market does bring us back our familiar set of lovely covers.
Even you, Lady Gaga with the bone face.
Next, QuickOffice is your portal to organizing Microsoft Word documents, Excel spreadsheets, and PowerPoint presentations. Plus there's a rather convenient Cloud button that connects to everything including Google Docs, Dropbox, box, and mobileme. Look at that gigantic list!
An additional app not present in the Google I/O edition that IS present here is Books, your link to Google's version of the world of ebooks. Quite sophisticated, entertaining to use, but unlike the best selling ereader in the world, you've got no e-ink display here. On the other hand, you've got access to books through your Google account which is convenient if you're already purchasing apps.
Camera
Surprisingly, both the front and back-facing cameras seem to have improved from the time they existed on the Google I/O Limited Edition of this device and this Wi-Fi edition. With a 3.2-megapixel camera on the back and a 2.0-megapixel camera on the front, one wouldn't expect more than a generally decent ability to collect media on the Galaxy Tab 10.1, but as you'll see below, a pretty good set of pics can be gotten. As for video, the result is slightly less impressive, but decent nonetheless. MUCH better video and photos than the iPad 2 can produce on all counts, of that you can certainly be sure.
Front-Facing 2-megapixel Photo
Back-Facing 3.2-megapixel Photo
Front-Facing 640 x 480 Video
Back-Facing 720p Video
Back-Facing 3.2-megapixel Photo with Flash
Performance
This device appears by all means to be moving faster than you'd ever really need a device such as this to move, having seemingly no loading time for any operation anywhere save for some larger games which require upwards of a few seconds to boot up. What you're dealing with here again is a 1GHz NVIDIA Tegra 2 dual-core processor for sweet speed and exclusive gameplay allowances through the Tegra Zone portal which you can get a full review of right along back here. What we find here is that the benchmarks we'd gotten for the Samsung Galaxy Tab 10.1 Google I/O Limited Edition were basically identical save for Quadrant Advanced which gave the Limited edition slightly more in total and some rather odd differences in each category.
Limited Edition
CPU: 6332
Memory: 2456
I/O: 1117
2D: 82
3D: 669
Wi-Fi
CPU: 4129
Memory: 2035
I/O: 951
2D: 235
3D: 576
Check out the rest of the results for the Wi-Fi edition here:
Quadrant Advanced
AnTuTu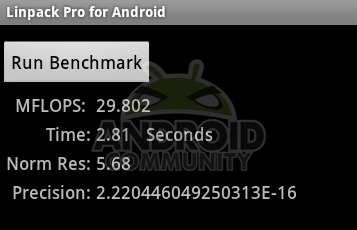 Linpack
Smartbench 2011
Battery
This device has a monstrous 7000 mAh battery in it, that being one so gigantic it'd do fine in a high-end laptop. You'll basically never have to power up this tablet – we've not needed to charge it at all for the several days we've had it out of the box now. Really quite amazing. You'll be getting AT LEAST 24 hours of heavy action out of this monster, no problem. No worries on the battery front at all.
Wrap-Up
While this device might instantly seem to you to be the greatest Android tablet on the market today, and you might very well be right, there are a few things to consider when thinking about what you've got here. First, this is, for now, just a Wi-Fi tablet. Where for example the XOOM already has some rather well-connected 3G action going on, this device remains in the Wi-Fi hole, relying on connections around you to grab some internet. But wait, you're part of this bigtime mobile revolution with us all, right? Take out your mobile handset and use the internet hotspot. It all seems so very Simple!
This device is indeed the thinnest and the lightest tablet on the market, thinner than the XOOM by a mile, lighter than the Asus Eee Pad Transformer by about half, and looking like it was designed by some smooth operators. But is it too simple? There's a fairly gigantic cross-section of Android owners who like to modify their devices to fit their own needs, and that very often includes popping in a microSD card and sometimes, though not often, fooling around with the physical guts of the device. With the Galaxy Tab 10.1, neither of these things is really all that possible. Does this make it a device to be looked over by hardcore developers?
I should think not. Especially developers looking to make apps that millions of people are going to be playing or working on during this next season when the Galaxy Tab 10.1 and 8.9 are going to be selling like hotcakes. But WILL this device sell? It really all depends on how well Samsung MARKETS the device. A tablet can be as magnificent as you want, but if you do like Acer and Motorola are doing at Target and Best Buy, your sales are going to be abysmal. You can take that to the bank.
That said, the Galaxy Tab 10.1 has a lot going for it, and without a doubt this is the closest any OEM has gotten to competing with the iPad yet. Once TouchWiz UX 4.0 comes out, we may feel another surge in sales, but unless, again, Samsung promotes the update as an earth-shattering change for tablets, again, it'll fail. The Samsung Galaxy Tab 10.1 is the greatest Android tablet yet, and one so simple and powerful at the same time that I'm currently using it as my primary non-handset device for web and email browsing as well as the occasional media in internet radio, movies, and television shows. Well played Samsung, can't wait for the 8.9.
[device id=89]