Motorola is one of those OEMs that we don't hear from usually when it comes to financial numbers but we know the company is doing great being it's been churning out new models regularly. Motorola is busy working on not just one but several new phones to be unveiled at the next biggest tech event–the Mobile World Congress–which is just right around the corner. We're anticipating a number of new phones but the Samsung Galaxy S9 phones are probably the most popular at this point.
Yesterday, an image was leaked that showed a possible rear fingerprint sensor for the Moto E5. There are also new Moto Mods including the Lenovo Vital and Livermorium Slider Keyboard. We want more from the brand because we believe Motorola can be trusted. Like HTC, it doesn't slow down old phones. Android updates are also regular so you know you're getting more value from what you've paid for each phone even if the price is already discounted.
Moto G6 Series
At this year's Mobile World Congress happening in Barcelona, expect to see the new Moto G phones. After the G5, it's going to be the G6 variants: Moto G6, Moto G6 Play, and Moto G6 Plus. We've got some images below but they haven't been confirmed yet. Rumor has it the next-gen Moto G will be similar to the Moto X4 design complete with the 3D glass screen, all-metal build like the G5, 18:9 display, and Full HD 1080p.
When it comes to processor performance, the Moto G6 will have Snapdragon 450. The Moto G6 Plus will run on Snapdragon 630. Batteries of the two will be 3200mAh and 3200mAh while the Moto G6 Play will have a bigger 4000mAh batt. Screen sizes will be 5.7-inches for the G6 and G6 Play and 5.93″ for the G6 Plus. They will differ in resolution at FHD+ or HD. The phones will have rear fingerprint readers as well.
The Moto G6 will be out in silver or rose gold. The Moto G6 Plus will be ready in Dark Lake, Nimbus, and Deep Indigo aka dark teal, silver, and black. The  Moto G6 Play will be sold in deep blue, gold, and dark charcoal. Price points for the three Moto G6 devices will be anything between $240 and $330.
Moto X5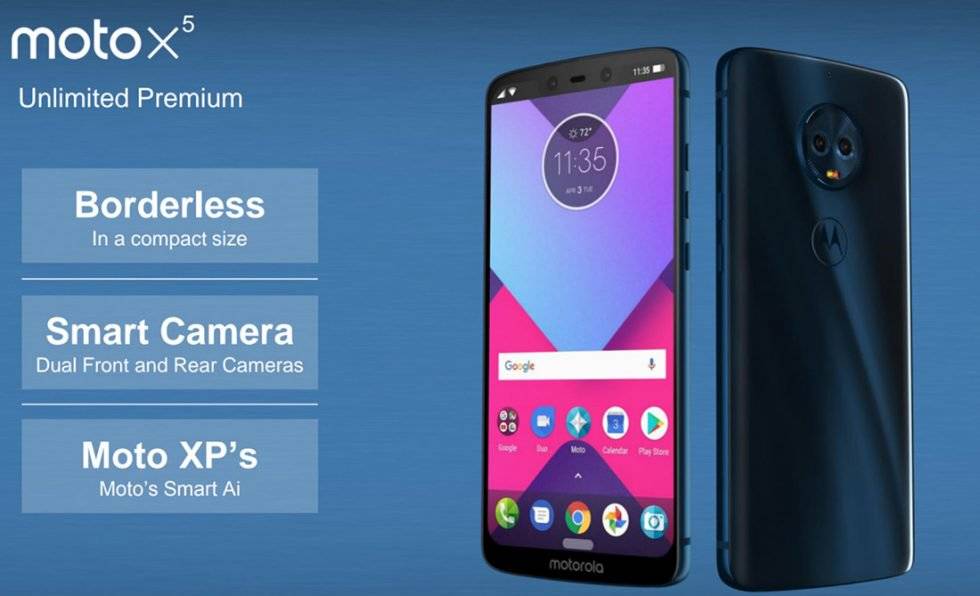 The Moto X5 will be more powerful than the X4. Expect a borderless 5.9-inch FHD+ 18:9 screen, notch at the top of the device, front- and rear dual camera setup, speaker, fingerprint reader at the botton, and a hidden fingerprint reader. Motorola may incorporate Smart AI. We're guessing artificial intelligence will be available here.
Moto Z3

Last but not the least is the Moto Z3 that will have an all-display design. What was first thought to be a RAZR line is now popular for its Moto Mods. There are only slight changes to the Moto Z as the next-gen Z3 will still be compatible with the older mods that are now in their third year. The phone may sport a 6-inch FHD+ 18:9 screen, and a Snapdragon 845 processor. and there is a possibility the fingerprint sensor may be embedded on the display.