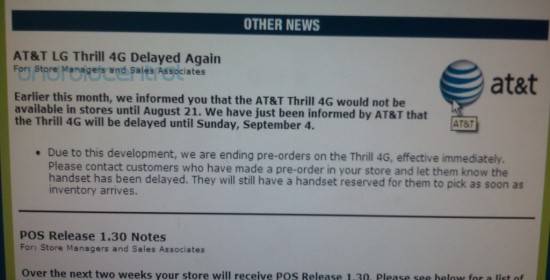 The LG Thrill 4G is that glasses-free 3D smartphone headed to AT&T early August, or late August, and now reports are saying sometime in September. Yes it has been delayed yet again after initial reports and statements claimed it would launch at the beginning of August. We later heard right from AT&T it was headed to market in the "coming weeks" but sadly that isn't happening either.
For more information about this 3D powered dual-core superphone check out our full review. After initial reports for the August 8th launch ended up being false LG delayed the device until the end of August. Now according to the leaked document you see above it has been delayed yet again and we wont be seeing this device until early September, possible on the 4th. With that being a Sunday it might not launch until the 5th because that would make a bit more sense if you ask me.
While there isn't all bad news I'm happy to report that the LG Optimus 3D (aka LG Thrill) has more than a few fans in the Android developer community and those amazing guys over at Cyanogenmod have been actively working on the LG Optimus 3D. The LG 3D phone will be receiving CM7 sometime shortly and you can get more details and a preview of that here. I'd like to also report we have heard AT&T changed the name to the LG Thrill 3D so that could be part of the blame for these delays but we wont know until it launches and hopefully they don't have hardware issues.
[device id=74]
[via Android Central]