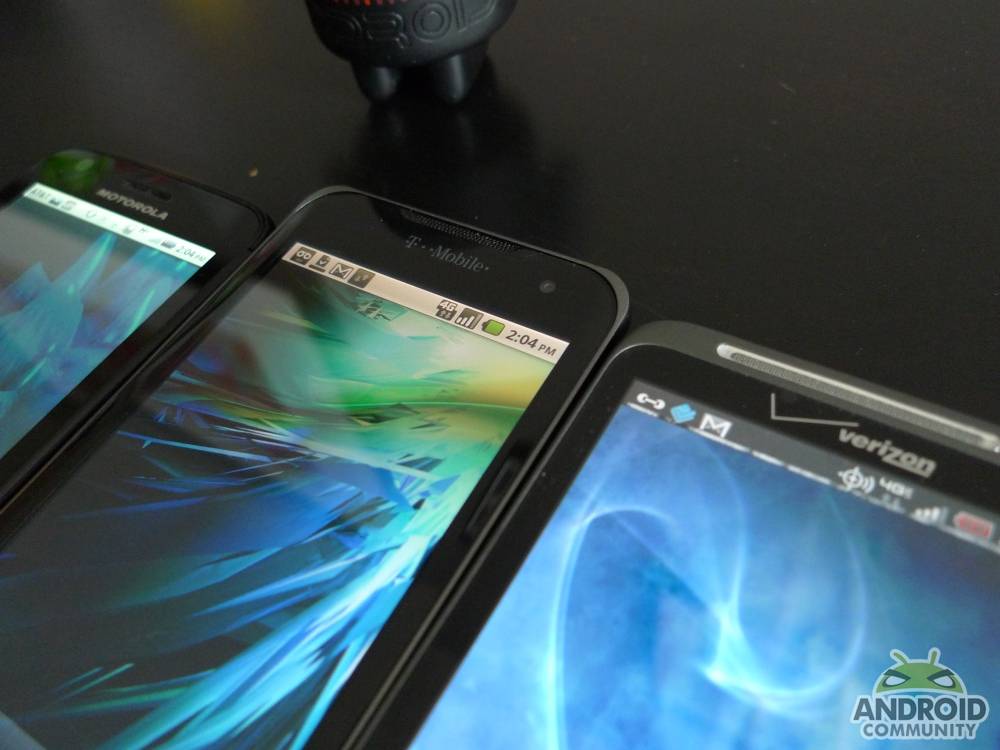 We've just received official word from LG that both the T-Mobile G2x and the G-Slate BOTH have IPS displays. There's been a bit of debate about this as of late, whether the display on these devices were simply TFT or if they amped it up a few notches to the more expensive and more fantastic in both color and viewing angles In-Plane Switching (IPS.) What does this mean, you might ask? Why should I give one hoot? Because now you know you can watch Tron: Legacy with the BRIGHT lights!
If you've been trolling these internets for word on how everyone's display's been working, like I have, you'll notice that there's two major items being spoken about. First, there's one thread on XDA that speaks on what I'd like to talk about: "The contrast ratio is terrible on this phone", and second, a post right here on Android Community made by one of our resident hacksmeisters Cory Gunther: LG G2x Having LCD Screen Bleeding Issues? Quality Control? This first post, the post starter, was more than likely experiencing some irritable bleed:
Forget the bleeding lcd edges , its the horrible contrast on this phone that will probably cause me to return it.

After coming from the inky black Amoled screen on the Nexus s , this is the most disappointing aspect of otherwise top of the line phone. You can't get a true black on this phone , the best it does is dark glowing gray. In fact anything with a black background looks gray , not total absence of light Black.

I realize that this phone has an LCD screen not an amoled screen , but I never thought the difference would be this pronounced. Example : when I power up my Nexus S the screen is pitch black and when the white Google logo appears, it will appear to floating in space in a dark room. The G2x display will put off it own light, making it very visible in a dark room.
This is a fellow separate from our editor Cory who also has his original G2x unit exchanged and is very satisfied with the result. Inky black, sweet color explosions, and no bleed! The thread on color went on to say, via many satisfied customers:
The blacks on AMOLED will always be darker than the blacks on LCD that uses backlighting. The blacks on amoled doesn't have light behind it so its gonna be darker, because there isn't a light source lighting up behind it. This comparison doesn't make sense. If you compare the GX2 any other LCD display on a phone it will out shine it hands down.
I am coming from a Vibrant and find the G2x display easier on the eyes. Yes the blacks looked better on the S-AMOLED but the colors are more natural on the G2x. However what I find to be most important is text look a lot better on the G2x display than the Vibrants Pentile display. I don't have to zoom in anymore to read text on webpages like I did with my Vibrant.
What the G2x AND the G-Slate have is LG's newest IPS technology, heavy duty excellence in an LCD pack. For all the sharpness, brightness, and contrast you'll love to see: "P-IPS, debut 2010, Professional IPS, Offer 1.07 billion colours (30-bit colour depth). More possible orientations per sub-pixel (1024 as opposed to 256) and produces a better true colour depth." — wiki Exciting! For some additional physical comparisons to a few other new Android devices, check out the post entitled G2x vs ThunderBolt vs Atrix 4G vs Sidekick!
Then you're going to want also to see our full investigations:
T-Mobile G2x Review
T-Mobile G-Slate Review
Gotta catch em all!