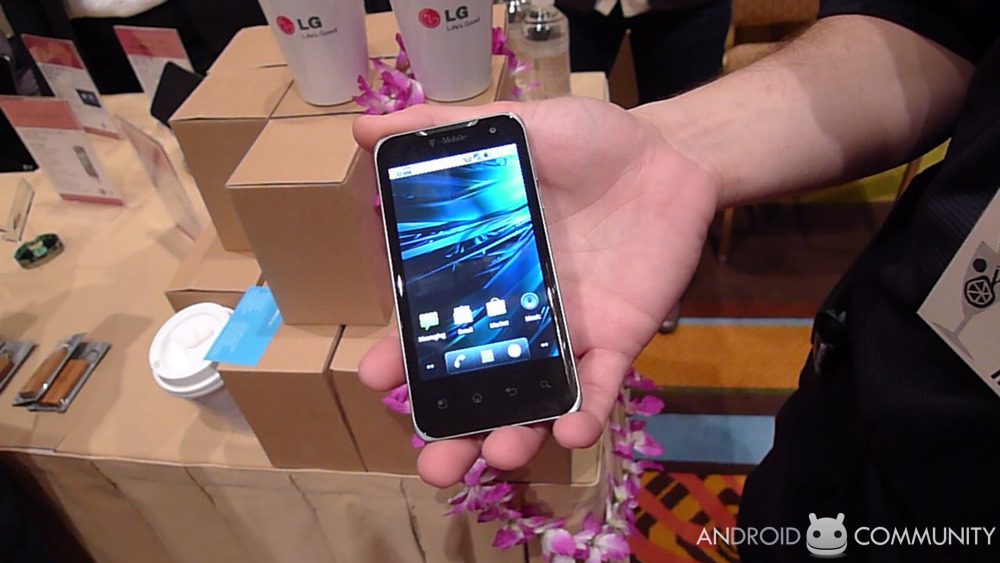 Take a peek at a rather enticing Android 2.2 Froyo handset that'll be available this spring (2011) from LG, carried by T-Mobile. This is the "T-Mobile G2x with Google by LG" – that's the official title, as our main homie Brian Scollo from LG tells us. This is a Vanilla flavoring of Android 2.2 Froyo, which, as you know, means its just the basics, a great way to experience Android if I do say so myself, and what's inside? No less than our good pal the NVIDIA Tegra 2 Dual-Core Processor, here each processor clocked in at 1Ghz. Power woo!
To demonstrate some of the loveliness going on here in this G2x machine, Scollo shows off the game N.O.V.A., a massively impressive first-person shooter that, although it's been out now for Android for some time, has received little to no love from Android sites, more than likely because it's not available for purchase in the Android Market, it's got to be purchase on Gameloft's own online store.
The point Scollo makes with Gameloft's shooter is that Tegra 2 makes this device as sweet at the XOOM or the ATRIX 4G in jamming around games like they were blades of grass and the phone were a boot. Then it's got all the other basic standards for a high-end phone going for it like an 8-megapixel camera on the back, (LG's highest megapixel camera on a phone at the point when it will be launching,) "if nothing else launches before that." Is that a clever hint at another secret device?
When Scollo says "if nothing else launches before that," I'm basically certain he meant it simply to mean that there would be nothing launching with a higher res camera in the meantime. We could probably take that sentence and make a mountain out of it, but we'll skip on the wacky tinfoil hats for the moment.
We take a peek at some functions of the camera, speak about the internal memory being 8GB, see that the hardware is indeed running Android 2.2.2 Froyo, and that, surprise! This phone can run DIVX! The ability to play more formats than fewer, especially when you're talking about what I'd call a nerdy format like DivX, that's a good sign for everyone! Of course, Scollo does not that users will have to convert files into AVI to put them on the device, which is confusing, but also encouraging nonetheless. No matter how small or large the screen we're working with, the ability to play bigtime movies is always a plus.
[vms 300456b6a5f416209385]
Upon asking if this device had a final build inside it, if we're seeing what will be sold in the stores, we were told that no, this was not final, and that tweaks were continuing to be made as we spoke. One example is, perhaps, the fact that the phone wasn't able to connect on T-Mobile's 3G or 4G network (it's final destination being 4G at release,) – OR, and more likely, it just wasn't able to battle its way out of the Wifi invasion that was occurring in every room within 50 miles of the Orange County Convention Center. Regardless of the fact that the G2x's software wasn't fully cooked, it looked completely slick and ready to roll out.
We're pumped up!
See our original unveiling post back [here] for a full spec sheet and all the info you'd love to know.