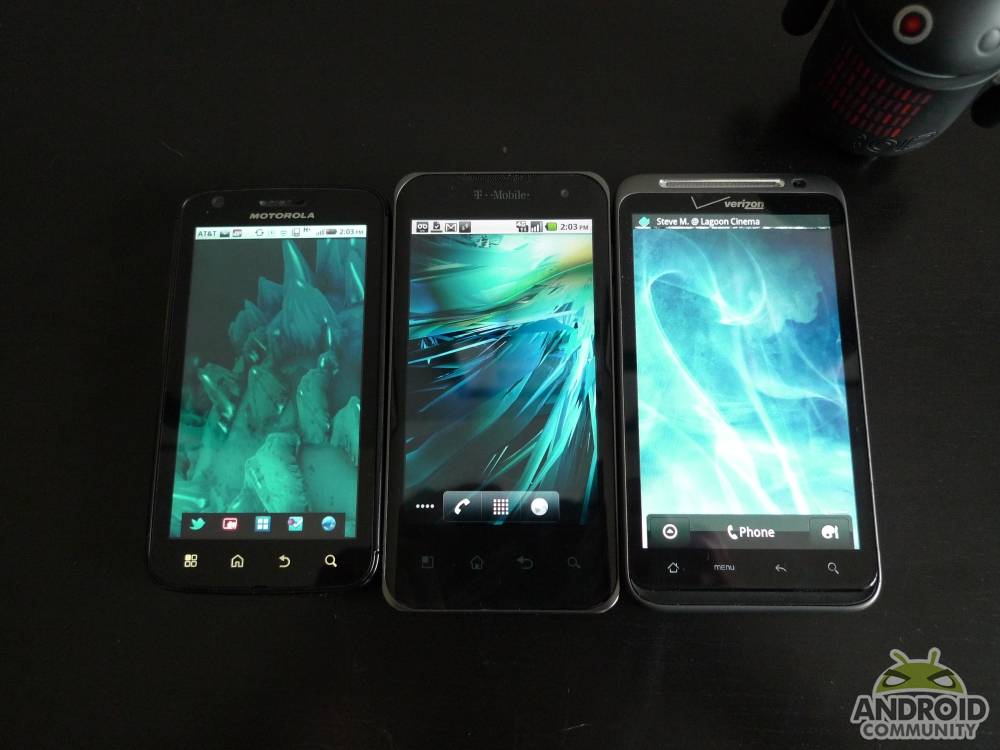 We had an extra 5 minutes today, believe it or not, so a few photos were indeed fired off. What transpired here was a comparison photo shoot (with a few specs below too, if you'd like,) that compared the T-Mobile G2x to the Sidekick (just for fun,) then to the HTC ThunderBolt and the AT&T ATRIX 4G. Would you like to know which one is the thickest? It's the Sidekick – spoiler! Would you like to know which one looks the most awesome? That's something you're going to have to decide for yourself. This is an odd assortment you're not going to find anywhere else – I guarantee it.
The most awesome form feature on any of these devices has to be – well, a tossup. There's a tossup in your humble narrators mind between the curved glass on the G2x and the kickstand on the ThunderBolt. But wait – the ATRIX can connect to that fabulous official HD stand, and it becomes a laptop. And wait, the Sidekick may not be able to stand up in power to any of these other devices, but sure as heck it's not going to fail in sales – simply because it's really awesome to hold.
Have a peek here at a few "physical" specs, if you know what I mean:
Dimensions
Samsung Sidekick 4G: 5.00 x 2.42 x 0.60 (127 x 61 x 15 mm)
Motorola ATRIX 4G: 4.64 x 2.50 x 0.43 (117.75 x 63.5 x 10.95 mm)
HTC ThunderBolt: 4.75 x 2.44 x 0.56 (121 x 62 x 14 mm)
LG G2x: 4.90 x 2.50 x 0.40 (124 x 64 x 10 mm)
Weight
S: 5.70 oz (162 g)
A: 4.76 oz (135 g)
T: 6.23 oz (177 g)
G: 5.00 oz (142 g)
Battery
S: 1500 mAh
A: 1880 mAh
T: 1400 mAh
G: 1500 mAh
Memory Expansion
S: microSD, microSDHC up to 32GB
A: microSD, microSDHC up to 32GB
T: microSD, microSDHC up to 32GB
G: microSD, microSDHC up to 32GB
Front-facing Camera
S: .3MP
A: .3MP
T: 1.3MP
G: 1.3MP
Back-facing Camera
S: 3MP
A: 5MP
T: 8MP
G: 8MP
Now have a look through the gallery. Judging these books by their covers, which one would you choose? Notice the screen brightness on the three heavy hitters. They've got different wallpapers just to drive home the point that you'd never otherwise be comparing these screens in such a manner, but you'll see exactly which one is the brightest regardless. Make sure you get a feel for which of the bunch is actually the smallest, note that their weight is nearly the same, even though they've got rather unique chassis. Gotta catch em all!