We're at the start of the month when Google is supposedly bringing out two new Android reference smartphones, and we're nothing but excited. This territory used to be called Nexus, the brand name Google used to indicate that these were what Android devices are supposed to be like, but times are a-changin' – we hear that the brand name will be changed to Pixel this year, although we don't really know if it will just be the handsets (and the Pixel C hybrid from last year, or if it will include tablet devices. So here's everything we think we know so far, and we've ranked these factoids from being unlikely, possible, very likely, and sure.
So what is the Google Pixel?
The Pixel will be the new reference Android smartphone for Android, and it will be bringing a bigger variant which will be called the Pixel XL. The Nexus brand name will be forgotten, unless Google revives it in upcoming devices. Two device is par for the course for the mothership, as with the years past.
The Pixel and Pixel XL will surely come with Google's latest and greatest Android version, and it will be priced very near the flagship models from other manufacturers.
CERTAINTY: Very Likely
Manufacturer
Countless leaks of these new smartphones point to HTC being the manufacturer of the two smartphones. This is a sort of homecoming for Google back to the Taiwan-based manufacturer, with HTC producing the original Nexus One phone. Last year, Google went with Huawei for the Nexus 6P and to long-time partner LG for the Nexus 5X. HTC is in a little bit of a rut these days, and it seemed pretty nice of Google to help out one of its partners. Hopefully, the Pixel and the Pixel XL will help build back consumer confidence in HTC.
CERTAINTY: Very Likely
Launch Date
This one we are pretty sure of. Google themselves tweeted a teaser video that they will be having a launch event on October 4, and the video contained the outline of a handset. We know that invites have gone out, and we're expecting Google to unveil the Pixel and the Pixel XL on that date. What we aren't sure of are the other devices that might be launched together with these two smartphones.
CERTAINTY: Sure
Design and Display
Again, the numerous leaks and rumors have given us a good idea at the aesthetic design and display spec of the Pixel and the Pixel XL. The Pixel will be the smaller of two, sporting a 5-inch form factor with the display going up to Full HD (1080p). The Pixel XL will have a 5.5-inch Quad HD AMOLED display. If you notice, these are noticeably smaller than the Nexus 5X and the Nexus 6P from last year, but it seems like Google wants to give the phones more manageability in daily usage.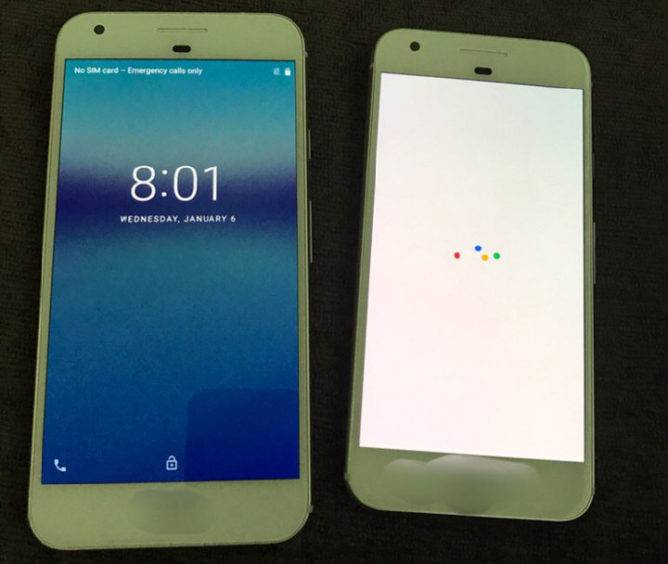 From the leaks, we can see that the design of the Pixel and the Pixel XL will be similar – probably an aluminum unibody make, and a round fingerprint scanner at the back. Rumors say that there will be a two-tone finish at the back of the phone, with the top half covered with glass. That's an interesting design choice, but we will have to see come October 4.
CERTAINTY: Screen size, sure. Other design cues, possible.
Chipset, camera, battery
Different screen sizes aside, tech pundits and other sources say that both phones may sport similar internal specs. That makes sense for HTC to do. Both smartphones will most likely be powered by the new Qualcomm Snapdragon 821 chipset. Google may go with 3GB RAM for the Pixel, while the Pixel XL will most likely come with 4GB RAM. Storage configurations will be standard at 32GB and 64GB, though it is likely that Google will offer a Pixel XL variant with 128GB internal storage.
The 12MP main camera at the rear of both phones is rumored to be the Sony IMX378 sensor, an upgrade from the IMX377 sensor on both Nexus phones from last year. A lot of the rumored camera features like OIS, PDAF, and LaserAF are all coming from the HTC 10 design as well. Hopefully, Google will also bump up its native Android camera app to give more features to users.
The Pixel is reportedly sporting a 2,770mAh battery, while the larger Pixel XL will come with a 3,450mAh battery. These are not the highest numbers around in terms of battery capacity, but the new battery saving features in Android Nougat combined with a power efficient SD821 chipset should theoretically be better than last year Nexus devices. Both phones will adopt the USB Type-C port, and will support fast charging via the SD821 chipset.
CERTAINTY: Very likely
Software
If Google is indeed launching the Pixel and the Pixel XL on October 4, they will no doubt come with Android Nougat out of the box. Rumors say that Google saved a lot of features for the launch of these reference phones, pointing to the probability that Android Nougat 7.1 could be launching with these two phones. But this may not be all.
Google has been playing with a new hybrid OS called Andromeda – a mash-up of Android and Chrome OS. Rumors say that Google may tease a developer version of Andromeda for these Pixel devices.
CERTAINTY: Android Nougat, sure. Andromeda, possible.
Virtual Reality
Google has been pushing technology to its virtual reality (VR) efforts. In Android, that VR platform will be called Daydream, and the Pixel and Pixel XL will surely be Daydream capable. The Daydream VR platform is expected to be fully unveiled to the public at this launch date, and we're excited to see how these two phones will handle VR.
CERTAINTY: Very likely
Cost and sales
Solid rumors say that the Pixel (the smaller one) will retail at USD$649. If this is true, then the Pixel will be significantly more expensive than the Nexus 5X that came before it. By assumption, that will put the Pixel XL very near iPhone 7 Plus pricing. This is a curious move for Google if ever, as Nexus devices have always tried to balance pricing and feature set. The Pixel and the Pixel XL sound like they are real premium flagship devices.
Rumors also say that you will have two weeks to decide whether the Pixel or the Pixel XL is worthy of replacing your current phone, with sales reportedly starting by October 20.
CERTAINTY: Possible
Conclusion
Google is making big changes to its reference phone and hardware policy this year. 2016 will usher in the Pixel brand name and relegate Nexus to the background. Also, Google might be trying to compete with Samsung and Apple at the top of the flagship pile, if the pricing information on these two handsets are true. It remains to be seen if the actual hardware will convince buyers to shell out come launch date.