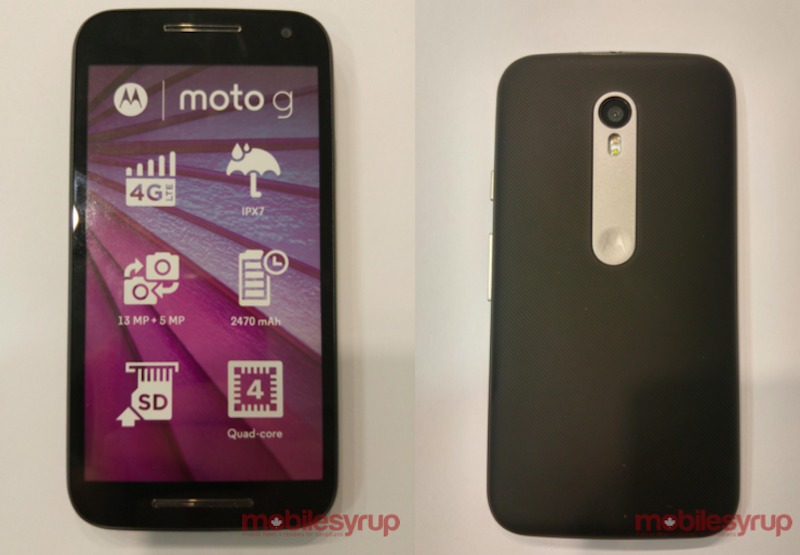 July 28 will be an exciting day for fans of Motorola as the Lenovo-owned brand is making some important announcements of new products. We're still not certain what models exactly will be showcased but we're betting on the 2015 version of the Moto G, the Moto 360 2, or probably a new Moto X or a Moto Droid.
Mobilesyrup recently published some photos of what's believed to be a dummy Moto G only. Not much has changed on the design over the previous version but we can expect some improvements on the specs. The upcoming Moto G is said to have the following specs: 5-inch 720p display screen, 1.4Ghz quad-core Snapdragon 410 processor, 13 megapixel camera with dual LED flash, 5 megapixel front-facing cam, 1GB RAM, 16GB or 32GB built-in storage,Cat 4 LTE connectivity, and a 2470 mAh battery.
We're not sure if the main cam will really have 13MP or 8MP as we mentioned previously but we believe it will come with f/2.2 aperture and can record 1080p video at 30 frames per second. Another thing to look forward to is the Android phone being IPx7 water resistant which means it can withstand exposure to moisture, splashes of water, or even some time under water.
A week from now, we'll know what Motorola has been working on. We have several proofs of a new Moto G already and now we can confirm that smartphone will also arrive in Canada aside from Brazil and the United States.
VIA: mobilesyrup