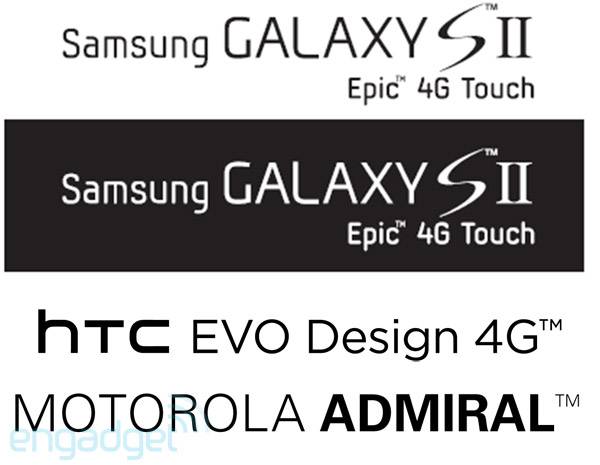 It's that time again ladies and gentlemen, time to trust the word of a dude with a single black and white graphic. This particular graphic was passed to Engadget sometime in the night on August 8th, 2011, and points toward three new devices to be released on WiMAX in the very near future. The first of these is a very obvious version of the Samsung Galaxy S II, that being the Epic 4G Touch, the next being a next-gen HTC device by the name of HTC EVO Design 4G, the last being the only one of three to not tote the 4G tag, this one being the Motorola Admiral – a mystery device to be sure.
First we've got the Samsung Galaxy S II variant which is very likely to be sitting right beside the Samsung Epic 2, a QWERTY slider version of the Galaxy S II. The Samsung Within, as it's been tipped, will likely be replaced by the name Epic 4G Touch, this being the device closely related to the Galaxy S II we already know and love. Our original Epic 4G review can be found over on SlashGear while our sister-site SlashGear strikes again with a full review of the Samsung Galaxy S II as it stands abroad today.
Next is the HTC EVO Design 4G, a device that is more than likely a slightly less-expensive version of the HTC EVO 3D, a device which, of course, has the ability to capture and display 3D media without the assistance of 3D glasses. The HTC EVO 3D review we've got will show you how neat the 3D action really is: check it out and note that the HTC EVO Design 4G we're pretty sure is aka the HTC Kingdom, a device we now believe to be essentially the same as the HTC EVO 3D save two big differences. These differences include a complete lack of a 3D camera, (aka there's only ONE lens on the back and it's 5-megapixels strong,) and there's only a single-core Qualcomm processor clocked at 1.2GHz. Of course you can also see this device being called the HTC Hero 4G, so who knows?
Finally there's the Motorola Admiral, a device which we've got essentially no information about at all. One might guess, on the other hand, that given recent releases by Motorola, this will be a dual-core processor-toting device with a full QWERTY keyboard, something rather similar to what we've just seen in the DROID 3.
What do you think? This all seem reasonable to you?
[via Engadget]