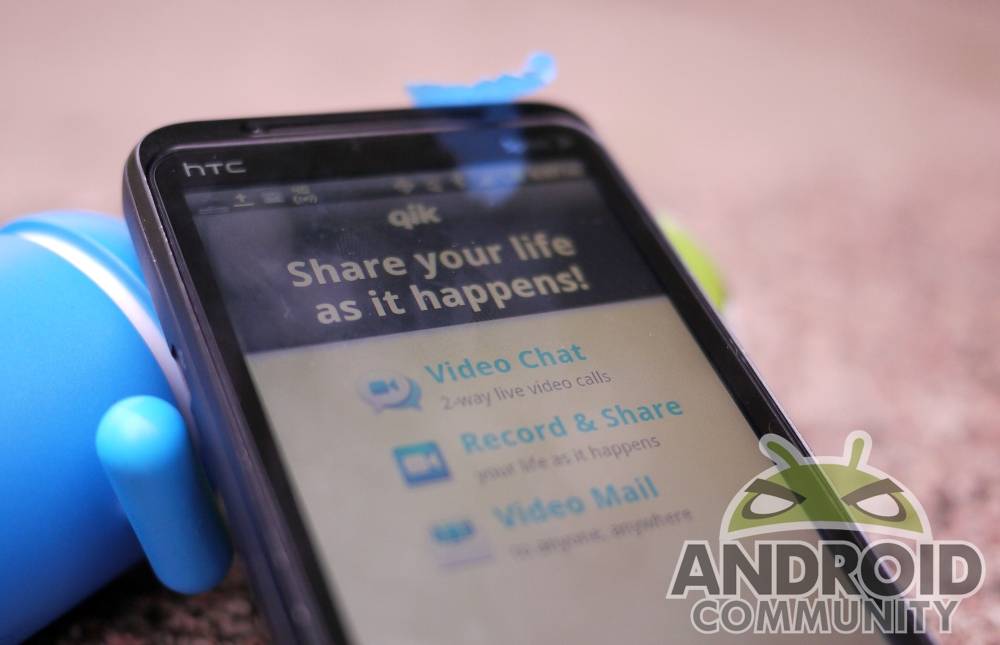 Welcome to the first real curtain call to the original HTC EVO 4G of yore, this being the HTC EVO 3D, a dual-core 4G HTC device with what may appear at first to have everything its predecessor had and more, what with the fashionably red-framed dual-LED flash-having 3D camera at the back. That's not just one, but two cameras for a stereoscopic vision of the world through both photos and video. And the 3D doesn't end there – a glasses-free 3D vision for your gaming and eventually alternate app supporting everyday experience. Will this device take the HTC cake, or is it, as many commenters and talking heads of the past have suggested: a gimmick?
Hardware
What you've got here is a device that's solidly built, has a lovely 4.3″ 540 x 960 qHD display up front with glasses-free 3D, dual 5 MP cameras on the rear and a 1.3 MP front-facing camera for video chat. You've got a headphone jack on the top near the power/lock button which is in the standard top-right location but has a lovely soft-plastic feel. There's a Micro USB port along the left, an intent along the bottom for popping off the battery cover if you like, and another excellent use of soft plastic on the volume rocker on the right.
Then there's a couple of rather unique and well-placed additions that you're not going to see on ANY other devices in just such a form, both of these features on the right (or the top, if you're holding the device in landscape mode). There's a switch that goes back and forth between 3D and 2D specifically on your camera, next to this a lovely round and giant dedicated camera button. We're big fans of dedicated camera buttons around here, especially when they're on device that don't often see such buttons – in this case an HTC device, believe it or not. While this switch has gotten a little loose in the short time we've had the device, it's certainly stuck in place with whichever mode we've set it at, and the camera button is nothing but excellent, opening the standard camera app on a long press and activating recording like it aught to in all cases.
The battery cover consists of the entirety of the back of this device, a cool soft-plastic ribbed design with a large hole for the classically red-bordered set of cameras. This recalls the EVO's red rim and makes you feel right at home if you've been an EVO user since the old days. The old, old days. Of course you know the front face has the same circled set of Android menu buttons as well, and the whole handset feels rather solid if I do say so myself – our own Cory G repping AC on SG says the same.
Software and Performance
We've got Android 2.3.3 running on the device here out of the box with a version of Sense 3.0 that's basically identical to the one presented in the HTC Sensation 4G for T-Mobile. The device presents a highly responsive Android vision amongst the greatest non-vanilla flavorings of Android we've seen. Though I don't think we'll be able to ever enjoy anything more than Android 2.3 Gingerbread without any additions on top, this particular brand of sprinkles tastes nice.
As far as apps included out of the box, you're going to get all your Google favorites along with a few Sprint apps that you'll NEVER ever use. Then there's some rather nice HTC apps that we've seen couple other times now, that being on the HTC Flyer and the HTC Sensation. There's HTC's newest version of Friend Stream, an app you'll love to use to direct your Twitter and Facebook feeds to a single location with a high-class full-panel widget in place for bonus points. HTC Hub and HTC Likes will keep you connected to your HTC-directed world, while HTC Mobile Guide is a link to a webpage in your browser – our least favorite kind of "app" shortcut. Then there's the best HTC app in recent months, Watch, now connected to a library of videos and TV shows you can download and watch via this excellent library organizer.
As a sort of bonus, you get a DEMO version of the 3D Spiderman game from Gameloft (more on this in the 3D section below) as well as The Green Hornet 3D. This app is actually just a shortcut to a download of the movie that'll then appear in your Watch folder. Of course, as expected, this movie looks magnificent through the device and plays without a hitch. Finally there's Qik for video chat, an app that we've come to expect quality from and have been left with a fine working taste in our mouth that reminds us of candy corn – and that's sweet!
As for how well the device performs in benchmarks, have a look at this comparison of what we've gotten and our sister-site SlashGear has gotten on the same device – exciting!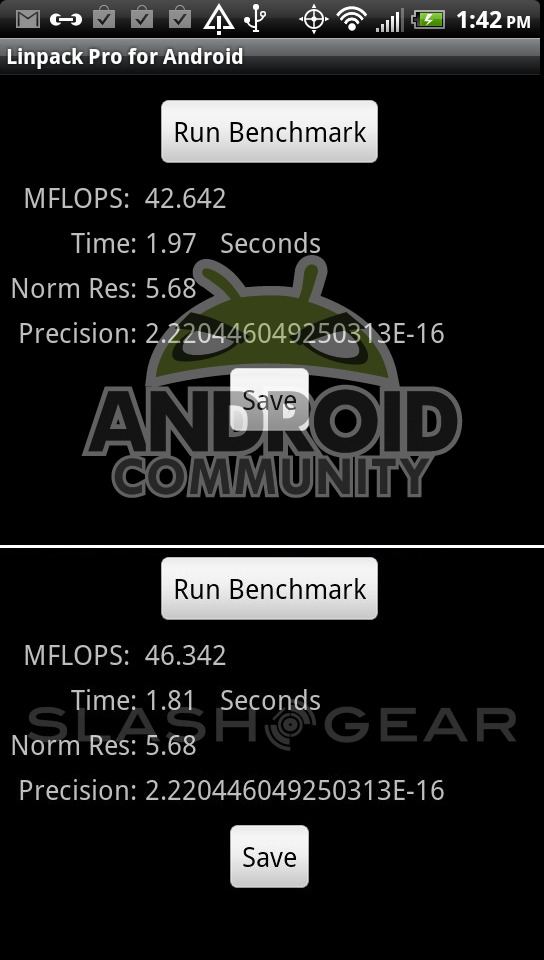 Linpack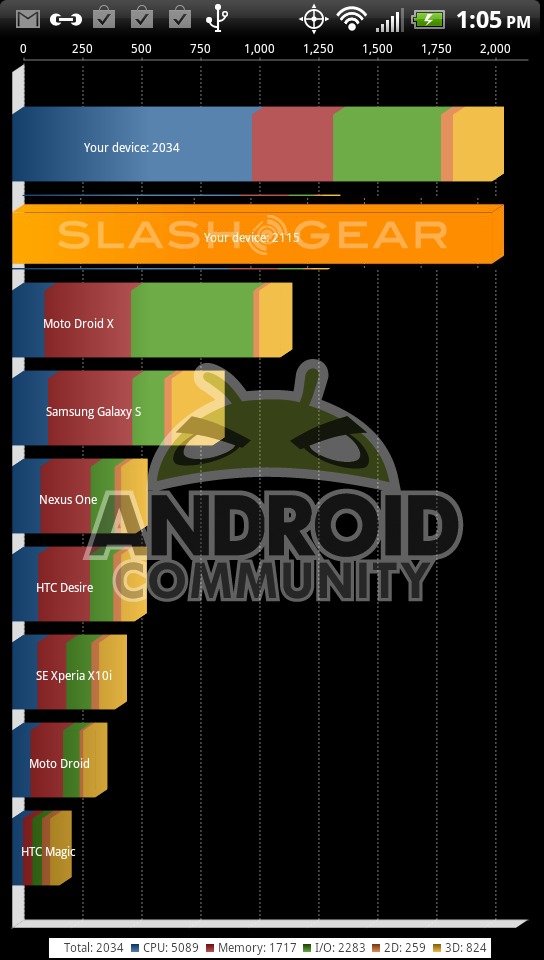 Quadrant
And we've got a couple more because we're like that:
SmartBench 2011
AnTuTu
The rest of the device is as generously well put together an Android device as we've come to expect from HTC, their software reasonably easy to bypass if you're in to the whole hacking world and well designed enough that if you're NOT that sort of person you'll be able to go through your whole device's lifespan without wanting a different interface. If you DO want a different look to your device you've also, of course, got HTC's unique Personalize set of functions, a link to which is right at the bottom of your display on the right – a paintbrush for all of your lovely customizations. Make it colorful!
Camera
For a moment let's consider the camera on it's own. It's a 5-megapixel camera on its own (and this is on the back, mind you, we're not going to touch the front-facing camera as essentially every front-facing camera on every handset for the past few months have been exactly the same – or close enough that there's no reason to review them.) Have a peek at some 2D media ala the EVO 3D:
EVO 3D – 2D Photo
EVO 3D – 2D Video
The front-facing camera is fine, the back facing camera is decent as well, considering that it's not the full 8-megapixels the past few HTC devices like the ThunderBolt and the Sensation 4G have had.
3D
For a good look at the 3D capabilities of this device, you're going to have to go out and get your hands on the device for yourself. Now I know it's a faux pas to say such a thing in a review as these reviews are supposed to give you that virtual hands-on you seek, but just like the other glasses-free 3D devices we've seen of late, the effect can't be experienced through the camera or the computer screen – at least not yet. What I CAN share with you is a 2D version of a 3D photo linked to the 3D photo file for you to look at if you've got a 3D capable device. How that's going to help you, I've got no idea, but we're on the brink of some new technology, so let's flow with it, know what I mean?
2D version of 3D photo taken with EVO 3D – click to access 3D version download
The 3D switch on the camera is sweet, let me tell you that. The camera button is just as sweet, and if you remember, you've got to exit the camera from 2D to get to 3D when you're using the most closely related handset, the Optimus 3D, so HTC gets bonus points for making it instantaneous here. Looks great, feels great.
3D Video taken with EVO 3D – make sure YouTube has the 3D activated!
As far as how fun / awesome / headache inducing it is to use the 3D on this device, see the hands-on with this device we've whipped up, Spiderman 3D in tow. Also note the following: this is the least headache inducing of the pack we've seen thus far. On the other hand, all these 3D technologies are so very comparable that you're pretty much going to love it or hate it. Your humble narrator is into it, but wouldn't pay a premium for it. You and I know though that this device doesn't cost any more than the rest of the smartphone lineup on carriers these days though, so heck, it's like a free feature!
[vms c4c78cafadb83d2888cb]
Spidery enough for you web-spinner fans out there? This video also features some additional hands-on and the original unboxing of the device for your convenience as well.
Phone and Battery
Battery situation – not so fabulous. We've got this device running 24 hours ONLY with light use and without the 4G activated. When the 4G is activated and the phone is used with the 3D camera activated and you're playing Spiderman and other Gameloft games that've got 3D action working well, then you've got a different situation on your hands. More like 10 hours with heavy use, and right between there and a full day for your everyday low to medium daily use user.
As far as the phone call quality and speakerphone volume and all that – all up to spec. All items regarding the most basic functions of this device are perfectly good and of the highest quality a device in this top-tier range of superphones we've been checking out over this past year or so.
Wrap-Up
This device is aimed at two groups of people quite obviously, then the rest of the general public in a much more secondary way. First, the massive group of people who've been using the original EVO, the device we've very recently been speaking of having a giant barrel of problems in its upgrade to Gingerbread. Guess what, you EVO lovers – here's your salvation – a whole new device, and it's got 3D rocking on it as well.
Then there's the Android people. Myself and a large chunk of the people that frequent Android Community. Does the HTC EVO 3D satisfy those that have access to the information on every single Android phone on the market thus far? You bet it does. The display is bright, the HTC Sense 3.0 is superior to most other 3rd party user interfaces, and the dual-core is powerful. This device is going to be good as a massively powerful Android for your pocket for at least the next year, at which point quad-core devices will be in full swing and you'll want to trade up for whatever new EVO they've released by then.
And what about the 3D? How does it add up to the other two comparable 3D devices on the market? I'll make it short and sweet – yes, it's just as good, in that it's basically the same technology compares very well, and if you're looking for the best 3D device overall – this is it. You know full well that I love my HTC devices though, so make sure you've got the full facts in our reviews of the LG Optimus 3D and the T-Mobile G-Slate, both of which have camera setups and game playing capabilities along the same lines. Looking to upgrade your HTC device? Think about the HTC Sensation 4G as well, then be sure to let us know what you've got in mind for your final selection – report back with your findings as well!
You can also take an alternate look at this device in SlashGear's review done by our own Cory Gunther – head over there now and hassle him a bit, no growth comes without giggles!