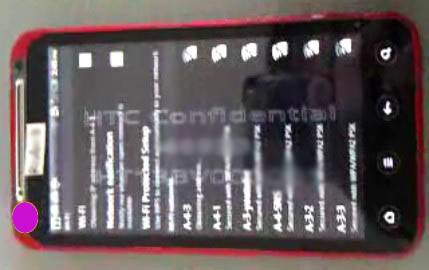 Well what do we have here, these could be really fun to see. Next generation devices from HTC possibly? Or they might be the European version of upcoming phones like the EVO 3D or the HTC Sensation. We aren't sure as they look pretty familiar. See for yourself below.
The first photo above is being called the HTC Rider, it looks to be very similar to already released phones like the Thunderbolt with a 4.3″ screen and front facing camera, only it is red. Looks way to much like the EVO 3D, Even has circles around the buttons on bottom. (thanks Feramere) We don't have much to go on here but thought you'd all like to see it anyways. The HTC logo is covered by something and we don't see the Verizon branding in the top right either. Maybe it will say T-Mobile there instead, Just saying! Oh and I see silver under the red near the camera on the top, so is that just a case over an EVO 3D?
Next we have the HTC Kingdom below, and just like its brother or sister above it also looks like a possible twin of current phones on the market with that strikingly similar speaker grill and front camera as well. I will mention that just as our source said the Kingdom looks to be a little thinner than the other phones out. It still looks 4.3″ but seems thinner and taller like the Droid X rather than the EVO. Interesting indeed. Hopefully we will be finding out some more information on these soon. We will be sure to keep you all posted.
[via Phandroid]