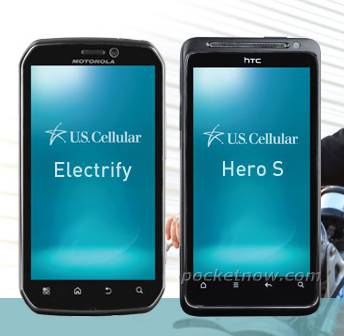 A new image has surfaced thanks to U.S. Cellular showing us a glimpse of the HTC Hero S. Last week we mentioned US Cellular would receive the Motorola Electrify and now it is being pictured with the HTC Hero S, confirming it's headed to the market soon. Originally known and leaked as the HTC Kingdom, we now know this will most likely hit carriers any time now.
We first saw the HTC Kingdom way back in April and many were unsure as what to think or expect of the leaked photos, then in August a few more details were revealed showing that it was headed to the Now Network with 4G WiMAX. Originally thought to offer a 4.0″ display the image above shows it neatly next to the 4.3″ touting Motorola Electrify (aka Photon 4G).
Full specs and details were later revealed and they include a 1.2 Ghz Qualcomm Snapragon single-core processor, 768MB RAM, Android 2.3.4 Gingerbread and a 4.0″ qHD Display. Now we know this will have a 4.3″ 960 x 540 qHD screen as well as a 5 MP camera and VGA front for video chat. Originally thought to be called the EVO 4G Design, it will be known as the HTC Hero S on U.S. Cellular and probably keep the EVO tag for the WiMAX carrier in yellow.
We are digging around for more confirmation but the leaked photo tells us plenty and most likely we'll be seeing this land sometime here shortly in the next month or two.
[via PocketNow]