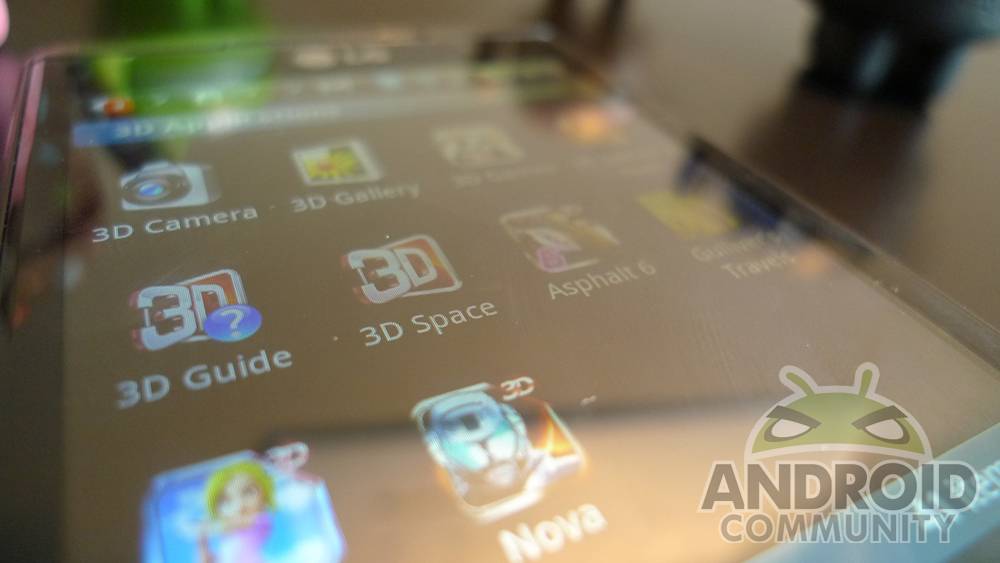 Welcome to the tool with which you will enter into a 3D world you never before imagined possible. Its a fantasy land of graphics that pop right down into the device, allowing you to see games and movies and photos like never before! At least that's what the pitch is, right? There's this device and the LG G-Slate out already plus the HTC EVO 3D, all of them joining the 3D bandwagon to see how it fares in the mobile world. We've already reviewed the T-Mobile G-Slate back here, and the HTC EVO 3D isn't quite ready to go yet, now how does the Optimus contender contend? We shall see!
What you're dealing with here is a dual-core 4.3-inch screen toting handset. This comes right on top of the release of the very similar T-Mobile G2x which also features a dual-core processor and is, of course, also released by LG. Both phones also work on both T-Mobile and AT&T bands, and both have lovely curved-lip glass sides. But are they the same? Sort of – if you completely discount the 3D. But you cannot! This phone is all about the 3D, and it's inescapably the reason why you should or should not purchase the phone.
Is it worth it?
[vms 310e76b6200b7c71f63b]
Hands-On and Unboxing of the LG Optimus 3D
Hardware
This device runs on a dual-core 1GHz ARM Cortex-A9 processor, has a set of 5-megapixel cameras on the back capable of 1080p@24fps (2D), 720p@30fps (3D) for video, a slightly less impressive VGA camera on the front, PowerVR SGX540 GPU, TI OMAP4430 chipset, Android 2.2 Froyo, GSM 850/900/1800/1900, WCDMA 900/1900/2100, and a WVGA LCD display at 480 x 800 pixels and 4.3-inches. DTS 2.0 channel audio, and of course, glasses-free 3D.
This device definitely feels surprisingly similar to the T-Mobile G2x, and it should, given that they're being released so close to one another and manufacturing companies such as LG definitely should show that they're working on an evolution rather than jumping from design to design willy-nilly. That said, this device shows off a magical double-camera on the back along the same cool metal strip we're really starting to enjoy coming with every LG Android device.
You've got another cool feature that puts the final nail in the idea that this phone is banking the heaviest on its special feature: a 3D button that brings you to a special screen containing all your special 3D options and portals. You'll be able to play games, look at photos in a wild 3D environment, and watch movies.
The 3D Experience
The tough piece of the puzzle in reviewing this device is the fact that I'm unable to show you the 3D for what it is. Photography cant capture it, video can't capture it. The idea here is that you need this Optimus device to actually see the 3D, the only pair of cameras able to see such magnificent glory being the two planted in your head. Your eyes were the first machine the engineers at LG thought of when working with this relatively new 3D technology, them targeting each eye in a fantastic feat of technology magic making it seem as though the images you're seeing are both floating towards you and falling into the phone's display.
[vms 69e0c922b6ea7a23a56d]
LG Optimus 3D [Hands-On with 3D]
I say this in the video above and I'll say it here again: you NEED to see this in person before making and judgements or purchasing this phone. While I find the experience to be at least entertaining enough to drop a couple hundred dollars on just to have a bit of 3D history in my drawer and in my pocket, my wife immediately gets the biggest migraine in the world when even glancing at the screen in 3D mode.
Software
Your software situation is going to be fairly standard outside of the special 3D applications. You're running Android 2.2 with a special LG user interface overlay that includes a fun swipe-up lockscreen, a unique way of looking at the homescreens via a red dot amongst white dots situation, and your apps are arranged by 3D, Applications, and Downloaded Applications. This can be annoying as they really should be stacked the opposite way that they are now (3D should be at the bottom, Apps next, then downloads right at the top,) but the separation is definitely an awesome change from the simpler situation going on with standard Android.
The camera interface is super simple to use, only a single 3D button added to your screen so that you're aware of what you're photographing, in what mode and with what camera (since you'll only be using one on the back unless you want 3D content.) You've got a 3D gallery for photos and videos that you've got access to, plus a few games and movies built-in for your looking and loving pleasure.
3D Gaming
It's an odd world you're getting into here when you've got a screen held up by your 3D arms showing you a 3D environment on a flat device. The idea of 3D gaming has been around for a long long time now – remember that big ugly red thing you put on your head for 360 3D vision? Is it perfected? certainly not. Is it enjoyable? If you're not prone to migraines, yes it certainly is fun. It's still a gimmick, and I'll pretty much refuse to say that it's anything else until I can see objects stop chopping back and forth as I turn the screen, but once they've got my eyes tracked down perfectly, we'll be seeing this same technology win the war.
If you get the opportunity to try this device out in the store, test out the racing game Asphalt 6. You've only to tap to the right or left of the car to steer so you'll be able to enjoy the 3D environment without concentrating too hard. Once you do this, report back here and let us all know how you enjoyed it.
Camera
The interface for the camera, again, is just as simple as it's always been in stock Android, with the exception of the single 3D button addition. It's more of a switch, allowing you to film video AND take photos in 3D via the back-facing camera (as you've got two of them back there.) You'll not only be able to record media this way, you'll see what the results will be through the display as you pan around. It's a severely surreal experience seeing the world in "3D," let me tell you that.
Have a look at the video and photo examples below – the 3D photo examples obviously aren't really going to work from here and the 3D video examples are run through YouTube where they're converted to YouTube's method of displaying such stuff. Take it with a grain of salt.
Front-Facing VGA Photo
Front-Facing VGA Video
Back-Facing 5-megapixel Photo [2D]
Back-Facing 5-megapixel Photo [2D] w/flash
Back-Facing [720p] [2D] Video
Back-Facing [720p] [3D] Video coming soon!
Performance
This device is running Android 2.2 Froyo with a dual-core 1GHz ARM Cortex-A9 processor. It flips in and out of most apps without a hitch, running through 3D like a dream. The only places we've seen any problems are in the initial load times of 3D games (taking about twice as long as non-3D games) and in touch-screen responsiveness on rare occasions. It's important again to note that the device we're working with here is not the final version of the device, instead acting as a tester version for use by developers hoping to work with and develop specifically for the LG Optimus 3D. Again take all these scores with grains of salt:
Linpack
Smartbench 2011
Quadrant Advanced
AnTutu
Battery
The Li-Ion 1500 mAh battery is said by LG to be lasting up to 100 hours of standby and up to 4 hours of talk time. Thus far in the real world the battery has been draining an abnormally small amount for how much we've been using it. So slow that we're suspicious! On the other hand, the battery charges for zero in under an hour with the standard USB plug. Amazing and fantastic!
Wrap-Up
This is a 3D device. You will decide to purchase or not purchase it depending on the experience you have with the 3D interface, and that's essentially the long and short of it. The device does have the added bonus of a dual-core 1GHz processor inside, but it sure better have with how impressive the gaming is in the third dimension. The phone's physical aspects are quite nice, it looking like a standard candybar save for the lovely metal strip across the back of the soft-plastic battery cover. It would seem that LG designed this device before they went on to the slightly more beautiful fully-covered glass front of the G2x – but who knows?
This device as you can see above fares alright in benchmark tests, the photos in 2D are relatively decent given they're only 5-megapixels when most high-end phones are up to 8 by now, and you've got the unique ability to view and collect 3D media. Until HTC releases their HTC EVO 3D, LG has no competition for its T-Mobile G-Slate and LG Optimus 3D.
Will you purchase it? Why or why not? If you've got more questions about this device or tests you'd like us to run through, please don't hesitate to ask and/or demand that we do your bidding! That's what we're here for!