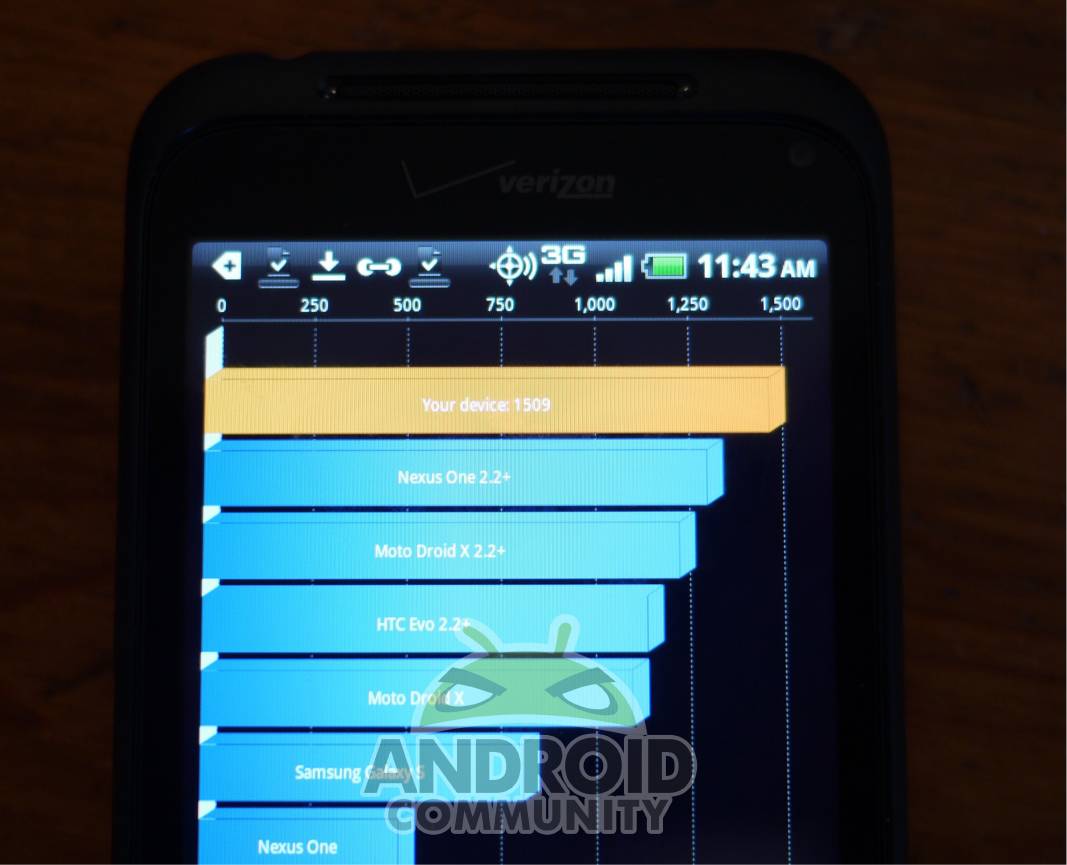 Last April, when we reviewed the original Droid Incredible, we said, "the Droid Incredible is HTC's best-specified Android handset on the market". At that time, it was a flagship. The Incredible 2, while a very nice phone, is now more of a mid-level device. It has a great camera, takes decent video, and a nice size 4 inch screen. It also has very good battery life, lasting all day with some to spare. Keep reading for all the details, speed tests and benchmarks.
The shape and size of the Incredible 2 is similar to the HTC Incredible S, now on sale in Europe. It has the same molded plastic chassis as the Incredible S, and the original Incredible.
The construction feels solid and high quality, the display looks lovely and bright.
This Droid also has a 1GHz single-core Qualcomm Snapdragon processor, though it is the newer MSM8255 model. It has 1GB of ROM space, and RAM is 768MB. The GPU is the Adreno 205. The four inch touchscreen is a WVGA, Super LCD. The main camera is 8 megapixels with dual-LED flash and autofocus, along with 720p HD video recording capability. There is also a front-facing camera for video chat, but it is only 1.3 megapixels and is fixed-focus. It will do the job it's intended to do, but not more. This phone is labelled a World Phone, with both CDMA and EVDO Rev.A connectivity for North America, and HSPA connectivity for use abroad.
This phone does not have the optical joystick seen on the Incredible, here you're relying on all touch-screen controls and the four Android capacitive buttons below the display. The standard four buttons are HTC's trick rotating buttons, which turn 90-degrees when the phone is turned – a cool feature. The tapered sides on the phone make it feel a bit thinner than it actually is, and in my opinion anyway, make it very comfortable to hold.
Software and Performance
We really would have liked to see Gingerbread on this phone, but as of now we are looking at Froyo out of the box. However, there is likely to be a software update coming down the pike. HTC Sense keeps things running nicely, feeling fresh, and keeps us from being too disappointed.
The single-core Snapdragon processor means this phone is not a dual-core beast like the Motorola Atrix or LG G2X, but it does well enough. Unless you are planning to run dual-core intensive apps or games, the Snapdragon will keep things cooking along nicely. Included also is 3G Mobile Hotspot functionality, Flash Player 10.2 support, and SRS WOWHD pseudo-surround sound processing, which adds some extra depth to audio, but isn't exactly Dolby.
Benchmarks and Speed Tests
Benchmark-wise, in Quadrant the Incredible 2 scored 1509.
SunSpider – the test of JavaScript performance in the browser – came in at 5982.5ms.
Camera
The DROID Incredible 2′s main 8mp camera is quite solid. Stills are clear and crisp, at least in daylight conditions. There are also some cool features in HTC's camera UI, like Distortion, Vignette (focuses on the foreground), Vintage, Grayscale, Sepia, Solarize, and Posterize. Below are some examples taken with the phone: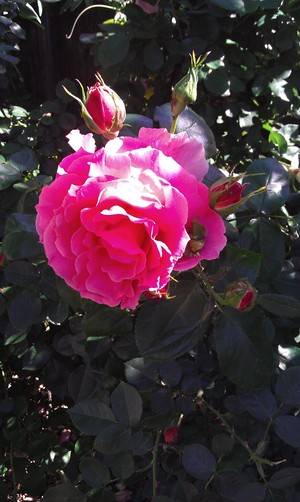 The color accuracy is good, and the flash is strong, giving a decent picture even in low light.
The front facing camera is just adequate, but it does the job it's intended to do. Here's a quick shot taken with it, you can see the quality difference:

The 720p HD video looks good, adjusting well in low-light situations and looking smooth and jag-free (unless you pan quickly, then you get blur and tearing). 1080p would be nice, but that isn't realistic with the single core Snapdragon. Here is a quick video taken with the camera, my daughter filling you in on the important subject of "skunk safety". She is an excellent test subject, because she never stands still.

Phone and Battery
Call quality was good, I didn't have any problems hearing callers or vice versa, even in windy conditions. No doubt the integrated noise-cancellation system helped. Of course, you do not have the 4G LTE connectivity that you would get with the HTC Thunderbolt and the DROID Charge.
The DROID Incredible 2 gives you a full day's use on a single charge. That's pretty much average for a current-gen smartphone, and of course you can extend runtimes by turning off some of the social networking integration or cutting back on how frequently they check for updates.
Wrap-Up
Priced from $99 (on Amazon) for a new, two-year agreement, and going up to $199 (for exisiting customers on contract), the DROID Incredible 2 by HTC is a cheaper option than Verizon's 4G LTE smartphone collection thus far. The technology it's based on, a single-core processor with 3G along with Froyo, is on the way out, so this phone may begin to feel dated fairly quickly – especially as devices like the Samsung Galaxy S II come out and demonstrate that a dual-core processor doesn't mean you have to sacrifice battery life.
As a mid-range handset, the Droid Incredible 2 is a solid choice. HTC Sense running on top of Android 2.2 Froyo makes the OS feel fresh regardless of the fact that it's not the most current look at Android. The Incredible 2 may no longer be the flagship phone the original Incredible was, but for the price it is a good, mainstream handset with a fast-enough processor and decent battery life. The 8mp camera is a major plus as well. Overall, this phone will have everything you're looking for in a mid-range smartphone. If that is what you are looking for, the Droid Incredible will not disappoint.