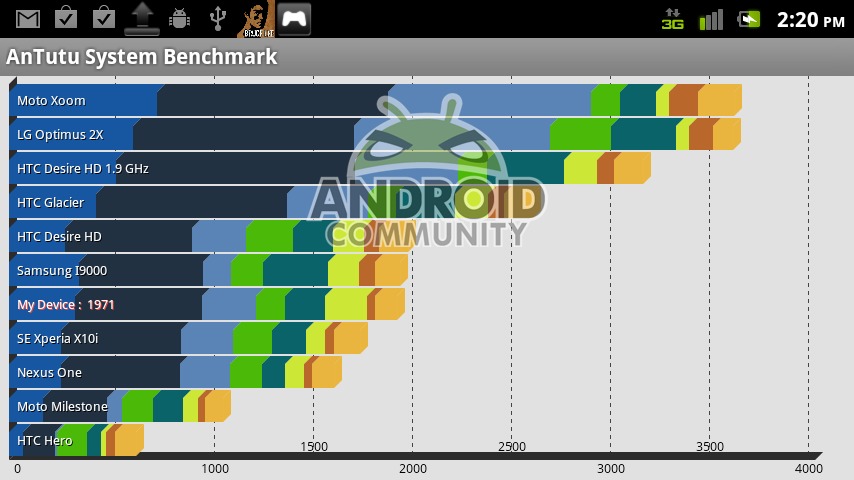 Welcome to a real PlayStation experience. What you're dealing with here is the original Android 2.3 Gingerbread Google Phone that fell out of grace for one reason or another but definitely still shows signs that it was MADE to work with Gingerbread. It's slick and sleek, the physical buttons for the 4 Android functions are fabulous, and the combination of plastic and metal and glass in the majority of the handset are well done. But how about that PlayStation controller? Let's take a look.
The controller is where it's at. This phone certainly does not need the controller to survive, as it definitely is a slick single-core Android handset on it's own, but that PlayStation controller is the maker. Or it's the breaker. Will the fact that there's a set of buttons created specifically for playing Xperia PLAY games under this display top going to drive you to purchase, or drive you to a different phone? That is definitely and without a doubt, the question that needs to be answered first, last, and overall.
[vms 47b49876cbaffbc9954f]
Hands-On and Unboxing of the Sony Ericsson Xperia PLAY
Hardware
What you've got is a slider handset that in total sizes in at 4.69 x 2.44 x 0.63 (119 x 62 x 16 mm) and weighs in at 6.17 oz (175 g). The display is run with TFT LCD technology, is a medium 4 inches, and it's got both a light sensor and a proximity sensor built in. It's got a 1500 mAh battery that's good for basically a day, connects to Verizon's 3G network, and it runs Single core, Scorpion ARMv7, 1 GHz processor.
This device has 512 MB RAM / 512 MB ROM, a 5-megapixel camera on the back and a camera only good enough for video chat on the front (alternatively you could trust the video and photos below and make your own judgement.) The camera on the back is capable of filming 1280×720 (720p HD) and 800 x 480 pixels 30 fps. It comes with a microSDHC card at 8 GB, and can hold up to 32 GB with the same slot under the battery cover.
PlayStation Controls
The PlayStation controller is, again, the key here. It's not exactly the same as the PlayStation interface you'd find on the classic controller, but it's close, and once you're using it you'll fall right into your old PlayStation habits with it. You might even choose to work with Android with the controller instead of tapping the display. I personally often pull the controller open just to get the kind of hold on the device that's not available to me on similar devices. A very nice effort by the folks at Sony Ericsson here, very nice.
Hardware / Software Walkthrough
The following is a special hands-on walkthrough of this device filmed because this device is no ordinary phone, it's totally unique, and when something is this unique and we've got our hands on it, it's video time. Have a look at your humble narrator walk through the phone and its gaming components here:
[vms b2f1f817860ac9f409ad]
Software
What you're getting here is essentially a Vanilla Android experience. Why is that, you ask? Why, it's because this phone was the original hero phone for Android 2.3 Gingerbread, of course. For the full account of that back in our post called Sony Ericsson Xperia PLAY Confirmed as Former Gingergread Hero Phone. It's a real hoot. What this means is that there's not a whole lot of extra fuzz lying around, especially in the apps department. You basically get a straight up optimized vision of the newest version of Android – that being, after the update this week, version 2.3.3 Gingerbread.
The one app we need to look at a little bit more in depth is one just called "Xperia PLAY." What this app leads you to is a games panel that you can flip through to see all the PlayStation-optimized games that you've got on your device. It also leads you to a similar window with games you do not yet own but definitely should, so says Verizon. Each of these icons leads you either directly into the game (if you own it) or into the V-Cast store – here you're able to download all the games using your Verizon account. Very easy, very dangerous if you get into trouble buying things with credit cards and are a shopaholic.
Xperia PLAY Optimized Games
[vms f50967c64dac2d639a57]
Xperia PLAY Games Purchase Demo [101]
Then there's the games connecting with the controller. Some games work great, others aren't quite there yet. An example of one that's not quite there yet is Raving Babies. This game definitely works with the PlayStation controls, but certainly isn't a game where it makes just a whole lot of difference. Basically meh. See the video of our review of the app here:
[vms 34c6fa89716b85d68532]
Raving Babies Review and Demo
Next lets take a peek at a game that definitely DOES benefit from the new controls, namely Gun Bros. This game has been out for a few months now, and is fairly popular thus far because it's extremely entertaining, free, and works well on tablets. Here we get to use much more real joysticks and the game is a whole lot more entertaining since we're not blocking 25% of the screen with giant hands.
[vms 9337587f6ab6397699af]
Gun Bros Review and Demo
I should note here that we're going to be continuing to review apps until the cows come home, thusly if you'd like to see more app reviews specifically on this device, just hang a left to the Xpera PLAY portal.
Camera
The camera is definitely not one of Xperia PLAY's selling points. If it were, it would not sell very well, let me tell you that. That said, the back-facing camera is OK enough for Facebook.
Front-Facing 1.3-megapixel Photo
Front-Facing Video
Back-Facing 5-megapixel Photo
Back-Facing 720p Video
Performance
This device does not do the best in benchmarks, but by all evidences in every single game I've checked out here, there's no slowdown whatsoever. Games load in a reasonable amount of time, accelerated graphics for everyone, massively impressive environments with no problem. Watch the demo video above and see what I mean. Really slick.
Linpack
Smartbench 2011
Quadrant Advanced
AnTutu
Battery
Currently my battery is at 44% and I did not charge it overnight. It is currently 4PM and the last time I charged it was late yesterday. This is essentially what you'll be experiencing unless you end up playing Bruce Lee and Age of Zombies for hours and hours on end – then you might have a little bit more of an issue with the battery running out quick. Overall the battery appears to hold up very well.
Wrap-Up
What you're dealing with here is an Android phone for PlayStation people. This is not the same as a PlayStation phone for Android people, mind you, as it's important that you understand, have felt, and love the way the original PlayStation controller feels in your hands. This device is not the same as the original PlayStation controller, but the buttons are all there – the only thing missing is the knobs to wrap the rest of your fingers around. It is comfortable for yours truly, but may not be large enough for others. I'm over 6 feet tall and certainly don't have the smallest hands in the world. Compare for size in the videos above.
If you are a love of Android and have never really gotten into the whole PlayStation fad that's been going on since the 1990s, you may certainly not have a good time with this phone at all. While it's fun to control the Android homescreens and app drawer and whatnot with the PlayStation controller, it's something that a PlayStation fan will have a whole lot better time with. Of course you can still use the touchscreen, and technically you never have to push out the PlayStation controls at all if you don't want to, but then there's really not any point to this whole situation then is there? I say nay!
If you've never touched an Android phone before AND have never touched a PlayStation controller before – I have NO idea what planet you're from but it must be weird there. You MIGHT enjoy this phone, it does have awesome games, the controller is tested and true, and Android is the fastest growing mobile interface in the world. That should convince you to try it out at the very least.
If you're like me and have had a bunch of Android phones pass through your hands, liking or hating them all based on tiny factors, this is going to be basically an instant make-or-break for you. For me it's one of the most entertaining and well-constructed smartphones I've ever had the pleasure of using. I love the integration of the games thus far, everything looks bright and wonderful, and most important of all, I understood how to use the PlayStation controller to control Android instantly. I very often turn the phone on, do some business, and turn the phone back off without ever touching the screen. Very enjoyable.
Should you purchase this phone? It really depends on what kind of person you are. Moreso here than ever before, the form factor reigns supreme. It whips games optimized for it in and out with speed, it's fun to use, and it has its own library of games prepared for it that work only and specifically with it.
This is the power of the PlayStation brand.
[device id=71]