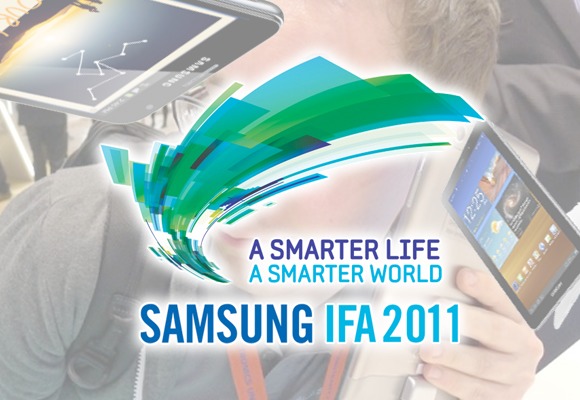 This year's IFA 2011 offering from Samsung brought forth a couple of fantastically amazing Galaxy devices, the first of which is the next step in the Galaxy Tab line with a 7.7 offering complete with a full-metal chassis and a Super AMOLED Plus display. The second is a wholly new concept from Samsung, the Samsung Galaxy Note, a new sort of hybrid piece of hardware that takes the largest screen Samsung decided could fit on a still ultra-portable device, complete with a lovely stylus.
Samsung Galaxy Tab 7.7
What this newest Galaxy Tab offers is a fully HD experience on a 1280×800 pixel 7-inch display, that being a Super AMOLED Plus screen with brightness and sharpness to spare. This device has a 1.4GHz dual-core processor, Android 3.2 Honeycomb running with Samsung's TouchWiz UX over the top, and it'll come in 16, 32, and 64GB variants. Inside you'll get 1 GB of RAM, the entire chassis is 7.89 millimeters thin, and the entire bulk of the device only weighs in at 335 grams. Also inside you'll find a 5,100 mAh battery that'll bring you over 10 hours of video playback, all of this running on 3G connectivity in the very near future.
MicroSD card support is included, up to 32GB cards supported, the dimensions of this device at 196.7x 133 x 7.89mm and able to bring forth amazing 1080p video playback. Those three specs alone should have you squirming in your seat, but what's best is that you've got that ultra bright Super AMOLED Plus display coming standard. This is the largest such display on an Android device thus far and we cannot WAIT to get our hands on one.
Check out our hands-on post for a much better idea of what you'll be dealing with here. Also check out our hands-on video below:
Galaxy Tab 7.7 Hands-on
[vms 5a0638073ef798e50b4e]
Samsung Galaxy Note
As if to say no, that Galaxy Tab 7.7 wasn't enough, Samsung also revealed what they're touting as the perfect mid-way point between smartphones and tablets, here now in the Galaxy Note. This device packs the same resolution display as the larger 7.7 tablet, but works with it on a 5.3-inch display, this device therefore having what Samsung is calling a new "HD Super AMOLED" display. It's undeniably bright, and there's 285ppi in what Samsung calls a perfectly sized display. This is the new biggest brightest mobile display on earth – would you agree?
This device also comes with a stylus that fits inside the actual handset, this pen able to do many things including writing on frames of movies, adding notes to essentially any screen you can imagine, and take screenshots. This is what may well be the next generation of smart mobile technology, and it looks great!
Take a look at our original announcement thread or go straight to our hands-on post for the in-depth look at the device that you've come to expect from Android Community! The video from this hands-on look can be found directly below:
Galaxy Note Hands-on
[vms 89124e2ce92984e04fb4]
Also feel free to head over to our Samsung Unpacked at IFA 2011 SlashGear wrap-up post for all the details on the non-Android devices as well as an alternate look at these two glorious new offerings in the Galaxy line, courtesy of Chris Davies. For more Android news here at IFA 2011, just hit our big [IFA 2011 portal] and you'll be stocked up!