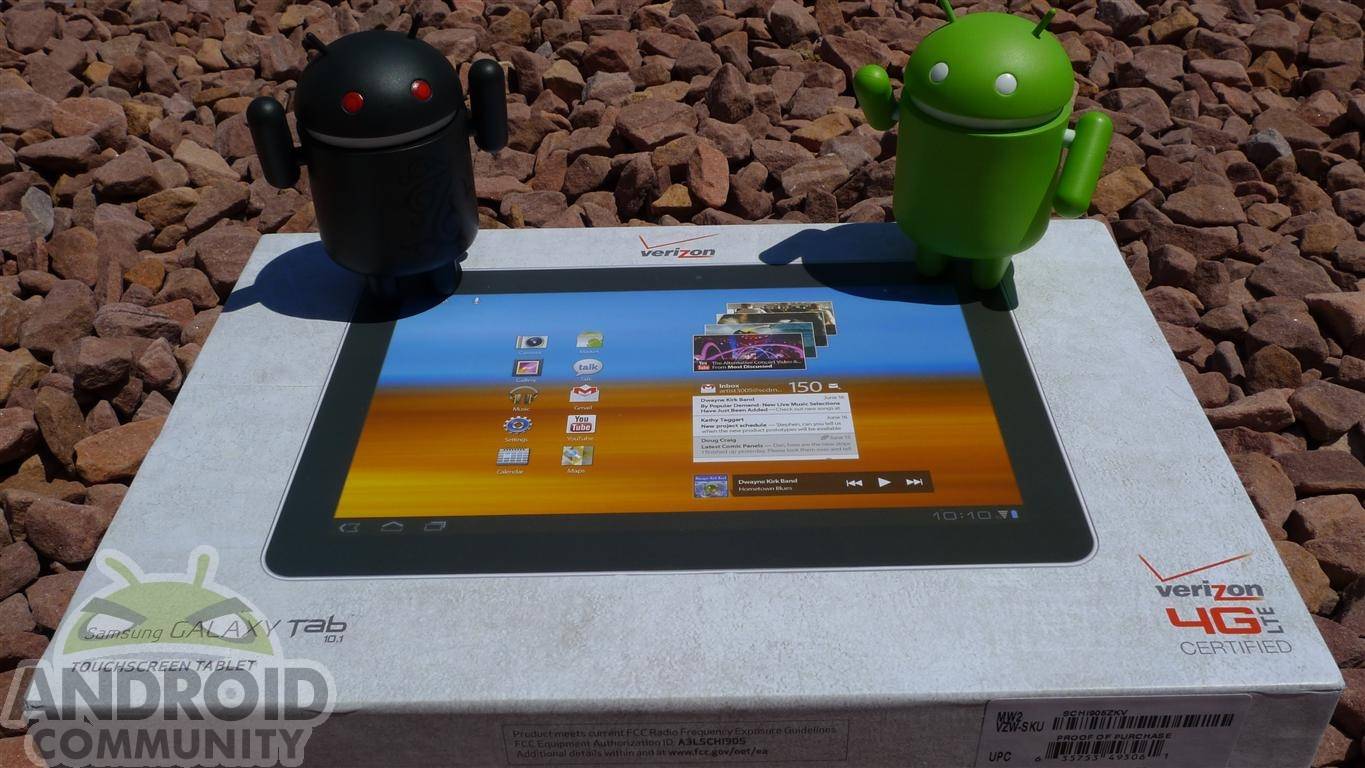 When we all first saw the Samsung Galaxy Tab 10.1 back at MWC2011 I'm sure everyone was just as excited as we all were. Since then it has been redesigned and is much thinner, lighter, and faster. I've had a chance to play with the new Galaxy Tab 10.1 4G LTE model over the past week or so and so far I absolutely love it. Our first look at the Tab 10.1 in depth was when we reviewed the Google I/O Limited Edition and it sure was a beauty but now we have the same awesome design with Verizon Wireless 4G LTE imbedded inside. Great combination right?
Now before we begin I'll start with two things — first being the Hands-on and unboxing video below, second being the original Galaxy Tab 10.1 Review [click here] We have all seen the Tab 10.1 plenty already so this should be nothing new, for a full rundown on the device the review just linked to should provide all the juicy details. I'll be showing some beautiful pictures as well as focusing on the 4G LTE performance since that is the only difference here.
Galaxy Tab 10.1 4G LTE Hands-on & Unbox video
[vms f456670de3d53c7b54f4]
Hardware


We have seen plenty pictures of the beautiful design and build quality of this device so this isn't anything new. The Galaxy Tab LTE version is exactly the same except the volume rocker was moved to the left side vs being on top and now we have the micro SIM slot for the 4G LTE.
Just like I mentioned the volume rocker is around to the side along with the power/wake button and the speaker grills. The design is extremely nice and overall I just love it. I hate to say this but the Galaxy Tab 10.1 makes the Xoom seem, feel, and look just old and pales in comparison.
The speaker grills on the top of both sides are nicely placed and don't get in the way while you hold or handle the device so sound is not blocked, or muffled. The speakers are nice and loud and having them on the sides really helps while laying flat vs being around back and getting covered.
We all know the hardware, this thing boasts a powerful NVIDIA Tegra 2 dual-core 1 Ghz processor with 1GB of RAM, a 10.1″ beautiful and vibrant IPS display and rocks 1GB of RAM to boot. Pair that with a rear 3MP camera and a front VGA for voice chat and 16GB internal storage (32GB available) you have a great overall package. While we wish a micro SD slot was provided for additional storage things like that are what make devices thicker so I feel the trade off is worth it to have an amazingly thin and simple design like Samsung has made here.
When you think of a tablet a design such as this is what comes to mind even though recently Apple has been trying to sue the pants off of Samsung for copying the design of the iPad. They even got the Tab 10.1 sales halted in all of Europe this week. While I don't want to get into that gibberish because I might rant a while I will mention the ONLY similarity I see is the rounded 16GB symbol on the rear of the device below the 4G stamp just like all iProducts have (See Photo). That is something I recognize from Apple, but other than that I don't see many true similarities — moving on!
Software & Performance


On the software side we have Android 3.1 Honeycomb without the recently released Touch Wiz UX so there isn't any huge changes from vanilla Honeycomb. The few small software changes are in the keyboard colors and the camera interface but you can see all about that in our Tab 10.1 Wi-Fi Review.
We haven't heard anything regarding the 3.2 upgrade for the Galaxy Tab nor when the 4G LTE version will receive Touch Wiz but for now things seem great with Android 3.1 on board. I don't feel a Honeycomb rundown is needed so I'll skip most of that although the few areas I've had a little bit of an issue was with typing. Occasionally the on screen keyboard will start to lag just a tiny bit but not really enough to complain, it usually doesn't last long and is back to normal in no time. Browser performance is top notch and my only complaint would be the occasional delay in 4G/3G being toggled but I'll get into that later and it has nothing to do with Honeycomb.
Now for Performance, we have seen plenty of Tegra 2 tablets in the benchmark labs so this is nothing new. Most Tegra 2 tablets score around 2300-2600 stock in quadrant and more when overclocked. I know my Xoom at 1.7 Ghz gets over 4500 but not everyone wants to take that route. I've gone ahead and ran a few standard benchmarks on the Tab 10.1 LTE and here are the results:
Here the Galaxy Tab scored 2500 in quadrant. Having no loading time or lag while opening multiple browser tabs and multi-tasking it's safe to say performance is not an issue whatsoever. Other than the occasional Honeycomb hiccup but those are few and far between. Next up we ran the Vellamo Web Benchmark and it performed right at the top of the list just as expected.
My only concern is that green bar at the end of the graph is network performance. You must have internet access while running the Vellamo test so obviously certain Wi-Fi results are going to be higher than 3G/4G connectivity but mine didn't seem to be behind. My score was basically even with the standard Galaxy Tab 10.1 in all areas but network performance even though I'm rocking 4G LTE — just a thought.
Network Speeds
Next I wanted to touch on network speeds and the Verizon wireless 4G LTE inside this beast because its the only new addition to the Galaxy Tab 10.1 family. While all networks across the country will probably vary in speeds I'm getting pretty stellar results from speedtest benchmarks on 4G LTE with the Tab here in Vegas. I'm consistently getting around 7000 kbps or higher download speeds and usually around 1000 kbps or so upload. Here are a few screenshots of speedtest and extreme labs giving the Tab LTE a run for its money.
So far my highest 4G LTE results have been around 11,000 kbps Down and 2,300 or so Up so things are blazing fast with the help of this dual-core NVIDIA CPU that is for sure. I also saw similar results on Xtreme Labs speed tests even though I only had 2 bars of 4G in some areas.
I must admit the 4G LTE sure makes things nice. I've been to the park walking the dogs and out for coffee and my 4G service in Vegas is outstanding and keeps this tablet cruising right along. I bet you iPad users wish you had 4G LTE….
The only downside I can see to using network connectivity is the swapping of 4G/3G caused a few issues for me. While trying to stream a movie I'd occasionally lose my 4G signal and the device would switch to 3G and quickly the movie would start back up again. The only issue is you'd get a delay while it switches to 3G, then after a short period you get another 30 second or more interruption when it returns back to 4G LTE. This may be nit-picking but I'd love a way for this to be more stable.
Pictured below Samsung and Verizon have included a setting to toggle 4G LTE recommended or just CDMA only so if users are coming in and out of 4G service often and would like to stop being interrupted while the device switches they can toggle it just to 3G. I found this to really help the overall experience while streaming Netflix but then I was stuck using 3G when I could have 4G LTE speeding things along.
Battery Life
I have used 3G/4G LTE the entire week and only turned on Wi-Fi a few times over the past week to see the differences during use and battery life. Speaking of battery life this thing is amazing. I did a video loop test and it lasted just over 10 hours playing video straight, that is awesome. The Tab 10.1 has a 7000 mAh battery under the hood and keeps this thing running strong for plenty long. While not using non-stop I averaged over 2 days of solid use on a single charge. From playing games, browsing the web, watching youtube video's and streaming music for hours on end. Picking the device up off and on throughout the day you should easily see a few days of battery life.
The above photo is with nothing but 4G usage and I got almost 3 days. I have found that the 4G LTE network (even if it switches back and forth a lot) doesn't hinder battery life and using Wi-Fi I noticed very similar results. A few days it even didn't last as long on Wi-Fi but I might have streamed more YouTube and movies those days as it's quite fun.
Wrap-Up
To wrap things up I'm going to say that I personally feel the Galaxy Tab 10.1 is the best tablet experience available. Pair that with Verizon 4G LTE and you have a real winner here and clearly Samsung and Verizon felt the same way. I've used plenty of 7″ tablets, the Xoom, Lenovo K1, Transformer, View 4G and more and so far this is hands down the best overall tablet. A stellar design and awesome build quality all while staying extremely lightweight and super thin. I've picked up my Motorola Xoom once since I received the Galaxy Tab and I quickly tossed it and wondered why it's so heavy. There just is no comparison as the Galaxy Tab is thinner, lighter and easier to hold while having a better design and a way better screen. Anyone looking for a tablet the Galaxy Tab 10.1 should be at the top of the list.
Some may feel the design is too simple and losing things like HDMI-out and a micro SD slot for extra storage would have made this a great tablet. While I completely agree with you on that aspect I feel the thin and lightweight design were crucial to make a great product. Samsung has a wide array of accessories and the 30 pin port on the bottom can be used via an adapter for HDMI-out to stream movies and games on your TV.
The Galaxy Tab 10.1 has a lot going for it, and it just got even faster with the 4G LTE addition. I think it is safe to say the Tab is the closest any OEM has got to the iPad and while the Tab continues to sell like crazy Apple is getting a bit worried. I myself can't wait to see what Samsung delivers next and I'm also patiently awaiting the Galaxy Tab 8.9 as I feel that is absolutely the perfect size for a tablet. I hope you enjoyed my quick rundown of the Galaxy Tab 10.1 4G LTE with Verizon Wireless and feel free to click all the photos below for their full size awesomeness.
[device id=89]