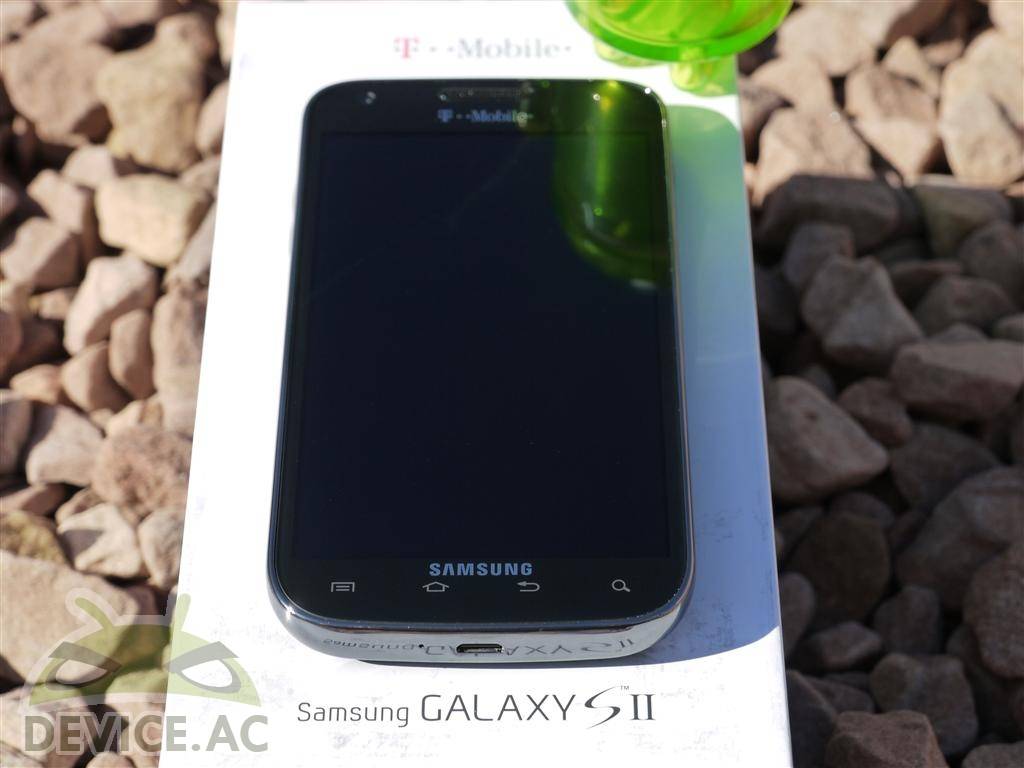 Today on the chopping block we have the brand new Samsung Galaxy S II headed to T-Mobile. Just like its twin brothers it has an amazing design that is thin and lightweight, but we also have a different, faster 1.5 GHz dual-core processor and a huge 4.52″ Super AMOLED display here. We all know plenty about the amazing Galaxy S II superphone already but I'll be comparing it to the new Amaze 4G also on T-Mobile and running a few benchmarks, for now I'll just jump right into the pictures and video for everyone to enjoy.
Before we get started feel free to check out our hands-on and unboxing coverage of the T-Mobile Galaxy S II, I'll be calling it the SGSII for short to make things easier. Here is the hands-on video below and then we'll get into the hardware.
Samsung Galaxy S II hands-on and unboxing
[vms a0e6114ae69c25761798]
Hardware

The hardware should come as no surprise to anyone, we went over it in detail when first announced and you can find more details on that here. We have a 4.52″ Super AMOLED Plus display with a 800 x 480 resolution, a boosted 1.5 GHz dual-core Qualcomm processor, 1GB of internal RAM, 16GB storage, optional micro-SD support (works with 64GB MicroSDXC cards) then the usual array of sensors we've come to expect. With a 8MP camera on the rear capable of amazing 1080p video capture and an impressive 2MP front facing camera for video chat. The T-Mobile version is barely thicker than a pencil, coming in just a hair wider than the thinnest smartphone on the planet — the original Galaxy S II. It also comes packing a huge 1850 mAh battery to help out the battery life now we have a huge display and fast processor.
Samsung has opted to go with a very simple and elegant design with the Galaxy S II line. We have no funky colors, no odd buttons with weird shapes, just a very simple yet elegant design. I actually really like the simplicity as they've not overdone it (Photon 4G anyone). Wrapped around the exterior and face of the entire SGSII we have an aluminum bezel that isn't too shiny to stay along the lines of the simplistic design. Up top we have nothing more than the noise cancellation pinhole and the 3.5mm headphone jack. Down the right edge you'll find the power wake/standy button in a nice and easy to find location, while not being obtrusive and constantly in the way. Down to the underside we have nothing but the micro-USB port for charging and syncing and the microphone pinhole. Then just as we mentioned, things are very simple and the left edge has the same sleek design with a single unmarked yet clear volume up/down rocker and that is it folks. Very elegant, very sleek, while also being lightweight and not looking cheap.
Then obviously around back we have that beastly 8 megapixel camera, LED flash, and the speaker grill but we'll talk about the camera more below.
Software
We have Android 2.3.5 Gingerbread along with the new Samsung Touch Wiz UX 4.0 for the software and user interface and everything is extremely familiar. If you've used Android in the past there should be no surprises here other than a few enhancements from Samsung. The fact they've left Gingerbread basically unchanged in terms of look and design and only added a few colors and improvements here and there is something I really like, not going over the top like Motorola has recently gives them bonus points in my book. Samsung has introduced something called "Motion Control" now when you want to move icons on the homepage instead of holding near the edge of display and hoping it moves, or trying to manually go from screen 1 to 4 with an icon we now can simple control all of this by tilting the phone. Hold down the icon and the motion system kicks in and you just tilt — it is very, very easy and simple and while not a big deal, it's one of those little touches that makes Samsung just that much better.
This same method works for zooming and panning pictures, as well as while zooming and browsing the web, it's really neat and I've enjoyed it thus far, although it's no game changer.
As far as bloatware Samsung has been kind enough to keep things simple. T-Mobile, however, didn't give us the same luxury and we have plenty of bloatware although I've seen worse. The best pre-installed bloatware is Netflix and I'd hardly consider that a bad thing. We do happen to have plenty of useless things like 411 & More (because T-Mobile apparently hasn't heard of Googling everything like I do), Allshare, Asphalt 6, Blio e-reader, Bonus Apps, Lookout security and more. Then tons of T-Mobile specific apps like My account, My Device, More for Me, My ID, T-Mobile TV, Telenav, Qik video chat, and last but not least — another ereader called Zinio. The list is longer than I'd like but nothing a little root or uninstalling can't fix. The ones I'd use the most are Netflix, slacker, and Asphalt 6 (awesome game).
We do have some pretty nice widgets and wallpapers that Samsung has loaded up and the image above is just an example of three available widgets. The world clock for someone like me having co-workers in NYC and on the east coast is something all phones should come with, although we have plenty of options for world clocks in the market. Just one more thing I don't need to download because Samsung took care of it.
Benchmarks
You bet I ran a few benchmarks especially now we have this 1.5 GHz dual-core processor along for the journey. I've slowly realized most of our readers only seem to enjoy Quadrant these days, and many say Vellamo favors Qualcomm chipsets, I'd love to hear in the comments below what our readers would like to see as far as benchmarks other than Quadrant Advanced. So, back to the tests, the T-Mobile Galaxy S II performs right up to where we'd expect. I was able to break 3900 completely stock, yes that is the highest any stock device I've ever held was able to achieve. The AT&T Galaxy S II did score around 3600 give or take so while this is obviously higher, I was hoping for a little more but can't complain with nearly 4k out of the box.
Pretty impressive right? Most runs were around 3800 every time, but I'll take that higher score any day. Now just for some comparison I also have a screenshot of the T-Mobile Galaxy S II next to the new HTC Amaze 4G that features the same 1.5 GHz dual-core Qualcomm processor. Only difference here is the Amaze 4G has a 960 x 540 resolution display that is pushing 26% more pixels, so obviously it will be working harder. The Amaze scores around 2800 compared to the nearly 3900 of the SGSII — Just thought I'd share.
Next up I've ran CF Bench a few times to see our results, the original SGSII has been at the top of that chart since it was released so I was a bit excited to give this a try. According to CF Bench the 1.5 GHz T-Mobile variant is top dog and managed to reach the top of the chart, but just by a hair — You be the judge.
Once again like I stated above, I didn't get too crazy with benchmarks as I've had many comments in the past discrediting Vellamo or Smartbench and all those others, but I'll gladly run them for those interested. Like I said, feel free to comment below on what you consider "needed" in a review as far as benchmarks and I'll be sure to include them if possible.
Speedtest
Part of the story with the T-Mobile SGSII is this is also one of the few new phones on T-Mo that is capable of taking full advantage of their new and improved 4G network. They've boosted the HSPA+ up to 42 Mbps and are claiming to be able to hang with, and beat Verizon 4G LTE in certain areas. Is that claim true or just more marketing talk? I've got the answer, sort of. While results obviously will vary from location and network here in Las Vegas I'm experiencing exceptional speeds on T-Mobile. I have the DROID Bionic right here, and my Galaxy S II is performing faster in network speeds almost every time. T-Mobile has really stepped up their game.
I've achieved download speeds peaking around 13 Mbps here in Las Vegas on T-Mobile, my Bionic only gets around 11-12 at most. Then on average I've been experiencing 9-11 from the HSPA+ network here. Pretty impressive right? Only downside is the upload speeds seem to be lacking and Verizon still has the edge there. Check out the results below.
Camera

Samsung has a stellar camera on their smartphones, they truly do, and if you don't believe me they recently won a few awards over the 12MP Nokia and the iPhone 4 in the camera department. The Amaze 4G claims to have the best camera of any smartphone too, so T-Mobile has two solid offers in that department. So, the SGSII features an 8 megapixel camera on the rear with LED flash and 2MP on the front for video. Before I show the test pictures I wanted to mention the amazing camera software Samsung has provided. They give you plenty of options and the camera interface while may be a bit generic, offers so many choices that you'll be sure to find the setting that is right for you.
I've snapped a few quick photos with the T-Mo SGSII and so far it works great. The auto focus is decently quick and the shutter speed is almost instant. I'd say it takes one of the fastest and best pictures of any smartphone, or is in the top 3. The DROID Bionic has an 8MP camera but is terrible, so well done here Samsung. Here is a few test photos below for your viewing pleasure.
Also, since starting today both the SGSII and the HTC Amaze 4G are both available for purchase from T-Mobile we have a video comparing the 1080p video capture from both smartphones. If you are on the fence as to which dual-core powerhouse you want maybe the camera can help sway your decision if the hardware and size didn't. This is a comparison of both the 1080p video capture and audio performance from the Amaze 4G and SGSII.
Galaxy S II vs Amaze 4G: 1080p recording and audio quality
[vms ee37f511913bac71fa66]
Personally, the audio quality while not as loud from the SGSII it does seem clearer and easier to understand. On the flip side, the Amaze picked up audio very well and the colors seemed a little warmer and more natural but could be considered a bit bright. Either way both looked great for indoor 1080p video capture on a smartphone. What do you guys think?
Battery Life
Samsung has always offered pretty good battery life but from my first week or so with the Galaxy S II (on T-Mo and AT&T) they seem to be ahead of the pack. It's not just the efficient AMOLED displays because even with screen off and on standby the SGSII seems to outlast any other phone on my desk, and I have more than a few sitting here. The T-Mobile Galaxy S II comes with a large 1850 mAh battery that manages to fit inside the thin frame of this smartphone, and battery life has been excellent. I was worried that the larger screen and faster processor might cause battery life to suffer, but that just isn't the case. The SGSII lasted far longer than the Amaze 4G in both standby and real world tests for me.
The image below, while the phones displays weren't on and being used much, is an extremely clear indicator of the suburb battery life Samsung has here. The SGSII was even used slightly more than the Amaze 4G yet will most likely last at least twice as long, seriously.
Obviously real world results and day to day usage where the display is on constantly the results will be much different, but for those leaving their phone in a pocket or purse throughout the day this is definitely something to consider. I'm not sure what special sauce Samsung has here, but clearly HTC needs a taste. The Amaze battery is 1730 mAh vs 1850 on the SGSII but that shouldn't make this large of a difference. I'll be sure to report back with more battery life results but so far the SGSII is able to last all day long and has some of, if not the best battery life of any smartphone I've used to date. This is clearly one of the many strong points the SGSII has to offer.
Wrap-Up
This device is technically the furthest from the original SGSII because of the larger display (same amount of pixels sadly) and the different processor on board, other then that everything else remains the same, and that is a good thing. We have exceptional build quality while still managing to stay thin and lightweight and not feel like cheap plastic, we have amazing performance, great battery life and an overall experience most will completely enjoy.
Not only do you get one of the biggest, best, and fastest smartphones around, but Samsung recently has been committed to providing fast and quick updates in the recent past. This is a good sign moving forward and they've already been working closely with Google on Android 4.0 Ice Cream Sandwich so hopefully their SGSII line will be updates quickly. With T-Mobiles new HSPA+ 42 network speeds basically competing with the likes of Verizon 4G LTE this phone is as close to the full package as we are going to get. If you are in the market for a new smartphone that is fast, powerful and svelte this would be near the top of my list. Available today at T-Mobile head down to your nearest store and pick on up right now, or head to T-Mobile.com.
[device id=1661]