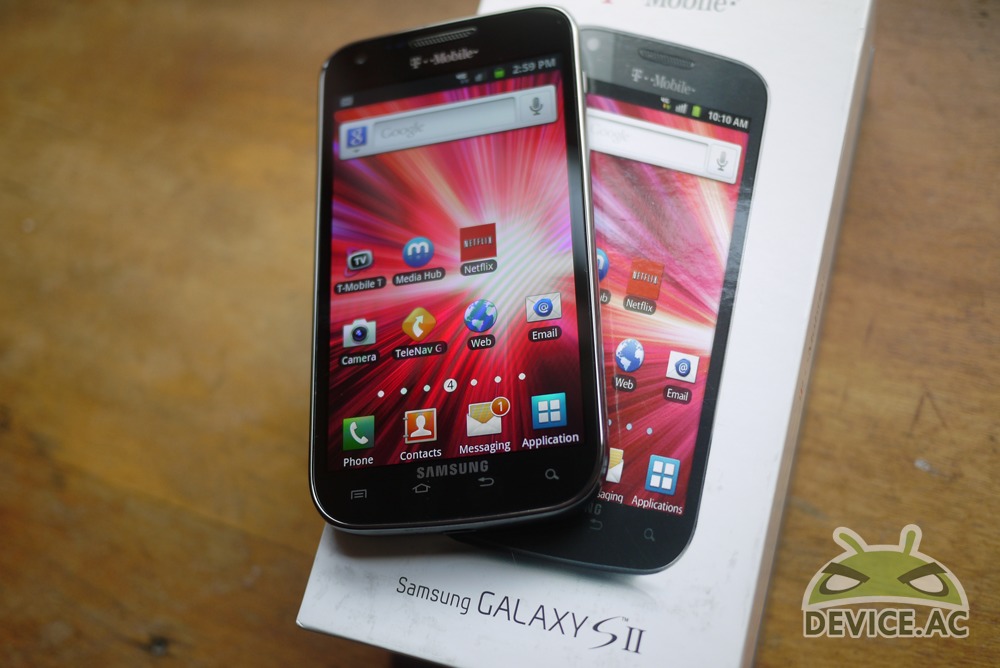 Everyone say hello to the big boy on the block, the T-Mobile version of the Samsung Galaxy S II. With its awesome 4.52″ AMOLED display, 1.5 GHz dual-core processor it surely will rule the T-Mobile streets for a few weeks. This being the third Galaxy S II available in the US — first being the Epic 4G Touch, second being the AT&T Galaxy S II I'm excited to show everyone this top contender for Galaxy S II supremacy so check out our unboxing video and pictures below.
First things first, the Galaxy S II from T-Mobile has a few things that make it stand out from the pack. It features the fastest processor of all the SGSII's available and is rocking a 1.5 GHz Qualcomm dual-core processor while the others all have 1.2 GHz Samsung Exynos chips — why T-Mobile and Samsung chose this route we aren't sure. I doubt anyone will complain about the faster processor though right? Next up, unlike the AT&T version, the T-Mobile model (codenamed Hercules) packs a 4.52″ AMOLED display instead of 4.3″ like the others. What we have is one of the biggest, fastest, and thinnest smartphones on the planet all neatly wrapped in one lightweight package. All powered by Android 2.3 Gingerbread and T-Mobiles newest 4G network — that being HSPA+ 42.
I wont get into all the dirty details yet because the Galaxy S II wont be available from T-Mobile until October 12th. Don't worry though, I'll have a full out review with all my thoughts and details and as many photos as you'd like in said review before the official launch date. As always you can expect a wide array of benchmarks and us testing the new HSPA+ speeds with speedtest when the time comes, so stay tuned. Below you'll find our video and a few photos that should hold you over for now.
In order from left to right we have the T-Mobile Galaxy S II, the Epic 4G Touch with WiMAX, then the AT&T Galaxy S II on the right with the smaller display

Just for fun we've also took a few quick Quadrant benchmarks as I know everyone would love to see a few before our full review. The Samsung Galaxy S II from T-Mobile scored an impressive 3819 completely stock out of the box. The 1.5 GHz processor seems to do well here, but not only that, it is Samsung's simple tweaks and EXT4 that gives them the edge. The Amaze 4G with the same Qualcomm 1.5 GHz dual core only scored 2900, probably because of the changes from HTC and Sense UI.
Samsung Galaxy S II hands-on and unboxing
[vms a0e6114ae69c25761798]
Galaxy S II vs Amaze 4G: 1080p recording and audio quality
[vms ee37f511913bac71fa66]
[device id=1661]