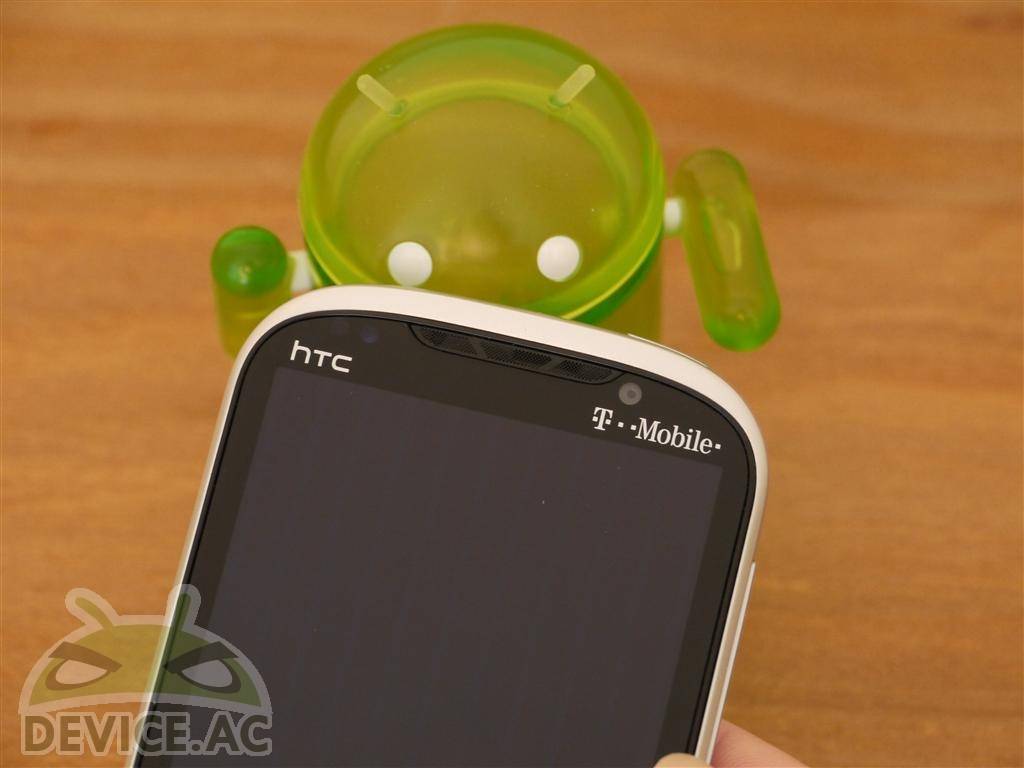 Say hello to the new HTC flagship device over on T-Mobile, the HTC Amaze 4G. This smartphone takes everything we love from the popular myTouch series at T-Mobile and blends it with the fancy design of the HTC Sensation. Combine those together and we have a powerful smartphone that has both the speed, and the looks to impressive most people. With T-Mobiles brand new HSPA+ 42 network speeds and an improved dual-core processor from Qualcomm on board, this surely is one speedy smartphone. Head on down below for all the details, pictures, and hands-on video of the new HTC Amaze 4G from T-Mobile.
Hardware
HTC is very well known for their exceptional build quality and hardware and as usual, this is no different. The Amaze 4G seems to even take it up a notch from recently released HTC smartphones because the build quality is truly stellar. This is one solid feeling phone in your hand, it's actually a bit heavy if you ask me, especially since I've also been enjoying the extremely lightweight Galaxy S II for T-Mobile.
HTC Amaze 4G hands-on and unbox video:
[vms 643540a3a6e16985f62c]
So, the Amaze 4G, we have a 4.3″ qHD (Quarter High Definition) Super LCD display with a 960 x 540 resolution, 8 megapixel camera around back with dual LED flash and 2 MP front for video chatting, all on a device sized around 5.1 x 2.5 x 0.46 thick weighing in at 6.0 oz. The screen sticks out in a weird manor but more on that below. The back is covered in a soft-touch matte coating on the top and bottom, split and wrapped neatly with an aluminum frame and bezel just as the HTC Sensation before it. All of this is powered by a dual-core 1.5 GHz Qualcomm Snapdragon processor, 1GB of RAM, and comes nicely with 16GB of internal storage. Here's all the info from our hands-on coverage.
One unique thing about the Amaze 4G is HTC's decided to go with a dedicated camera button, something the Sensation didn't offer. Not only that but we also have a dedicated hardware camcorder (video) button, they've provided both with the Amaze 4G to give us easy access to use the amazing 8 MP camera — a camera T-Mobile claims as "the most advanced camera of any smartphone".
For a tour around the device I'll start with the left side. We have nothing but the single micro-USB port from HTC. This is a proprietary micro-USB port from HTC, but it also works with all regular micro-USB ports and MHL adapters both. Its not shaped like most micro-USB ports but doesn't make any difference I've seen thus far. Then around to the right we have the volume up/down rocker, and both of the dedicated camera buttons mentioned above.
Then up top as usual we have a 3.5mm headphone jack and the power button. The power/wake button here is at a slight angle and pretty far to the right edge, and its a big squishy and I find myself missing and having to hit it twice at times. I'm sure it'll be fine once I'm used to it. I mentioned above that the display was a little different. The Amaze 4G's entire aluminum body is in a frame and detaches from the screen and innards of the smartphone, just like the HTC Sensation. Only the change here is the display actually sits above the frame and is not flush. I'm not sure why HTC decided to go this route but you can clearly see what I mean in the images below. Not a con by any means, but just a hardware aspect I wanted to point out.
Around to the front of the Amaze 4G we have the usual light and proximity sensors, the earpiece grill, and then that front facing camera. On the bottom it features the standard four capacitive Android buttons that we all know plenty about so they aren't worth mentioning.
Flip things over you'll see that special 8 MP camera that does all the magic, the dual LED flash, speakerphone grill and some noise cancellation pinholes. Here is the soft coated matte rear and aluminum that wraps around the device giving it a very solid and durable feeling while in the hand. As I said before, it is a little heavy but nothing that should concern users.
Software
We have Android 2.3.4 along with HTC Sense UI 3.0 (no 3.5 here) and just as you'd expect things are completely smooth and fluid as always. HTC prides themselves on their exceptional user interface overlay we all know as Sense UI and we have nothing new here. Sense 3.0 has been around for a little while and we should all be plenty familiar with it. The overall experience is butter smooth and everything runs great, no lag or issues here but that's never really been an issue for HTC Sense UI to begin with (hello blur).
As far as bloatware is concerned, as usual with HTC phones we have HTC Watch, Hub, Music and a few other things, the rest are all T-Mobile's doing. The list is pretty short so that is nice — we have 411 & more (really guys, ever heard of Google), Lookout, More for Me, T-Mobile My Account, My Device, Polaris Office, T-Mobile Mail & TV, TeleNav Navigator and Zinio Reader. We do have a "tags" app for NFC but it appears to not fully function for me.


Performance
As usual we've ran a few benchmarks as well as speedtests. We wanted to test performance now we have an upgraded 1.5 GHz dual-core processor, and T-Mobile has enabled their fastest 4G network yet — HSPA+ 42 in select cities and the Amaze 4G is one of the few new devices to take full advantage of the faster network speeds. Initial impressions are highly favorable and T-Mobile seems to keep up with Verizon 4G LTE surprisingly.
First up here is our Quadrant results, the HTC Amaze 4G only scores a 2800 give or take. This is higher than most stock NVIDIA Tegra 2 devices running at 1.0 GHz, but sadly is no where near what the Galaxy S II gets in benchmarks, although the Amaze 4G does have a lot more pixels to deal with being qHD vs standard 480 x 800 on the SGSII.
We also tested Vellamo Benchmark as it tests the devices overall performance and how the hardware and software work together as one. Developed in part by Qualcomm, this shows page rendering, browser load times, JavaScript performance and more and is a great way to gauge performance. The Amaze 4G scored higher than any smartphone lately out of the gate, at stock results.
Speedtest
T-Mobiles new HSPA+ 42 improvements to their 4G network seem to really be blazing along quite well. I've ran multiple tests at home, and in different parts across Las Vegas and I'm getting great performance. I'm getting comparable download speeds, and often times beating that of Verizon 4G LTE and their new DROID Bionic — well done T-Mobile. The Amaze 4G has averaged around 7-9 Mbps download speeds, often peaking around 10 and 11. Upload speeds are a bit worse and rarely went above 1 Mbps for me, that is one area where Verizon 4G LTE still beats T-Mobile.
Here you can see I've ran multiple tests a few different days and at different locations and have experienced optimal speeds throughout. I'm loving the faster T-Mobile speeds so far and am very impressed with the stability in general. With 4G LTE from Verizon it often drops to 3G then back to 4G LTE and you have moments where you must wait for the connection to resume video playback or streaming of audio. With T-Mobile I've had solid speeds consistently here in Vegas.

Camera
We must talk a little about the camera especially because T-Mobile insists this is the best camera on any smartphone. So far I'd have to completely agree. It is either one of the best, or right at the top along with the Samsung 8MP camera on the Galaxy S II. The Amaze 4G has one of the best cameras coming in at 8 megapixels. We have excellent low light performance with a wide aperture lens that snaps quickly. Face detection, dual led flash, zero shutter lag, smart shot (takes 5 in a row and you choose the best one), ClearShot HDR when you need high-contrast lighting and more.
Like mentioned above — the Amaze 4G has a dedicated buttons for both pictures or video, just push and hold even if the phone locked and it instantly enters into camera mode for the user to capture that perfect moment on video or with an image. We also have full 1080p video capture and here is a quick demo video showing just how impressive both the Amaze 4G and the Galaxy S II really are with 1080p video recording thanks to our pal Vincent from SlashGear.
Amaze 4G vs Galaxy S II: 1080p recording and audio quality
[vms ee37f511913bac71fa66]
While the audio quality is much louder from HTC, the Galaxy S II seems a bit more natural and easy to listen to but both are great with 1080p video capture as seen in the video above. HTC also looks warmer and more natural if you ask me.
Now for some images I've snapped a few photos with the Amaze 4G and its 8 megapixel camera and here are a few test samples below. (Isn't my puppy cute?)
Battery Life

Battery life is pretty subpar actually. We have a 1730 mAh battery with the Amaze 4G, when comparing it to the Sensation 4G and its 1520 mAh battery the Amaze 4G seems to actually not last as long. I've used both all weekend and my Sensation lasted a few hours longer each day. This could be that powerful 1.5 GHz processor, or maybe the faster networks speeds, either way I wasn't as impressed as I thought I'd be. Then if we really want to talk battery, I also have the Galaxy S II for T-Mobile here with me and it outclasses the Amaze 4G across the board. Here is both devices after about 9 hours of moderate to light usage, the Galaxy S II was actually used more and had the screen on much more than the Amaze 4G yet battery life was twice as good. I don't even need to explain, just look at the image below.
The Galaxy S II has the same 1.5 GHz dual-core processor and actually a bigger display yet lasted longer. Even though it has a larger battery at 1850 mAh I still find the HTC results a bit worrying. Although for the average user we did achieve 9 hours of usage and that should last through any users day with a top off at night to get you through til morning.
Wrap-Up
It's wrap up time and even though I mentioned the Galaxy S II a few times (hard not to) the Amaze 4G is a pretty stellar offering from T-Mobile and HTC. I only mention the SGSII here because they are both available from T-Mobile starting Wednesday, October 12th so I felt I needed to mention the competition at least a little bit.
Obviously smartphone purchases often come down to user needs and preference, I simply state what I see and give a few awesome photos for everyone to get a second look at the awesome hardware. Many readers already have their mind made up and just like to look. Some might want the exceptional and unrivaled build quality of HTC along with their awesome UI, others may want something thinner and lighter in the upcoming Galaxy S II. Both have awesome screens, powerful dual-core processors and the latest Android 2.3 Gingerbread, so the choice is yours. While I've always loved HTC build quality and use a HTC Sensation 4G for my daily phone, the extra weight from the Amaze 4G was a little bit of a concern for me. However, if you want to feel an extremely durable smartphone in your hand that both looks and feels like it's worth more than a few bucks — the Amaze 4G is for you.
HTC doesn't cut any corners and uses some of the best hardware around and it clearly shows with the Amaze 4G. We'll chalk this up as another awesome, powerful, and delightfully well rounded smartphone from HTC. You can pre-order the HTC Amaze 4G starting right now for just $259 over at T-Mobile.com and it starts shipping on Wednesday, October 12th.
Now enjoy all the photos in their full sized glory in the full gallery below, then check out the detailed spec sheet at the end thanks to our http://device.ac android device database.
[device id=1659]