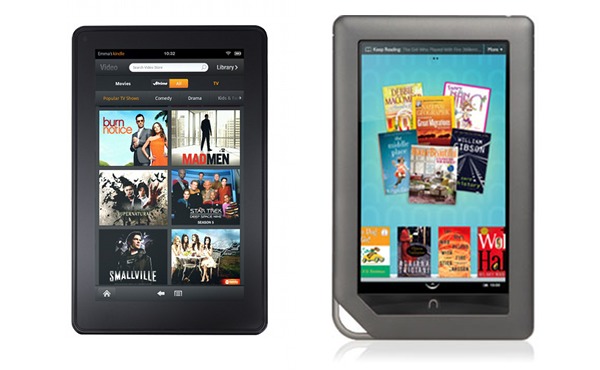 Today at an event in NYC Barnes & Noble announced the new NOOK Tablet and most of the event they were quick to point out how much better it was compared to the Kindle Fire tablet from Amazon. We saw most of the specs leak late last week on the new NOOK Tablet so nothing was a huge surprise today, either way head down past the break for the details and comparison on these two tablets.
First off lets start with the NOOK Tablet, announced this morning with a slew of top tier specs all for a great price. We have a 7″ LG IPS diplay with a 1024 x 600 resolution powered by a TI OMAP 1.0 GHz dual-core processor. Being very similar here with the Fire, this is where things take a change. The NOOK has 1GB of RAM and 16GB of internal storage compared to just 512MB on the Fire and 8GB of storage.
"The Kindle Fire is deficient as a media tablet" William J. Lynch Jr., B&N CEO
At the event this morning, B&N CEO Lynch said the above quote while talking about the Kindle Fire and its lowly 8GB of storage, partly because only 6GB or so of that is actually usable. The NOOK offers 16GB plus micro-SD support for an additional 32GB. The entire event they were quick to take shots at the Kindle Fire — from the copycat design of the BlackBerry Playbook, not enough storage, less RAM, and being fatter. We'll let you guys make that decision on your own, I'll just give you the details.
The Kindle Fire features a similar 7″ display with the same 1024 x 600 resolution. We also have the TI OMAP 4 dual-core processor here running at 1.0 GHz but like mentioned above, the Kindle Fire only has 512MB of RAM — something that could play a factor in multitasking at some point. With no cameras these are mainly consumption devices, but we already knew that right.
Both devices are a hair less than half an inch thick and weigh around 400 grams (or 15 ounces). The Kindle Fire is said to weigh 413 grams compared to the slightly thinner and lighter NOOK Tablet coming in at 398 grams. While that may not matter to some, many will use these devices as e-readers and the lighter weight will help especially during one-handed use.
Both tablets run on an undisclosed version of Android, most likely 2.3 Gingerbread and have their own custom user interfaces on board. We weren't live at the NOOK Tablet event to get a look at it for a comparison, but it looks almost identical to the original NOOK Color which ran extremely smooth so we expect the same here. Not to mention the dual-core processor should keep things speedy. Both tablets come bundled with plenty of games and applications. From Angry Birds, Netflix, Pandora Radio and more they really are tablets, not e-readers. One benefit here with the Fire is the inclusion of the Amazon App Store although that can be installed on any Android device so I'm sure we'll have it on our NOOK fairly quick and easy.
Whether these devices will be easy to root, and run custom ROM's like the original NOOK Color still remains to be seen so until they hit the streets we can't comment further. Without having hands-on time with both it is hard to say what is better, but we'll have both devices in for a full review soon so stay tuned. Both tablets offer an excellent level of performance and usage for their price. What will you buy?
The Amazon Kindle Fire is available for pre-order right now for just $199 and begins shipping November 15th. Concluding the B&N NOOK event today in NYC the new NOOK Tablet will be $249 and will also be available next week starting on the 18th. Pre-orders are available now and it will be at B&N stores as well as retail partners such as Best Buy, Target, Walmart and many others late next week.