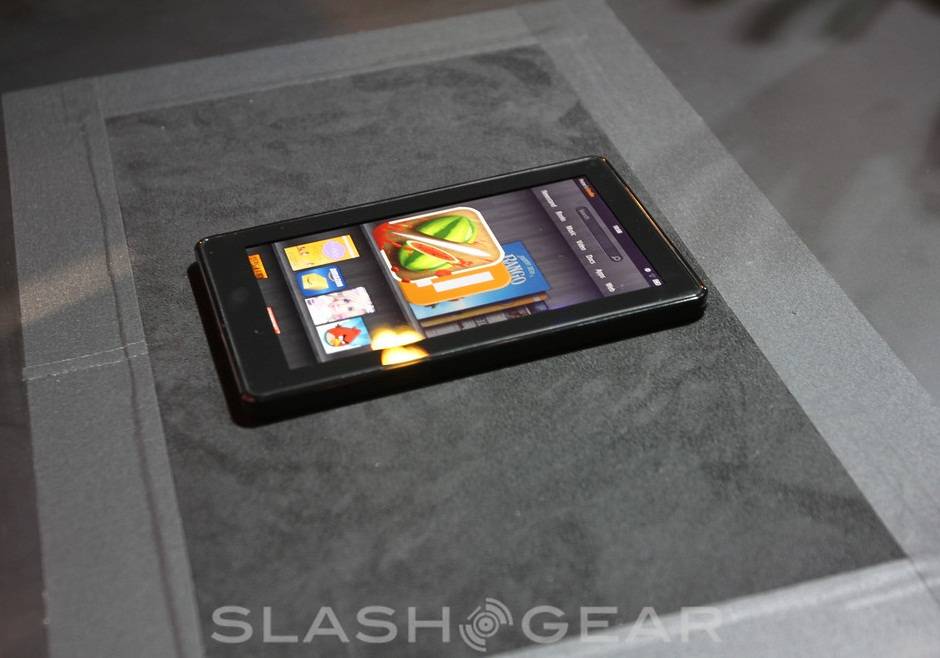 Okay folks, I know we are all on a little Kindle Fire overload at the moment, but we have some official hands-on pictures live from the Amazon event for you all. What we have here is a super thin, lightweight, and powerful Android powered tablet coming from Amazon. We already know plenty about this device so I'll just head right into the good stuff — our hands-on pictures.
The Kindle Fire is based around Android but hides it very well, we don't see any signs of the green robot anywhere here — and no lock screen gesture either. With all the Amazon services one would need, and super fast web browsing thanks to Amazon's new Silk Browser this is sure to be a smooth, fast, and fluid consumption experience. Also note that we have no Android Market, this is a Amazon experience device, not a Google experience device. While Amazon isn't letting us get our own hands on the slate, we were able to snap a few close-up photos so check em out. Does that IPS display look awesome or what?
Kindle Fire hands-on video
[vms c3a68b399058c34aecf2]
We are still digging for full specs but you can see everything you'd like from our event coverage. Just like previously mentioned we have a 7″ IPS display although its only 1024 x 600 resolution (but colors look great), 8GB internal storage (unlimited on the cloud), a powerful dual-core processor, but no cameras. Amazon opted to not add cameras most likely for a few reasons — those being cost, and that this is mainly a device for consumption of books, movies, videos, and gaming. We have a camera on our smartphones anyways right?
The Kindle Fire will ship on November 15th and is available for pre-order right now. For now we won't have any official details or thoughts regarding how fast and stable the heavily skinned operating system is until Amazon relaxes a bit and lets us try one ourselves. Until then, check out our live pictures and a video demo will be up shortly.